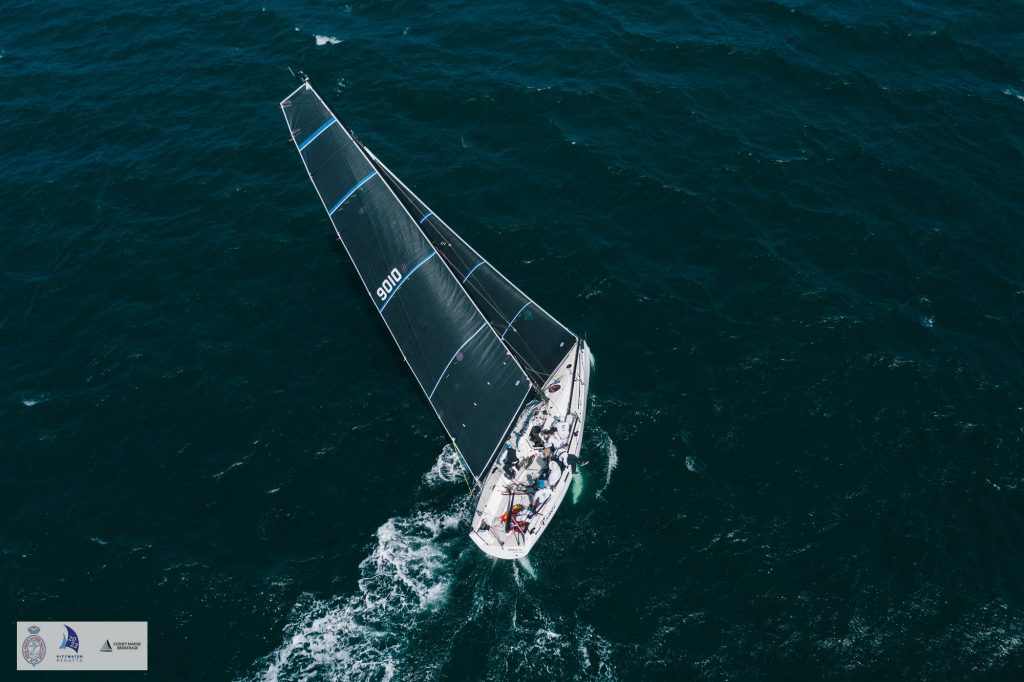 Three days of racing in varied conditions across a combination of inshore races, a passage race and finally three offshore windward/leeward races in high winds tested all in the Royal Prince Alfred Yacht Club's (RPAYC) ORC NSW Championship and decided the new champions late this afternoon.
Defending Division 1 champion Bushranger, owned by Gerry Hatton, scored victory in five of the six races and placed second in the other. Behind Bushranger, the battle raged for the minor placings as Keiran Mulcahy's King 40, Soozal fought to stay ahead of Bob Cox's DK46, Nine Dragons.
Soozal prevailed, despite some knockdowns, Mulcahy and crew toughed it out. Their Race 3 helped them place second overall and beat Nine Dragons by three points.
A bit rough offshore today," commented Hatton's son-in-law, Michael Fountain, who took charge in Hatton's absence. "A building breeze moved south-west to south-east. We saw 28 knots in the last race. The first two races were offshore, then they moved us inshore for the last one. It was really hard racing," Fountain admitted.
"We were boat-for- boat with Soozal as usual. There's never much between us – and Nine Dragons is always there. It was a huge test of crew work, you had to be mechanical in your work and you really paid for your mistakes."
Simon Grosser retained the Division 2 title with Young at Heart, his Young 88. With four wins in his tally, he was too good for the rest.
"It's an honour to win the title again, to get these results. We had a good day with plenty of breeze offshore. The crew did a fantastic job. We had a good crew mix. It was good to have the experience of Phil Eadie on board."
Grosser added: "Rob McClelland, Peter Farrugia and the RPAYC team did an awesome job. On the water, the race management was exceptional. To get the full complement of races in, under quite difficult conditions, ranging from light fluky airs inshore to 20 plus knots offshore was fantastic," he said of the team led by Ted Anderson and Elaine Fowler.
Four others scrapped race-by-race to decide second and third overall. Peter Farrugia and his Bull 9000, Bullwinkle, thrived on the offshore windward/leeward courses, rewarded with results that lifted her up to second. Transcendence Crento was sailed well throughout by Martin Cross, who finished third, two points adrift of Bullwinkle.
"We loved the tight racing and fierce competition. We had some wild rides on Bullwinkle today," Farrugia said. "It was fantastic to see so many visitors on the water – and on the dance floor throughout the regatta. We're looking forward to Act 2 at the Sydney Harbour Regatta in three weeks' time."
Racing was conducted on Pittwater, Broken Bay and its surrounds. Competitors in the ORC NSW Championship faced everything from very light fluky airs, to a lovely north-easterly sea breeze, followed by the southerly today.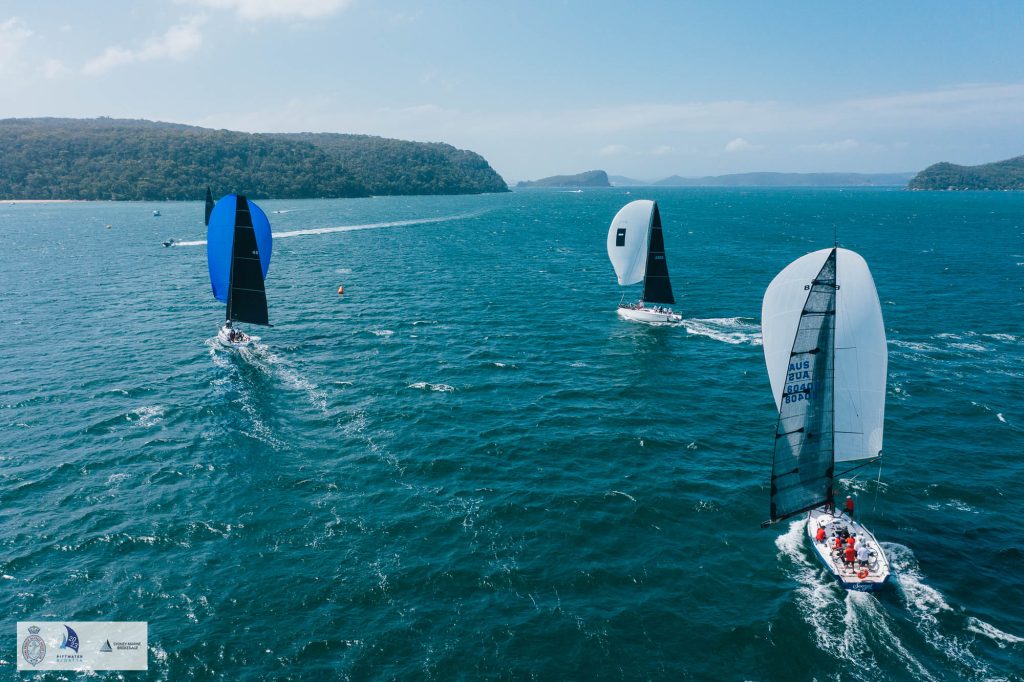 The Pittwater 'Championship' Regatta was held in conjunction with the ORC NSW Championship and was held over two days this weekend. The Sydney 38, Conspiracy, won Division 1 under ORC after four inshore races on Pittwater. Is there any beating David Hudson and Peter Byford, the reigning Sydney 38 NSW champions? They won all four races.
"It was a big day. We saw high teens and had long square runs. We were right on the limit. We were quite pleased with ourselves; we had the boat balanced upwind. Hats off to Speedy on the mainsheet. He earned his money and made steering easy," Hudson said.
"The second race was 22-26 knots with white caps. We used our three-quarter spinnaker (sometimes called the chicken chute), but it was a good call. We got good speeds downwind. Very testing; wind was inconsistent and gusting. At the end, the crew felt they had a good outing and all contributed.
"It wasn't a day for passengers. Good practice for the 2023 Sydney 38 NSW Championship in March."
Susan Walters kept the momentum going, adding a pair of second places on Cape Fear to finish second overall from PHS overall winner, Michael Ritchie's Revolver.
Division 2 went to Bob Stoddard. He won all four races to claim victory with his 5.5 Metre, Alpha Crucis. Russell Murphy held Time Bandit steady to place second, while Chris Hornsby's Pick Pocket finished a point behind for third overall. PHS victory went to Sean Rush's Ensign, which pipped Time Bandit on countback.
Not all was a bed of roses on Alpha Crucis: "Very windy and we damaged the main in the first race. It started to tear at the base," Stoddard said. "In the second race, it got bigger and bigger, the whole bottom of the main was missing.
"On the run, we put the spinnaker up, the tweaker let go, the pole was up in the air. We kept racing and made it around the course! I was surprised we won that race, but there was other carnage out there. Despite all that, it was fun," he ended, laughing.
In Division 3 ORC, there were just two entrants and John Afaras' Eirini was just too good for Phillip Smith's Wahoo. However, there was more competition in PHS, with seven boats entered.
Yesterday's leader, Nirvana's Kitchen, stayed at the top, Leon Wilson keeping up the good work to win by three points.
"The final day of the ORC NSW Championship and the Pittwater Regatta was fast and furious. With gusts up to 26 knots and a building sea state, there was plenty of outstanding boat handling and a bit of carnage on show today," said Peter Farrugia, Regatta Chairman.
"We had increased numbers this year, which is pleasing – and competitors appeared to have had a good time on and off the water, which is the aim of the two events," he ended.