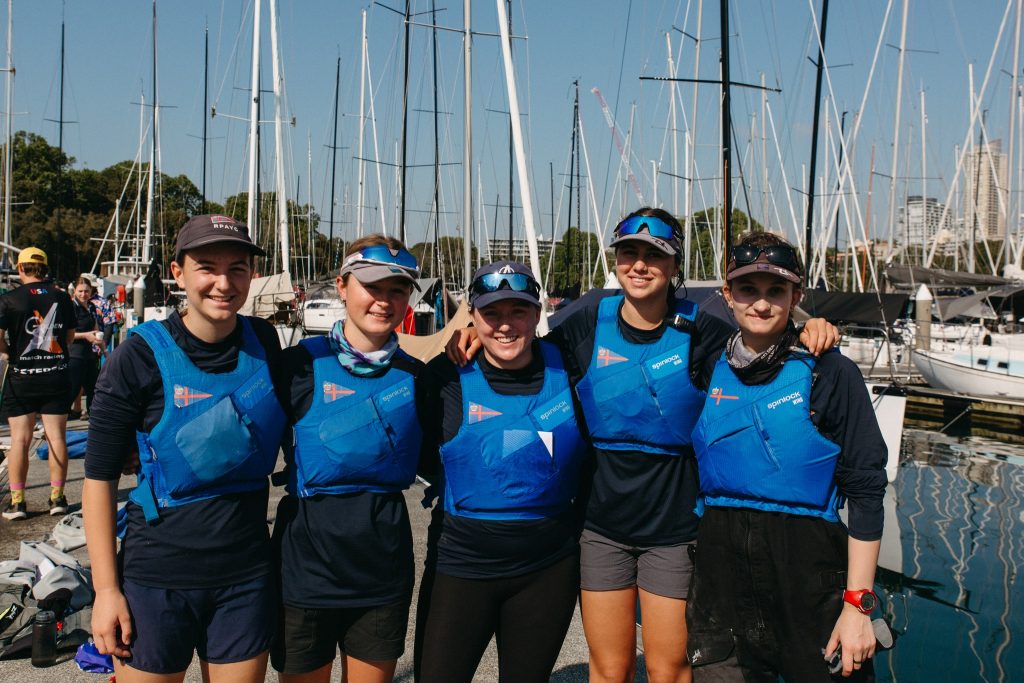 Congratulations to our Youth Development team finishing in third 🥉 at the CYCA John Messenger Women's Match Racing Regatta over the weekend!
The Royal Prince Alfred Yacht Club – RPAYC team was skippered by Olivia Williams, with Hannah McCutcheon, Belle Holdsworth, Annabelle Sampson and Bayley Taylor.
Brooke Wilson, Emily Keg, Jade Gavin, India Gilbert & Kyra Early have claimed the 2023 John Messenger Women's Match Racing Regatta this weekend, hosted by the Cruising Yacht Club of Australia.
The event is dedicated after CYCA Member John Messenger, who was a passionate supporter of both women and youth sailing at the Club and first introduced the regatta in 1996. Since its inception, the event has risen in stature, changed from a fleet racing competition to match racing, and over the years seen many high-profile teams compete.
Over the weekend, six teams from the Cruising Yacht Club of Australia, Royal Sydney Yacht Squadron and Royal Prince Alfred Yacht Club enjoyed a mixed range of conditions with Sydney producing a classic sea breeze on Saturday, peaking at 20 knots on Saturday afternoon, followed by a frustratingly shifting breeze on Sunday which started in the west and settled in the east.
After the double round robin, both teams from RSYS sat out in front, with RPAYC's Olivia Williams in third and CYCA's Chelsea Williams in fourth. In a surprise decision, RSYS chose each other, leaving RPAYC and CYCA to pair up in the other semi-final.
The opening race of the semi-finals saw Harriet McLachlan take the first upset over Brooke Wilson, whilst Chelsea Williams was able to score first points in the other. Chelsea was able to close out the semi-finals and be the first to book a Finals berth, whilst Brooke Wilson levelled in the other. In the final winner-takes-all race of the semis, Brooke led throughout the advance to the Finals.
In the Finals, the underdogs from CYCA, took the opening race and sailed well throughout the entire series. However, it was the experience of the RSYS team, who have been campaigning overseas in America this year which eventually took out the title 2 – 1.
"It has been such a fantastic weekend at the CYCA. I have to thank my team who did an amazing job throughout the event and it's an honour to receive the John Messenger Trophy and win the Nationals this year." Commented Brooke following racing.
In the Petit Final, Olivia Williams beat Harriet McLachlan 2 – 0 to claim third position.
🏆🥇2023 John Messenger Women's Match Racing Regatta Champions – Brooke Wilson, Emily Keg, Jade Gavin, India Gilbert & Kyra Early (Royal Sydney Yacht Squadron)
🥈Chelsea Williams, Bridget Conrad, Paige Caldecoat, Maddy McLeay, Charlotte Alexander
🥉Olivia Williams, Bailey, Annabelle Sampson, Isabelle Holdsworth & Hannah McCutcheon