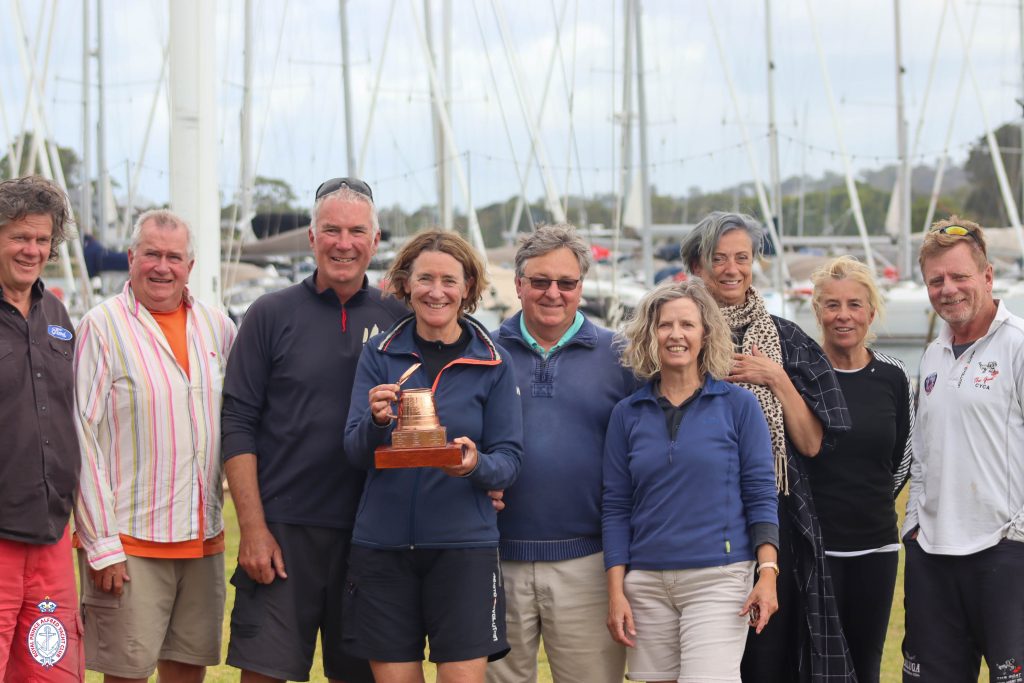 King Tide (Sydney 36), Jenny Danks and crew wins the 2022 Whisper Mug!
The typical light winds race held the last Saturday before Christmas was a super charged southerly seeing the fleet finish the race to Dangar Island (mark) and back in record time. The wet weather clothing race was far from the summer dayz of the past.   
Traditionally the race would see the course round Dangar Island but with larger yachts now competing from those in 1972 the Race Committee took to laying a mark allowing more yachts to enjoy the race. 
The Saturday race was a great way to see out the end of the year.
Zebulon Plate was awarded for Line Honours to Revolver, Michael Ritchie.
The Josie Trophy – Second on Handicap (Overall PHS) to Organised Chaos, Garry Gudmunson
The Starters Cup – Third on Handicap (Overall PHS) to Bombolo, David Boekemann
Neville's son Scott whom the Zebulon Plate is named after, was out racing on Puff and awarded the prizes for this year's race. Scott recalled the early days of the race and the social events back at his family home that for him was a great fundraiser using the old 'cash for cans' system that bought him his first car. 
Full results HERE