It brings us pleasure to shine a spotlight on Khalid Hussein, our devoted security guard, who has been an invaluable part of our team for the past four years. Khalid's commitment to his role extends far beyond merely undertaking security patrols, he goes above and beyond the call of duty and enjoys having connections with Club Members and staff.
Khalid expressed to us his pride in his security role at the Club and that he's grateful working in such a beautiful location, being by the water and meeting Club Members.  
With a decade of experience in the security industry, Khalid's professional journey has seen him navigate the challenges of security, including his time at Sydney Metro Trains, where one of his main issues was handling situations involving individuals recording TikTok videos!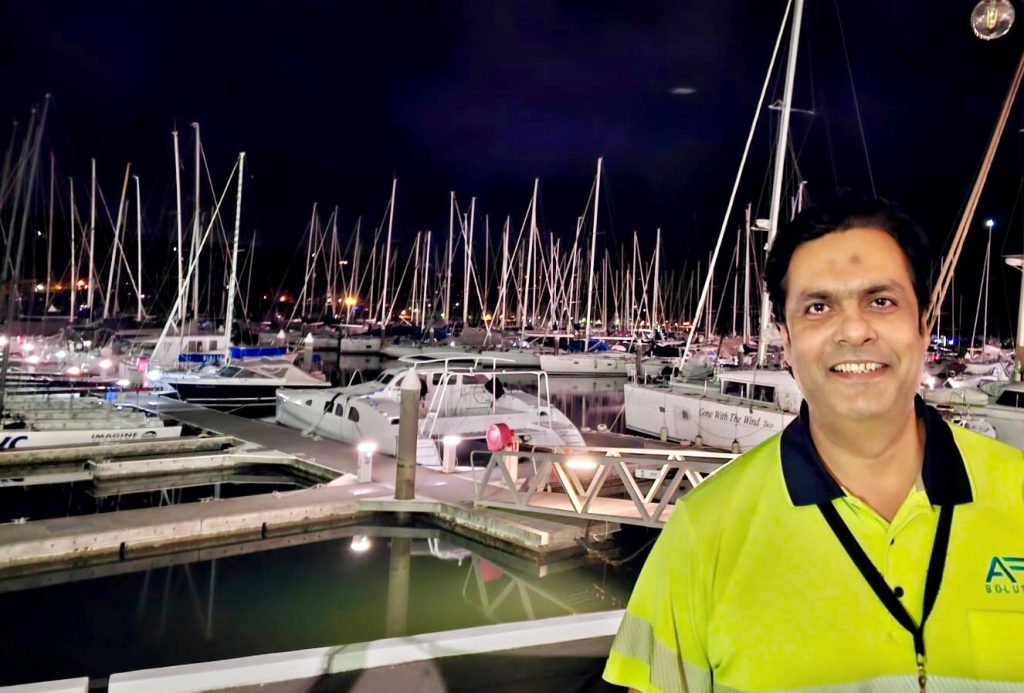 Originally from Pakistan and now a proud resident of Australia for over a decade, Khalid and his wife live in Bankstown.  Khalid enjoys the night shift work, but balancing time with his wife can be challenging as he needs to sleep during the day, but they make the most of their time catching up with friends, attending festivals, events and going on short getaways along the NSW coastline.
Interestingly, Khalid invested in a fishing trawler and ventured into a fishing charter business in Pakistan a few years ago, which is managed day to day by his brother and they have a team of up to 20.  This business has not only taught him the ins and outs of running a boat but also an appreciation of the maintenance and costs.  His expertise in security and managing a fishing boat has made Khalid exceptionally perceptive in identifying and addressing issues that go beyond standard security duties. He watches over our members' boats, and reports irregularities or maintenance requirements, ensuring the safety of Member boats and upkeep of our Club's facilities.
 Recently, Khalid took a well-deserved break to attend his brother's wedding in Karachi, Pakistan. The heartfelt surprise of returning home earlier than expected just to surprise his Mum speaks volumes about his thoughtful and caring nature and is echoed in his dedication and connections with those at the Club who have been lucky enough to meet him.
We'd like to extend our heartfelt gratitude to Khalid for his unwavering commitment to his role, the exceptional care he has for our member's boats and the facilities, and the warmth he shares with each of us.
He's not easy to miss, at 6'7" tall and in a high visibility uniform.  The next time you see him on patrol, don't hesitate to say hi, he's engaging, humorous, and a very interesting person.
Thank you, Khalid, for your dedication in ensuring the Club is safe, secure and for being a beacon of kindness within our community.