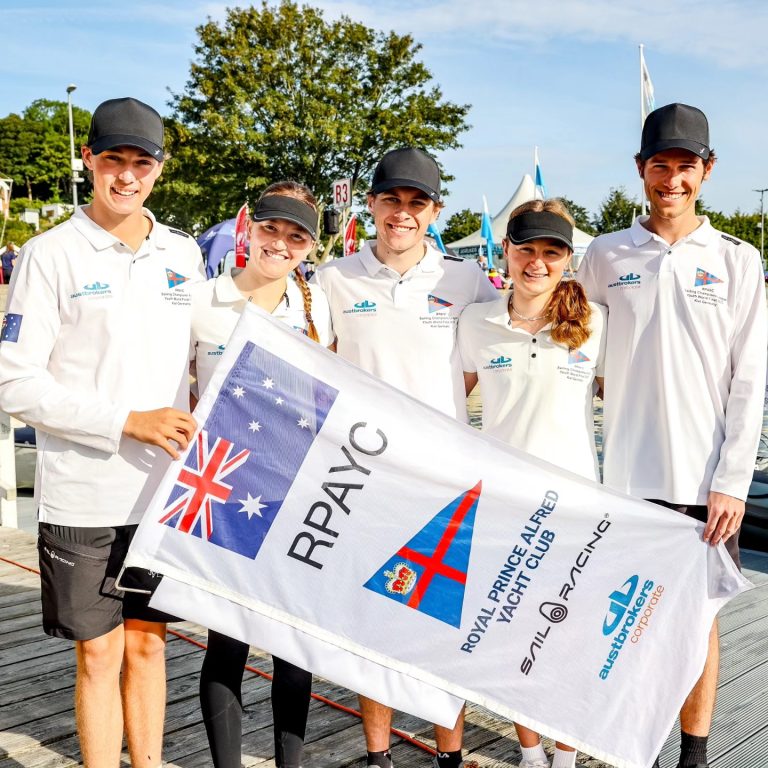 Last week, our Youth Development team of Daniel Kemp (skipper), Louis Tilly, Lachlan Wallace, Isabella Holdsworth, and Hayley Fisher travelled to Kiel, Germany, to compete at the 2023 Sailing Champions League Youth World Finals.
The team qualified for the regatta following on from their performance at the Asia-Pacific Final, where they placed 3rd overall. Their performance also qualified RPAYC for the Open World Finals, an opportunity taken up by Hugo Butterworth's RPA team last month.
The team's reflections on the event, written by skipper Daniel Kemp are provided below:
In the lead-up to the event, we have been fortunate to train under the guidance of our coach Rob Brewer as part of the Youth Development program, as well as training extensively as a team outside of YD. Recognising the differences between the Club's Elliott 7s and the J70s, which we were to race on in Kiel, we also started a process of seeking out opportunities to sail on these boats, as well as conducting our due diligence to ensure that we had a strong grasp of boat mechanics before we arrived in Germany.
The Regatta was raced between the 1st and 3rd of September, and is raced in a short-course umpired fleet racing format. Our aim for the event was consistency, a previous weakness in our performance that we had identified, following on from our past three qualifying regattas.
After a training day settling into the J70s, and speed testing with some of the European teams, we were able to have a strong start to the Regatta, consistently finishing in the top 3 to place us with a good chance to qualify for the grand final (top 4 boats) on the last day of racing. Unfortunately, the exceptionally shifty and variable conditions on the last day of racing halted our consistent performance, providing a variable scorecard of 6, 1, 2, 6. This placed us 6th overall out of 21 competitors. We were very proud to finish the Regatta with this result, especially given the fact it was the team's first time racing in Kiel and racing these boats in the regatta's format. Meeting new sailors with different backgrounds from around the world and bonding over our shared passion for our sport was also a terrific experience and allowed us to broaden our perspective on the world of sailing at large.
Subsequently, we would like to highlight how grateful we are for the opportunity provided by the Alfred's in supporting us in our sailing endeavours. Notwithstanding financial support, the community spirit for youth sailing at the club fosters a culture in which improvement as sailors and young people is widely encouraged.
We would further like to thank all of our families for the support they have provided, as well as our two corporate sponsors – Austbrokers and Sail Racing. Their contribution has been invaluable.