The Sail Port Stephens Passage Series came to an early conclusion on Saturday with the fleet poised to start Race 5 until racing was abandoned due to a lack of consistent breeze. It was a stark contrast to the previous four days which featured the sort of conditions sailors long for but rarely get.
Crews then assembled at Broughtons at the Bay for the prize-giving ceremony across six divisions, with visiting boats dashing the locals' hopes of homegrown glory.
Jon Linton and his crew aboard Llama II, a Dehler 46 from the Middle Harbour Yacht Club in Sydney, started the regatta with a first and proved the boat to beat in PHS Division 1 with a fifth, sixth and a fourth on subsequent days leaving them seven points clear of their closest rivals.
"It's always a treat to sail up here," Linton said. "Even though it was probably a bit lighter than we would have liked, we worked hard to take the gains where we could and sail our own race against some very good competition."
Linton promised the Llamas will be back to defend their Commodores Cup title in 2024.
Second-placed Julian Bell's Beneteau 50 51st Project from the Port Stephens Yacht Club were carrying local hopes and said they enjoyed the close racing in the big fleet on their home waters. Indi, an immaculate Farr 40 owned by former Cruising Yacht Club of Australia Commodore Noel Cornish, was third on a countback.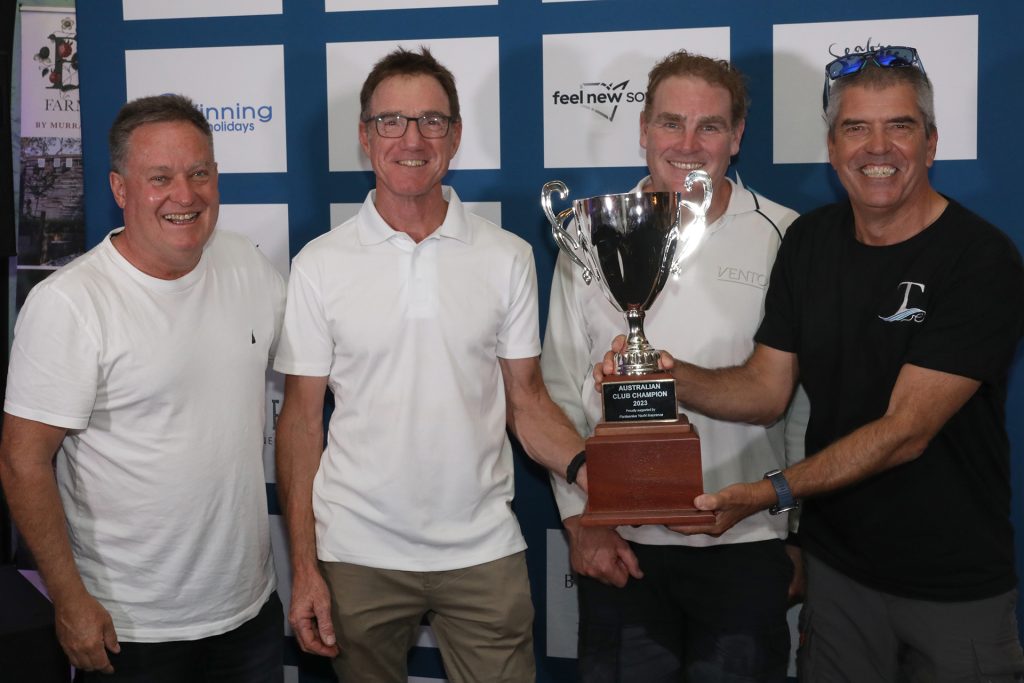 Despite the sails being hoisted for the first time on Day 1 of the regatta, Sunfish's scorecard (2,4, 1, 5) ensured Lee Condell's new Jeanneau Sunfast 3300 was top of the podium in Division 2 with Justin Mitchell's Rant & Rave from the Royal Motor Yacht Club at Toronto in second and Nocleks, a Farr 30, in third.
Condell, a well-known sailor from Pittwater, said he was delighted by the win, adding "it's hard to beat the welcome we receive from the Port Stephens community, the friendly atmosphere dockside, and the ideal variety of sailing conditions on offer in a stunning location."
He also echoed the sentiments of many in the fleet in praising the switch this year to five days of passage racing with a lay-day on courses both inside Port Stephens and around its scenic offshore islands.
"The decision to change the format for this year was a very good one and well received and I have no doubt that the event will continue to grow," Condell predicted.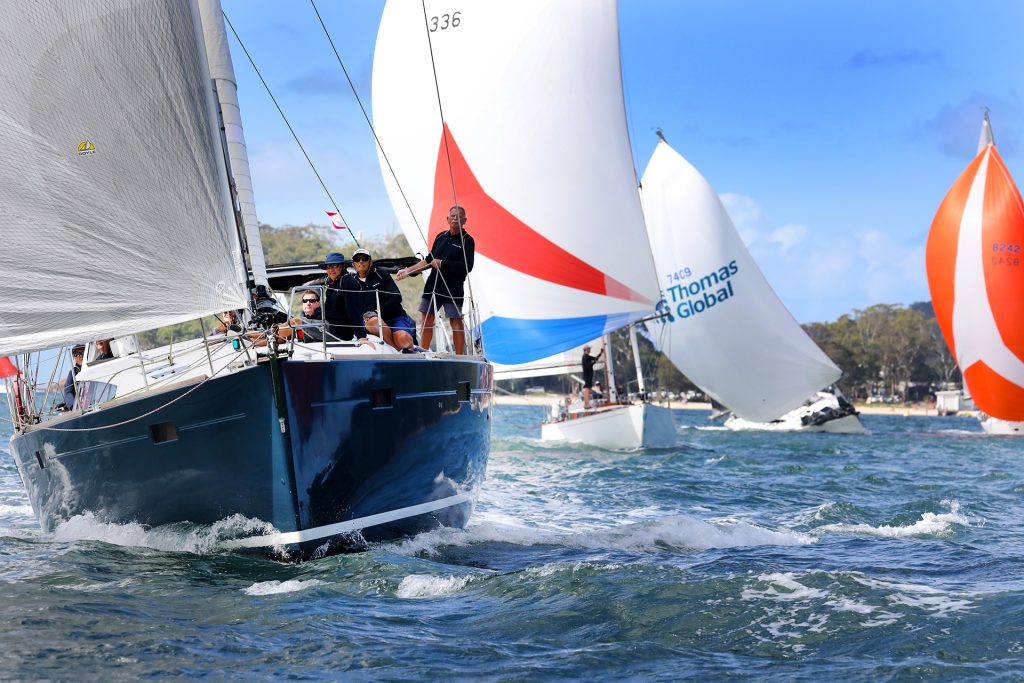 Division 3 evolved into a contest between the Gosford Sailing Club and the locals from the Port Stephens Yacht Club with the visitors from Gosford securing the silverware thanks to a very consistent performance by Mo Goodship and his crew on Animal Farm, a Foundation 36.
Steve Liney and his crew of enthusiastic local sailors aboard Bellamy, a Jeanneau Sun Odyssey 45.2, were a strong second, while fellow Port Stephens boat Wubaray rounded out the podium.
Chris Laughlan's Hanse 370e Trim won Division 4, the skipper quick to acknowledge his crew's sail-handling and improvisational skills: "We had a core crew with visitors each day and all meshed into an excellent team at short notice," he revealed.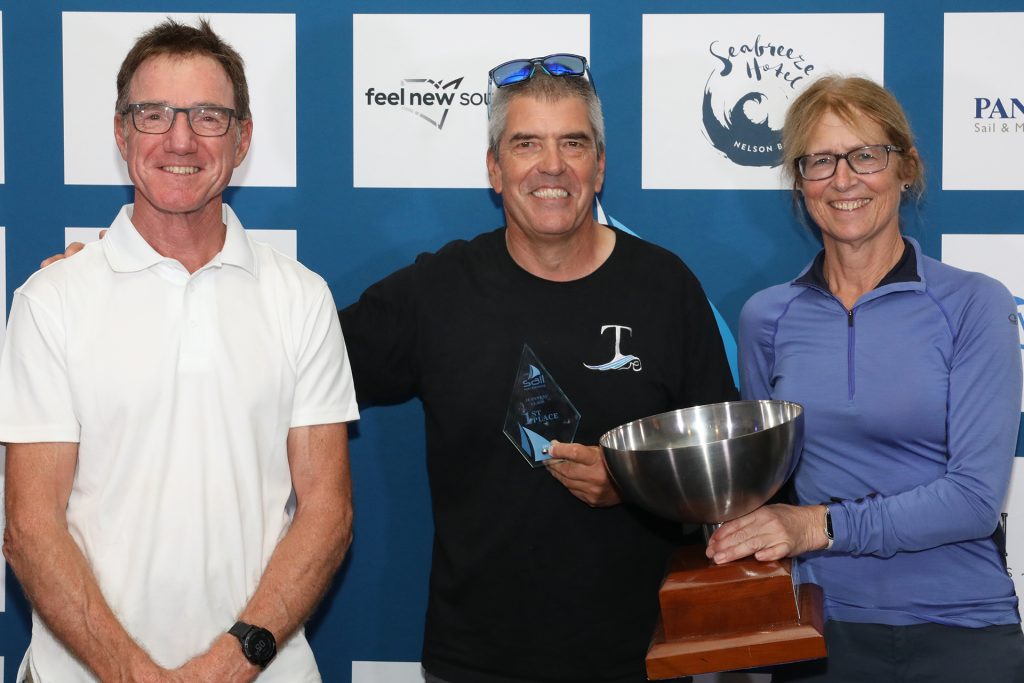 "Running the asymmetrical and symmetrical spinnakers offshore for different legs worked particularly well. We also had some urgent repairs carried out on the bow under very difficult conditions when gear failure occurred on several occasions," Laughlan said.
Pinta Bay from the Woody Point Yacht Club on Pittwater had one hand on the trophy with three second places before Race 4 when they slipped back to 13th, but they had done enough to claim second from Toronto boat Barney Cools in third.
The Non-Spinnaker Division was keenly contested with Royal Prince Alfred Yacht Club entries Transcedence Crento and Trilogy filling first and second respectively, while Rod Wills's well-campaigned X-43 Great Xpectations from the CYCA claimed third.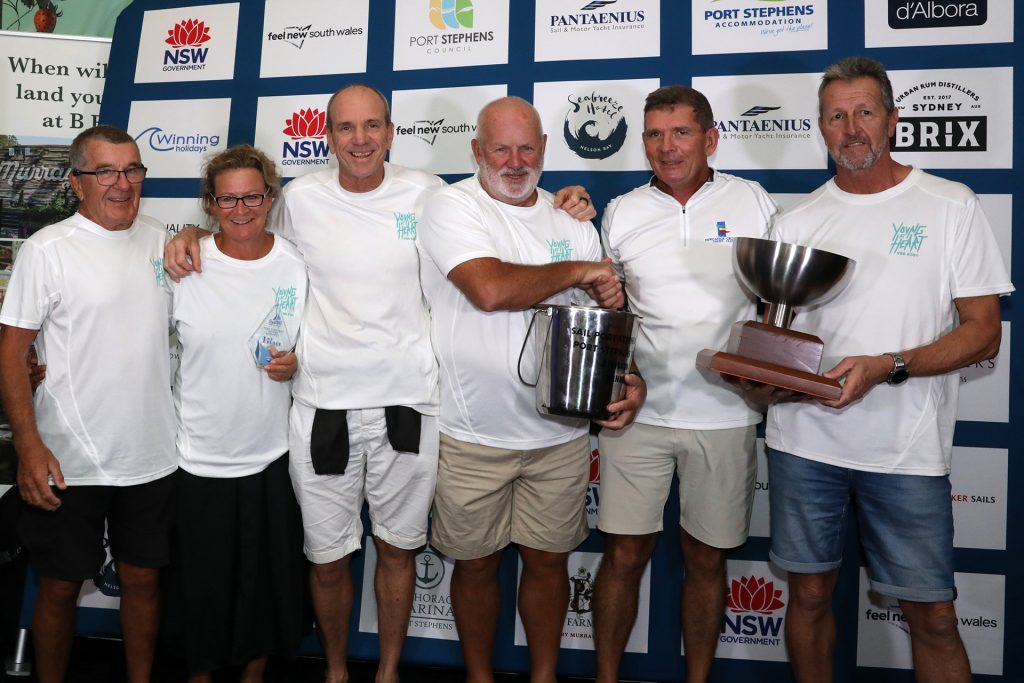 Indi added a Division 1 ORC win to her quiver while Young at Heart, Simon Prosser's Young 88, secured ORC Division 2 honours.
Regatta Director Paul O'Rourke said it was heartening to see the record fleet of 107 boats reveling in the mix of conditions at Sail Port Stephens.
"We're very pleased that competitors were able to experience the best of what this stunning location offers sailors and their families, " he said. "We hope they will be back next year for what has become a 'must do' event on many sailing calendars."
Part two of the regatta, the Windward Leeward Series incorporating the NSW Yachting Championships and TP52 Gold Cup Act 3, runs alone from 5-7 May. Trailables and off-the-beach classes also get their own event on 19-21 May.
Overall results: https://app.sailsys.com.au/club/179/results/series/2134/pointscore?view=individual&handicap=5
Video: https://fb.watch/kdZIoMS6Am/