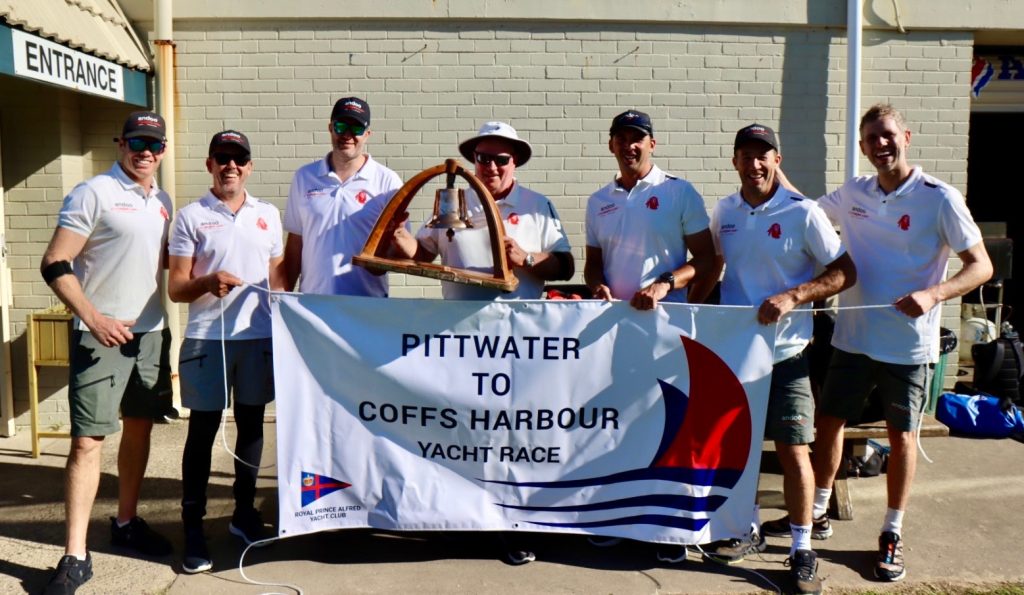 Dale Mitchell and his crew on Rex, the ORMA 60 multihull from Queensland, early this morning broke the multihull record in the 2023 Pittwater to Coffs Harbour Yacht Race – by 5 seconds – it seemed to suit the occasion – April Fools' Day!
It suits the occasion because the pre-race weather forecast spelt disaster as far as records were concerned. However, Mitchell and his crew worked hard and took all available opportunities in the Royal Prince Alfred's 226 nautical mile race.
"We weren't even game to tell the Club, because we weren't sure if we were right or not," Mitchell said after finishing the race at 6.08am in the time of 17 hours 3 minutes. Rex beat the 2014 record set by another ORMA 60, Team Australia (Sean Langman), of 17hrs 3mins 5secs.
"Obviously it was meant to be light winds, but we got out of the start fairly quickly," the Airlie Beach sailor said. "We worked towards the coast and did nicely, then hooked into a south-easterly quite well.
"Last night we saw we were slightly ahead of record and kept working hard. When we came into Seal Rocks we were greeted by the expected shutdown. I thought we'd be there for hours, but it was only half an hour, then we hooked into 12-14 knot westerly all the way to Smoky Cape," he said.
Mitchell said the breeze became quite fickle from that point and they experienced agonising moments of thinking they would, then wouldn't, break the record, before 12 knots came to save them.
"Then it decreased, came back a bit and oh my god, we broke the record! We were all laughing about it because we were quite amazed," Mitchell said.
"We had a couple of hours this morning when we were sitting on early 20s (knots), we had a nice south-easterly swell, which the boat responded to. It helped us get to Coffs Harbour quickly."
The well-known Whitsunday Sailing Club sailor said Rex looked after them: "Nothing major broke. We're all keen for a sleep now. None of us got much during the race.
"It's pretty awesome breaking the record. We turn up trying to set records. To have a week of preparation and to look at the forecast thinking we had no chance. When I think of the guys putting in the work they did during the race…," he said of the nine regulars on board.
Mitchell said the race did have its funny moments. "Off Port Macquarie, a couple of jet skis towing a sailboarder came out alongside us for half an hour or so. Turned out they were friends of Brett Van Munster's (a crew member)," Mitchell said.
Rex and the crew are sailing to Brisbane to undertake routine maintenance ahead of Easter's Brisbane to Gladstone Yacht Race, where they will try for another record.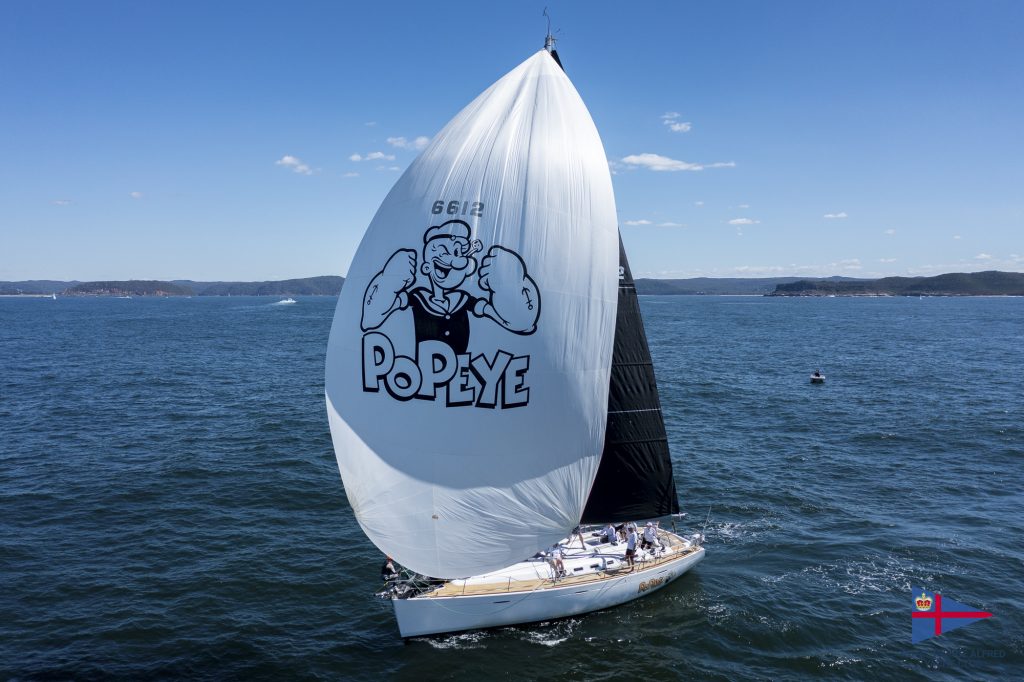 Andoo Comanche (John Winning Jr), the super maxi skippered in this race by Iain Murray, finished the race at 8.46.40am, in 19hrs 46mins 40secs. The Rolex Sydney Hobart record holder finished outside the record of 17hrs 10 minutes 31 seconds record set by Peter Harburg's Black Jack last year.
Iain Murray skippered the boat in John Winning Jr's absence. "The first three hours of the race were slow and frustrating and they pretty much cost us a chance at the record. After that, it was slow but enjoyable sailing – full moon, clear skies, crisp night," Murray said as the 100 footer headed back to Sydney.
In a further nod to April Fools' Day, Mistral (Rupert Henry/Greg O'Shea) and Disko Trooper Contender Sailcloth (Jules Hall/Jan 'Clogs' Scholten), both two-handed crews, are at the top of the overall standings to win the race.
Meanwhile, Popeye (Craig Douglas), along with regular friendly rivals, LCE Old School Racing (Mark Griffith) and Pretty Woman (Richard Hudson), are scrambling to attack the pair's lead, with another two-handed crew, Shane Connelly/Tony Sutton (Rum Rebellion) between them. There is still over 100 nautical miles to go, though.
The 37th Pittwater to Coffs Harbour Yacht Race started off Barrenjoey Headland at 1pm on Friday.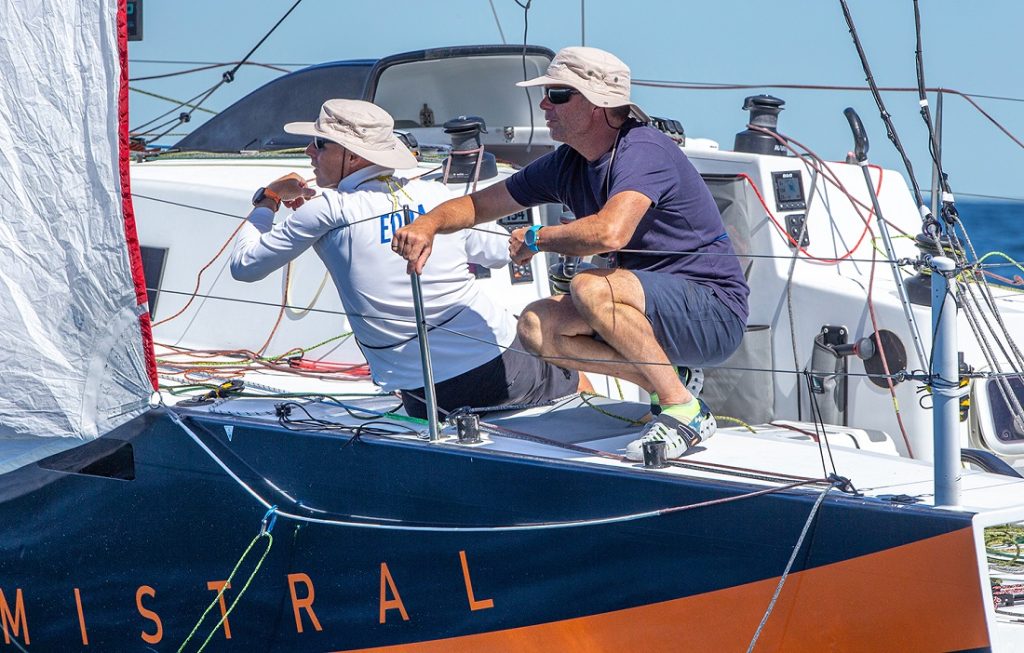 Socials:
@rpayc
#rpayc
#pitt2coffs
#p2c
Further information:
Di Pearson
Nautical Promotions
Email: nautical3@bigpond.com
Phone: 0410 792 131