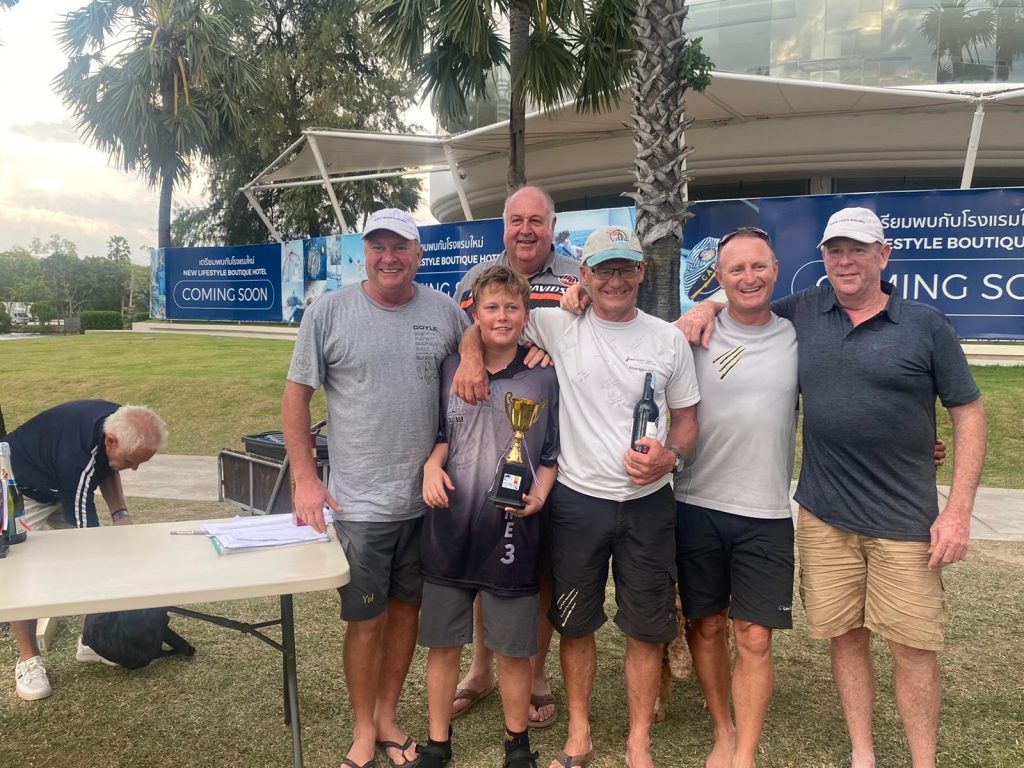 Team Tiger comprising of skipper Chris Way, Steve McConaghy, Peter Winter, Guy Kennard and a young local bow Toby Howett (15yo), after a three year hiatus because of Covid, successfully defended their 2018 Thailand Asia Pac series overall win in Platus after three events held from Ocean Marina Pattaya. With nine bullets from 16 races it was a convincing win made all the better because last years title winner came 2nd (last years event only held with Thai boats attending because of Covid entry restrictions to Thailand last season). 
Team Tiger had three wins from three of four events sailed, with one event allowed as a drop. The short course racing format of this series comprises 30 minute races up to six a day and meant that over the three events over fifty races were held. The premium is on starting and the first mark lead, our team showed its strength in that regard especially with the help of Steve McConaghy as tactician and main trimmer.
The next season starts begins in March with four events to be held. Boats are available for charter locally from Ocean Marina for those without their own Platu at 50,000Bt ($2,000) per event including sails.
Report by Chris Way
Official Event Report
OMYC INTERNATIONAL PLATU CHAMPIONSHIP OF THAILAND 2022
REPORT OF THE FINAL ROUND 11/12/13 NOVEMBER 2022
The weather forecast was for very little wind all weekend and this is the Race Officer's worst nightmare. Happily the forecast was wrong and on day one we had winds from 12 to 18 knots all day from the North, North East. With all the high rise buildings creating massive bullets and direction changes the committee boat was set more than one mile from the coast and South, away from the high rise, to have more predictable wind conditions.

As usual the windward mark was set at a distance of about 600 metres to create 25 minute races over two laps. The first race was a practice race to allow crews not so familiar with the waters to acclimatize and settle in. Also unlike day two and three with no drop scores, one drop score is taken, again to allow crews to settle in without loss.

Five races were run and none of the boats suffered any major mishaps in spite of the 18 knots of wind. This is all the more remarkable considering two of the foredeckers were 14 and 15 years old. Well done Toby and Alfie. After this first day, Easy Tiger, helmed by Chris Way from Australia, showed that it meant business by scoring 4 bullets, but he was chased hard by Nam Prix helmed by Colin Simonds from England.

Day two had winds from 8 to 14 knots and gave the crews an easier ride. It is a joy to race in these conditions with picture postcard views, very little sea state and sunshine all day long. 6 races were held and the crews were back at the marina by 15.00 hours. Easy Tiger had two fast boats to contend with now because the Stingray Team, run by Kevin Whitcraft joined in the fun, being unable to race on day one.

Day three started with very little wind but after a half hours delay, 6 to 8 knots provided the same close racing. This format is less tiring than, three lap, one and a half hour races and so it was again possible to run 6 races. The last race is always a medal race with double points on offer. This always creates a very interesting start line as some boats push to get a great start and others just need to stay out of trouble. It was a clear start but the wind speed dropped dramatically half way up the beat and the race was shortened to one lap instead of two. Even so, the fleet had a hard time to keep their boats moving and finally crawled over the line with great relief.

And so another great weekends sport with some very close racing had finished. Time to pack the boats away and rush to the free beer and burgers provided by FLS who generously donate to the sport of yachting of all sorts at the Marina. Then it was time to have the awards ceremony with Scott Finston of OMYC presenting the awards. The race officer who had efficiently run 3 days of racing obviously had used up all his brain power as he proceeded to make a right royal mess of results and had to rely on crews to get it right. 
Chris Way and Easy Tiger won this round five and became the new OMYC Platu Champion of Thailand for his fourth time during the last 14 years. The crew of Stingray did a great job to overcome, the penalty of 3 DNS results from day one to finish second, just in front of Colin Simonds on Nam Prix. We must also mention the crew of Le Vent helmed by Nathan Masopust and the FLS Platu sponsored Platu 124, helmed by Justin Brownbill. They had their own close battles during the three days. Justin had come with his son and a friend from Australia to take part and said that he will definitely be back.

After results and awards it was time to party, and party they did. One of the stand out things about this Championship is the mutual respect all the crews have for each other and the partying was as close and hectic as the racing. This was made even more so as everyone had to huddle together under 4 sun umbrellas as the heavens opened and the rain came down in earnest.