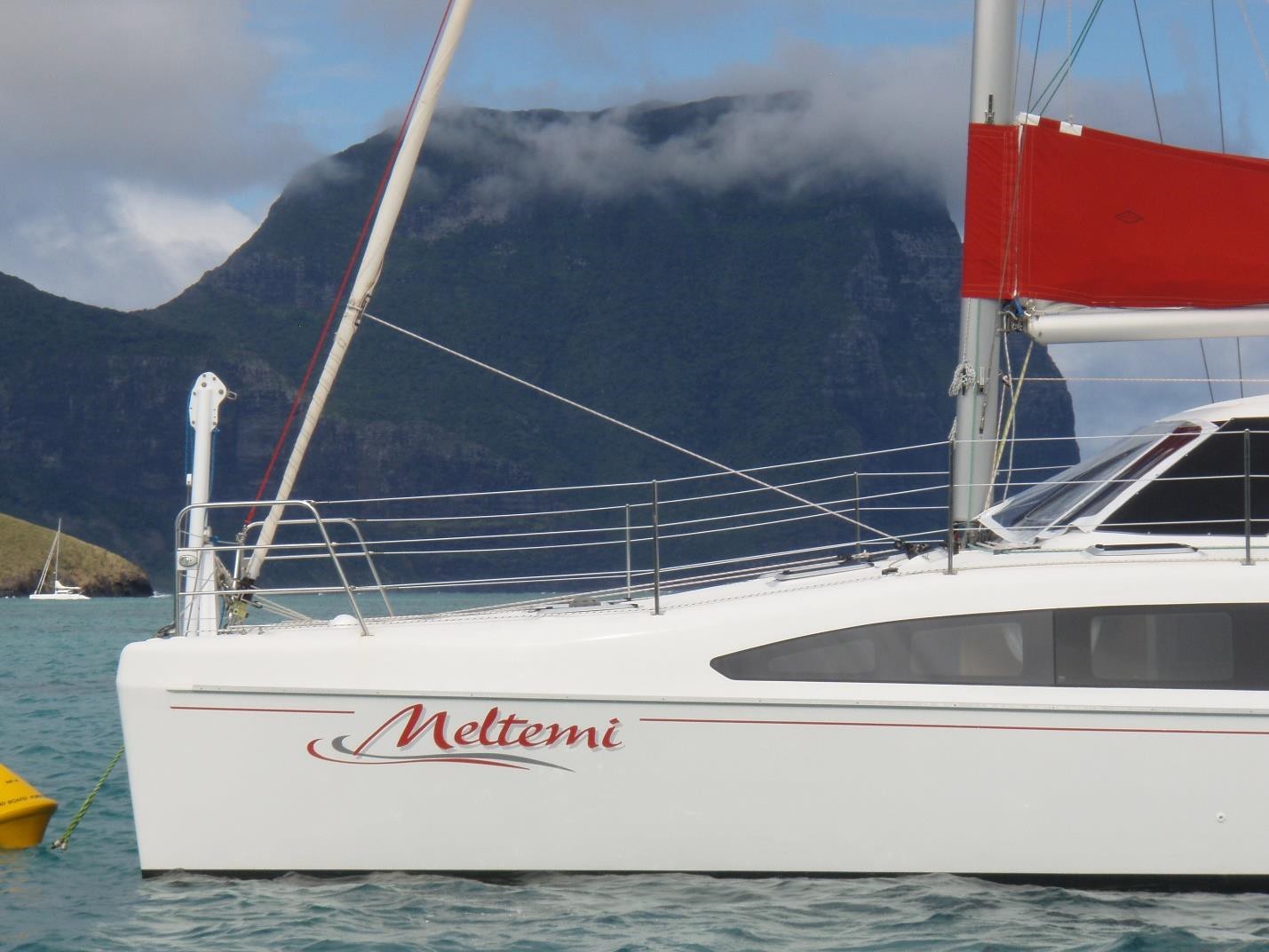 Meltemi in the Lagoon at Lord Howe Island dwarfed by Mt Gower
In late 2009 I had been for some time contemplating taking my nearly 3 year old catamaran, a Seawind 1160 named "Meltemi" up the coast to the Whitsunday Islands. At the time I was living in Nowra on the NSW south coast and the boat was kept in Currambine Creek at Huskisson.
My only experience in coastal cruising had been a few trips back and forth from Jervis Bay to Sydney and Pittwater. I had also done a few delivery trips for Seawind, but only as crew from Wollongong to the Gold Coast. But my navigational experience with offshore cruising was nil.
It was about this time that my next-door neighbour said he was planning a trip to Lord Howe Island. This began to sow the seeds of a plan in my mind to divert around the tiresome river bars of the NSW north coast by sailing from Pittwater to Lord Howe direct and then on to the Gold Coast. It all seemed so terribly simple. What could possibly go wrong?
I had looked on the chart plotter and yes, my charts included Lord Howe Island. I also purchased the paper charts of Lord Howe Island and all the way to the Whitsundays (a considerable expense, I might add). So, by early April of 2010 we were all ready to go cruising and brought the boat into the wharf at Huskisson. We started to load every conceivable item we might need. There was so much stuff that I needed to tow a trailer behind the car to get it all to the wharf. This was the first of the mistakes we made about cruising. Do not take unnecessary things with you that will just take up space and never be used. As the gear was loaded on board and the waterline slowly sank it was apparent, we would eventually need to raise the level of the antifoulwaterline.
My proposed crew for this adventure was my wife, Jenny together with Graeme, an old school friend of mine and his wife Annie, none of whom had any real sailing experience. I had sailed since I was born and was confident that the boat could be sailed single handed in an emergency. Again, what could possibly go wrong? Graeme and I sailed the boat up to Pittwater a week or so ahead in an uneventful journey to do a final pack at RMYC with the girls before departure.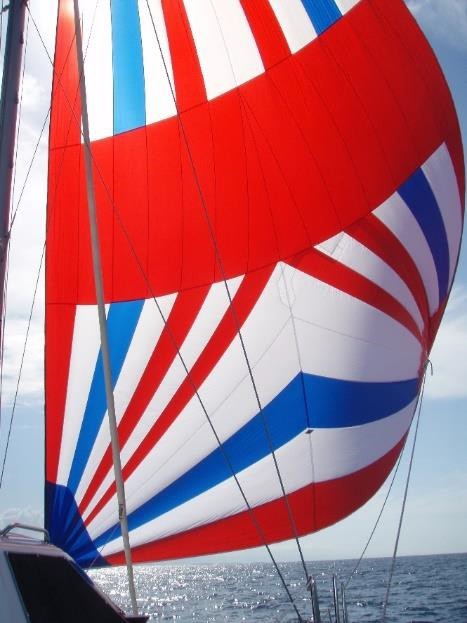 Sailing under bare spinnaker on the way to Pittwater
I was advised that fuel was only available in jerry cans and at great expense on the island, so we took an additional 120 litres of fuel with us as well as the boat's full tanks which I calculated would enable us to motor all the way to the Gold Coast via Lord Howe if we needed to. As it turned out, this was a good move. We left RMYC on 23rd April at 10am on a beautiful sunny day with a light northerly breeze and motor/sailed past Barrenjoey Headland and out into a calm ocean. Zoom out far enough on the chart plotter and you will find that Lord Howe Island is on a rum line course of 410 nm at roughly 74.5 degrees. Place a waypoint on the entrance to the lagoon and settle back to enjoy the ride. Seemed sosimple!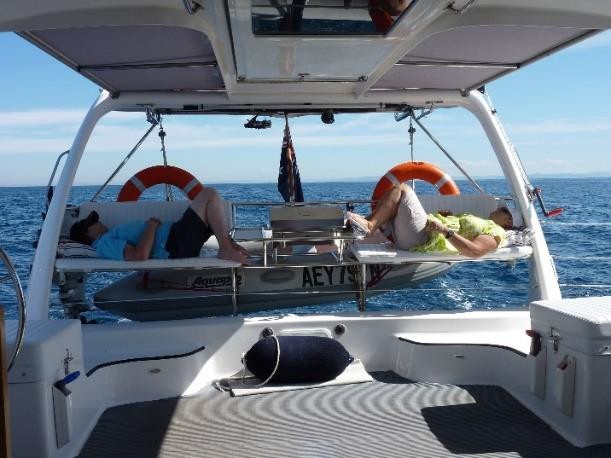 The crew hard at it during theafternoonwatch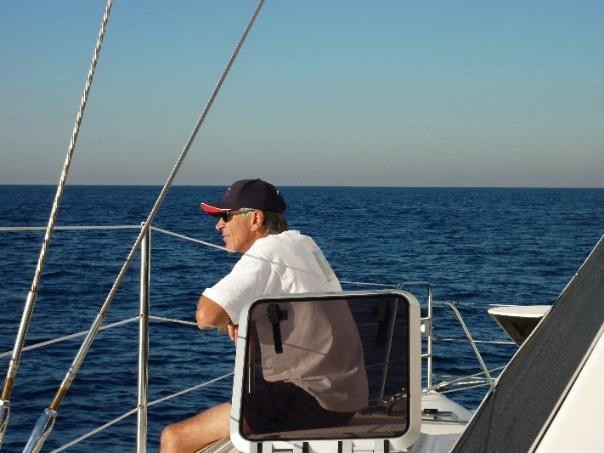 The calm before thestorm