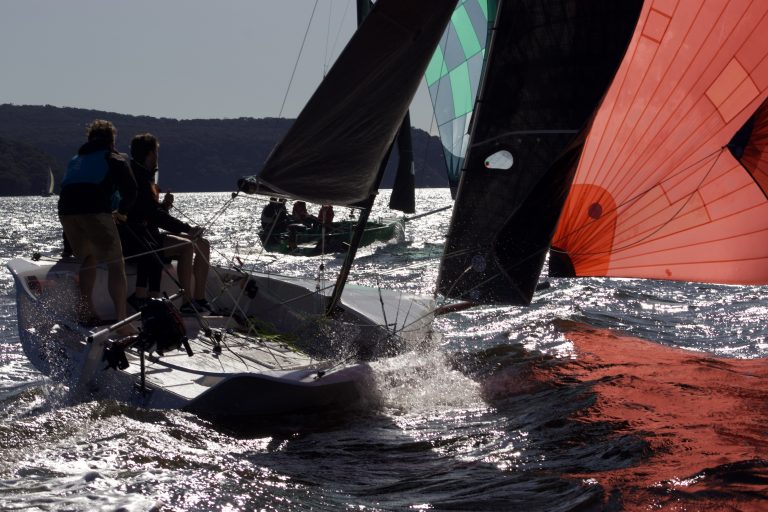 In a variable westerly, the first day of the Mick Hole Winter Keelboat Regatta got underway today on Pittwater with three sprint races sailed from the Royal Prince Alfred Yacht Club.
"We sail this regatta in honour of a very special bloke, whose memory is a reminder to all present and future members of what RPAYC is really all about. The world would be a much better place with a few more Mick's ",words from Simon Grosser on the event that will conclude at the end of next Saturday, 16 July after three more races.
Leading in the Etchells division of thirteen boats is Cam Miles on Sea Wings, who went to school with Mick Hole, and went on to sail with him as well. 
"The best thing about today was sailing with mates I haven't sailed with in years, and my 12 year old son Darcy was calling the shots" said Miles, current National Champion crew in the Etchells of today's sailing. 
"On flat water, everyone was going the same speed, so it came down to the starts and rolling the fluffy dice across the cockpit floor, as it is in Pittwater in a Westerly" he concluded modestly. 
"I went to school with Mick Hole, and sailed many miles with him. He was a great man," he concluded, focussing on what the regatta is indeed all about. 
Rounding out the podium in the Etchells class is Karabos skippered by Ron Jacobs and DOT skippered by Jan Scholten. 
Leading in the Sports Boat division also in a fleet of 13 is the REO 7.2, Re-Heat skippered by Luke Ratcliff. 
"We had our 29er skipper, Harley Ratcliff steering and we had a US sailor Penny Meakins on the boat as well" said proud father Luke Ratcliff following their three wins today. 
"Brett Davis made all the difference with his crewing today after coming off winning the 16ft Skiff Nationals with Malcolm Page and Nathan Wilmot, both Olympic gold medallists earlier this year" he concluded. 
Two Shaw 650's are in second and third, The Stig, skippered by Scott Wallace, and Stuart Innes' Tickety Boo. 
Leading in the Mixed Keelboats is Inevitable, an 11 Metre built in 1993 skippered by Ron Palmer, over Simon Grosser's Young 88, Young at Heart and Pacesetter, skippered by Andrew MacPhail, also an 11 metre. 
The regatta will conclude with three more races scheduled for next Saturday 16 July. 
Full results: https://app.sailsys.com.au/club/13/results/series/1704/pointscore?view=individual&handicap=s 
For more information on the Etchells Australia class head to www.etchells.org.au
-Ends-
Images: Robert McClelland
Words: Nic Douglass
More information contact Nic Douglass – 0402 454 885 or return email nic@nicdouglass.org