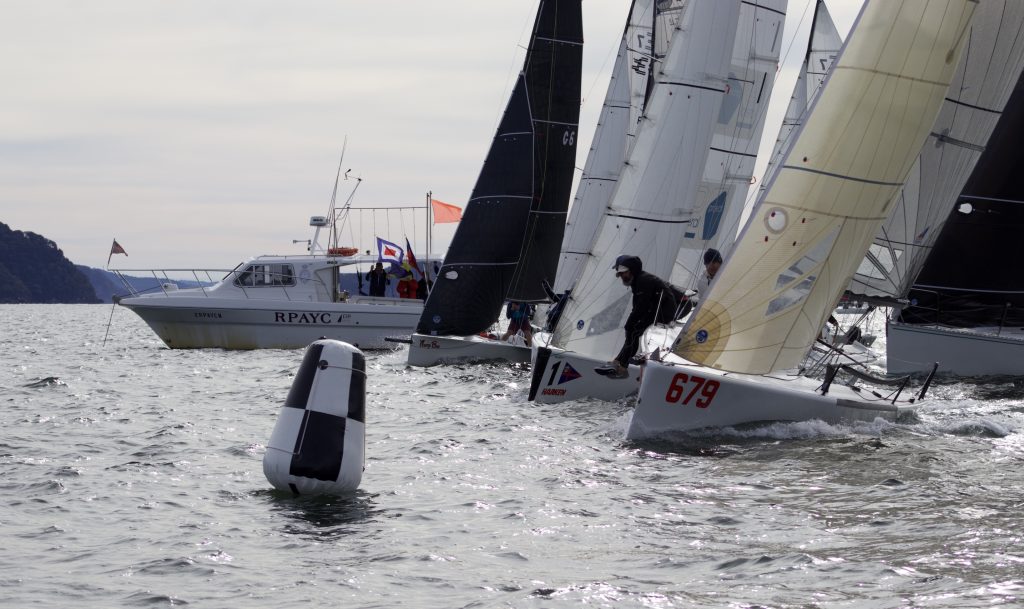 The Mick Hole Winter Keelboat Regatta concluded on Pittwater with two additional sprint races to make a total of five over the last two Saturdays from the Royal Prince Alfred Yacht Club.
"Team "DOT" won the "Micko" Regatta as we call it with skipper Jan "Clogs" Scholten mainsheet Jenny "the legend" Danks, and me on bow," said Mark "Freddy" Phillips, speaking on behalf of his team of Laser sailors.
DOT was the winning Etchells, over a standout fleet of 13 one-design entries.
"We paid $12K for DOT, less than a Laser," he joked. "What we lacked in kilos we made up for with years of experience" he said, also tongue in cheek, but which many know to be spot on.

"It was a lottery day, pick a side and wait for your number to drop, but we managed to take the win," said Luke Ratcliff, winning skipper of Re-Heat the REO 7.2 in the Sports Boat division.
"A big thank you and congratulations on a very well sailed and consistent regatta to Luke and Harley Ratcliff and Penny Meakins," said Brett Davis who was also on board with Re-Heat.
"Week one was more our conditions with around 15 to 18 knots in the gusts and we managed three wins from three races. As you can imagine the rum was opened pretty early that day," he proclaimed of the first round of the regatta.
The second round went a little differently, with very light conditions from the west.
"Chris Links on the Melges 24, Banter, gave us a tickle up in the first race. There was plenty of banter as we only managed a third," Davis commented.
"The fifth race, got moved a little way trying to find some wind. Very light and tricky conditions but by keeping our cool we managed to take out what ended up being the final race win, due to a lack of breeze, and the series".
"A big thank you to all the sailing committee and volunteers at the Royal Prince Alfred Yacht Club for their amazing efforts over the two weekends and congratulations to all the other competitors for two awesome weekends of
sailing," he wrapped up.
For many, the Mick Hole, or "Micko" Regatta is not about the results.
"Mick was a good mate of ours, and we were out there because we wanted to race with
our mates," said Simon Grosser, skipper of the Young 88, Young at Heart, which took part in both weekends of the event in the mixed keelboat class.
"Congratulations to the winners in the Etchells class, and the Sports Boats, but I would love for us all to race in one fleet next time so that we can have an outright winner across all of the fleets" he mused.
"The way that this event started was in Lasers following on from the Laser Masters Worlds in Terrigal where Mick was a part of our squad from the RPAYC. He used to capsize all the time, so we had to capsize and a full 360 before we finished
the race, which Mick would have loved" he remembered out loud the spirit of his friend.
"We spent both days of racing with mates, regardless of our fleet, remembering to race for the fun of it, just how Mick did" he concluded.
Full results: https://app.sailsys.com.au/club/13/results/series/1704/pointscore?view=individual&handicap=s
For more information on the Etchells Australia class head to www.etchells.org.au
-Ends-
Images: Robert McClelland
Words: Nic Douglass
More information contact Nic Douglass – 0402 454 885