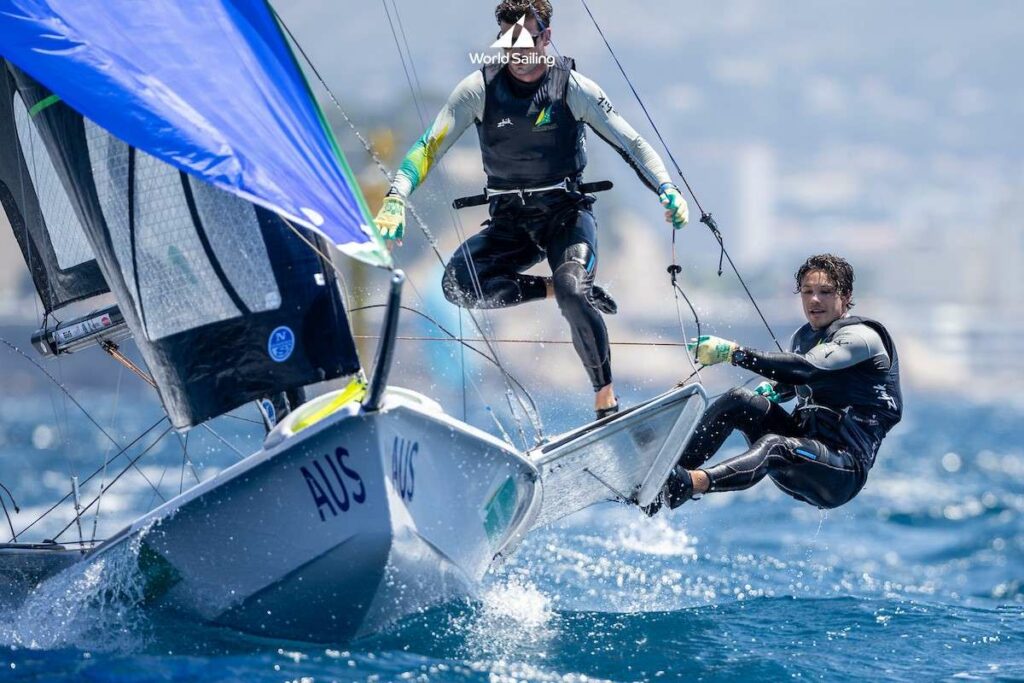 A Sou'wester of 10-12 knots made sure there was still more variation to come into play on the final day at the Paris 2024 Olympic Test Event in Marseille.
The three Australian entries in action were unable to improve on their qualifying positions, but Grae Morris (fourth in the iQFOiL), Olivia Price and Evie Haseldine (tenth in the 49erFX) and Jim Colley and Shaun Connor (tenth in the 49er) will all leave France knowing they are more than capable of mixing it with the very best in the hunt for medals come next year.
At the conclusion of the regatta, Australian Sailing Team (AST) High Performance Director, Iain Brambell said, "The Test Event has been a highly successful venture, as it saw the return of Matt Wearn to the top of the podium and five of nine Australian entries competing in their Medal Series/Races.
"We came into the Olympic Test Event to first and foremost compete against the best in the world, and secondly to fully test our processes both on and off the water. We have successfully achieved these two objectives and depart the Olympic venue this afternoon with many learnings and numerous strategic opportunities to explore in the coming year."
This won't be the last time the Aussies see the venue before the Games next year, as Brambell explained.
"Although we are unable to continue to directly utilise the Olympic venue as it houses the newly built French National Sailing Centre, our athletes will relocate two kilometres South to our mobile base at the Yachting Club Pointe Rouge. Here the team will continue to maintain their intricate exploration and connection to the waters and weather patterns of Marseille in the lead-up to the Paris Games."
"This regatta has been an excellent practice run for next year's Games, as well as a great litmus test for the entire team preparing for the 2023 Sailing World Championships. The Worlds will see nearly fifty Australians competing across all ten Olympic Classes, all of whom have high hopes of confirming nation qualification spots for the 2024 Paris Olympics", concluded Brambell.
Grae Morris has certainly 'come of age' this year, and a string of top-class results in the regatta only serves to highlight this. Two bullets (race wins) also underscore his achievements and new, higher standing in the iQFOiL windsurfer class.
Morris said, "This was a wonderful regatta with a super exciting medal race. I couldn't quite get the podium, but was a great fight."
AST iQFOiL Coach, Arthur Brett, elaborated further on the outcome and the plan moving forward, "It was tough and tight battle in the medal race semi-final. Grae missed by a whisker in qualifying for the three-rider final, finishing in fourth place overall. He has continued to build his race and technical game over the European summer, and now both of us are looking forward to tackling the immediate training and then the Worlds at The Hague in three weeks' time."
Olivia Price and Evie Haseldine on the 49erFX skiff completed their regatta in tenth, with an OCS (On Course Side) proving costly to their overall position. Price explains, "We were pushing hard to accelerate off the line and were probably a second or so over. It was an unfortunate end to the regatta.
"We have learned a lot, finding things to improve upon, and enjoyed the opportunity to be part of the Test Event team. The impending World Championships are going to be a lot of fun and great racing. It's also where we have the chance at qualifying the country (for the Olympics), so it's a big milestone to tick off."
Jim Colley and Shaun Connor continued a strong run of results this year, but they know they still have more improvement to come. Colley said, "Composure is key, and you never stop learning that one. The Test Event was a real test – of our racing ability, the relationship dynamics with me, Shaun, and Brady (Brady Lowe their coach), as well as the whole environment ashore and afloat.
"We have been in the top ten for all four regattas this year, so that sort of consistency is nice, but we do have a huge list of next steps to help us make sure we stay on the right track, especially with The Hague coming right up."
The Olympic Test Event will be remembered for a lot of things, notably the Superstar that is Matt Wearn, but there were many 'new' or younger crews that really stood up and impressed many.
Next up for the Australian athletes is the 2023 Allianz Sailing World Championships, where racing will run from 11-20 August in The Hague, The Netherlands.
Australian results at the Olympic Test Event:
ILCA 7 – 42 Entries
1st – Matt Wearn OAM – 1, 7, 5, (10), 5, 2, 3, 1, 6, (43 RET), 2 (42 points)
Men's iQFOiL – 22 Entries
4th – Grae Morris – 9, 3, (24), (10), 3, 4, 1, 2, 7, 2, 4, 3, 8, 5, 1, 9, 2, (13) (67 points)
Mixed 470 – 17 Entries
6th – Nia Jerwood and Conor Nicholas – 7, (16), 16, 2, 3, 4, 4, 3, 3, 11, 12 (65 points)
49er – 28 Entries
10th – Jim Colley and Shaun Connor – 16, 15, 4, 7, (17), 12, 15, 2, 7, 17, 4, 14 (124 points)
49erFX – 24 Entries
10th – Olivia Price and Evie Haseldine – 2, (19), 8, 12, 14, 13, 11, 4, 7, 17, 7, 19, 22 OCS (136 points)
Women's Formula Kite – 20 Entries
11th – Breiana Whitehead – 7, 10, 10, (16), 12, 12, 8, 13, (21 DNF), 9, (21 DNF), 5, 9, 7, 12, 7 (121 points)
Nacra 17 – 18 Entries
16th – Darren Bundock and Lisa Darmanin – 17, (19 UFD), 11, 11, 14, 16, 19 BFD, 14, 16, 14, 12, 11 (155 points)
Men's Formula Kite – 20 Entries
17th – Scott Whitehead – (20), 10, 12, (17), (16), 15, 16, 16, 15, 9, 11, (21 DNF), 14, 13, 13, 9 (169 points)
ILCA 6 – 38 Entries
20th – Zoe Thomson – 11, 8, 13, (39 DSQ), 39 BFD, 10, 24, 9, 28, 23 (165 points)
Words by John Curnow.
Follow the Australian Sailing Team
Web: www.australiansailingteam.com.au