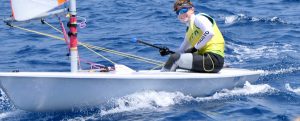 Recently I was fortunate enough to compete in my second ILCA 4 youth World championship. Firstly I flew over to Dubai for a couple days and then onto Valencia for a week of pre-worlds training camp under sailcoach.
 At Valencia I adjusted to the Summer climate and honed in on my racing techniques and strategies while meeting lots of new people I hope to see in the future competing along side them in the international circuit. The main takeaways from Valencia were being aggressive and adapting to the European style of racing. On 20th I flew over to Athens to do some exploring before driving along the Greek countryside to Volos. I met up with all of the Aussies and did a couple days of training at the venue and practice race before the event started. On the 24th we had the opening ceremony to officially start the event.
Day 1 was 2 races in light conditions on the Bravo course and I struggled to find my footing.
Day 2 (alpha course) was a Pittwater-esque right hand breeze that built throughout the day and I managed to score some keepers but due to the first day it wasn't enough to reach the top half of the fleet.
Day 3 we were kept ashore all day until a heavy northerly breeze crept through in the afternoon but due to the bushfire's smoke being blow over to the race area, racing was cancelled and everyone was ordered to go indoors.
Day 4 (finals) we managed to get 3 races away in heavy breeze. For the first two races I shined in that my boatspeed was much better than the rest of the competition but in race 3 I started on the pin and for the rest of the day it was a left hand track but went right and I got caught out which lead to a poor score.
Day 5 (finals) it was a light wavy day similar to Melbourne where I struggled to keep my lane and found myself in a tough spot on the line as I managed to start next to a fast boat each time and had to tack out, leading to a couple of bad race that affected the fleet standings for me a lot.
Day 6 (finals) I was APed ashore until the last minute where gold fleet were sent out and I joined on the RIB.
Overall this event allowed me to test my skills against the rest of the world, in the end consistency let me down. In the end I had some really good races that show what I can do.