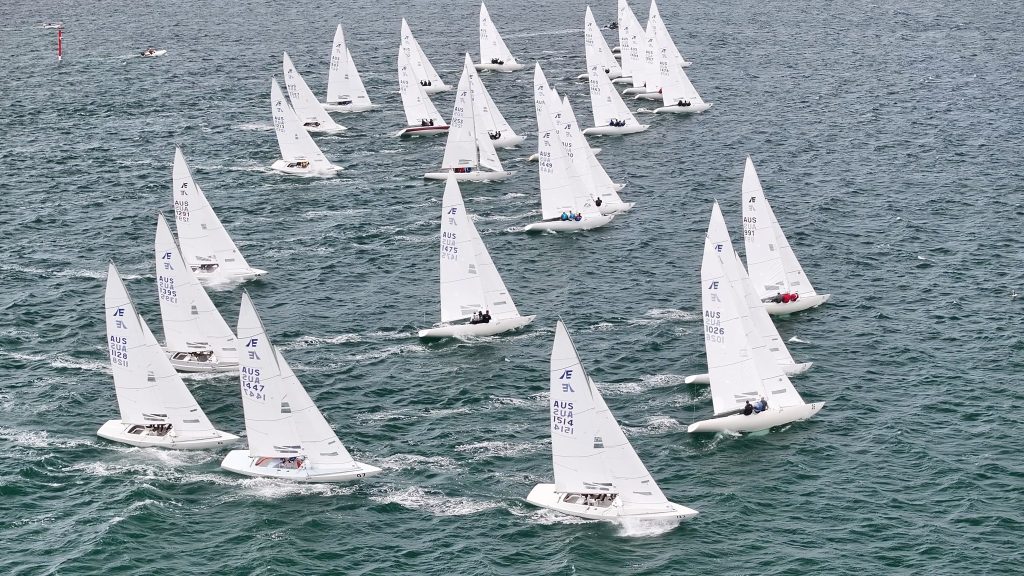 It is tight at the top at the Etchells NSW State Championship currently being sailed from the Royal Prince Alfred Yacht Club – RPAYC with Chris Hampton and the team on Tango AUS1466 from the Royal Brighton Yacht Club, leading on a countback over Mark Thornburrow on Racer CC AUS1482 from the Royal Hong Kong Yacht Club (RHKYC).
"We had a great day on the water", said Hampton. "It was great fun close sailing with 31 boats, and relatively short courses at 1.1 – 1.2 nm in plenty of breeze".
"There were big shifts, and the key was to join up the pressure & shifts which was easier said than done. There was also some tidal and water flow relief from overnight rains closer to shore", he added.
"A great day's racing at RPAYC", he finished.

The day could have been better for visiting South Australian Corinthians, Shoulda Gone Left AUS1395, who have dropped from sixth place to eleventh on retiring from race 3. They are still the leading Corinthian, and with a drop, which comes in after five races, and some good sailing for the next few days (maximum of 9 races), could be back in the hunt.

"I would like to blame everything else but ourselves, but this was on us", said the skipper Robin Deussen. "We haven't sailed an Etchells here before, and we sailed inside the moorings, we broke Rule 14.1 in the Sailing Instructions. So we retired from the race [race 3], there is no excuse", he admitted.
"But it doesn't matter too much. We are here to learn. We are going good enough to compete with them all anyway. We don't have anyone to race against regularly being from the Cruising Yacht Club of South Australia, so that is why we are here, and we learn so much in this fleet. We are doing everything State level and up except the Victorian States before the World Championships because of how much we get out of it", he finished.

Images by Terry Calley from Hippodrone