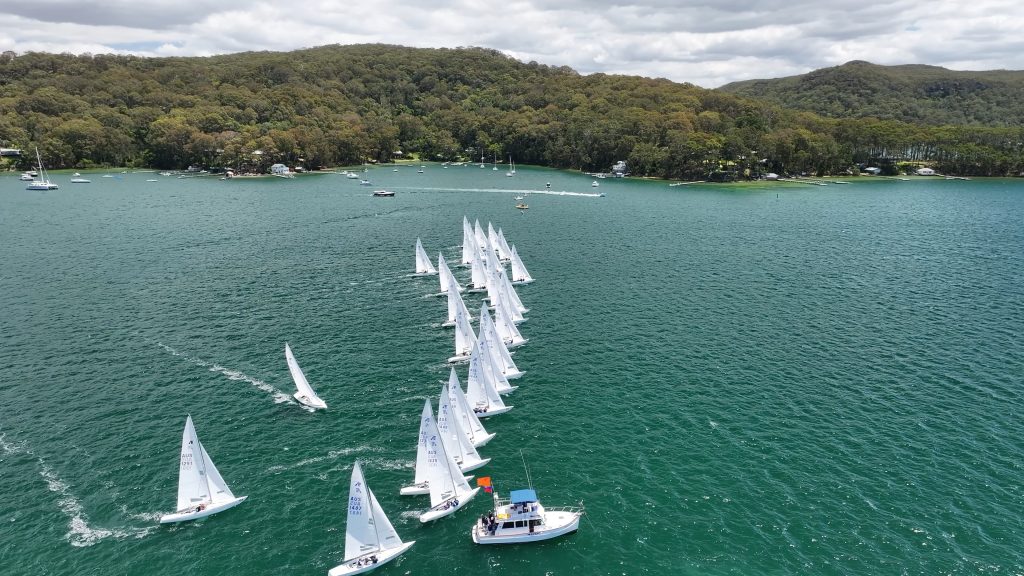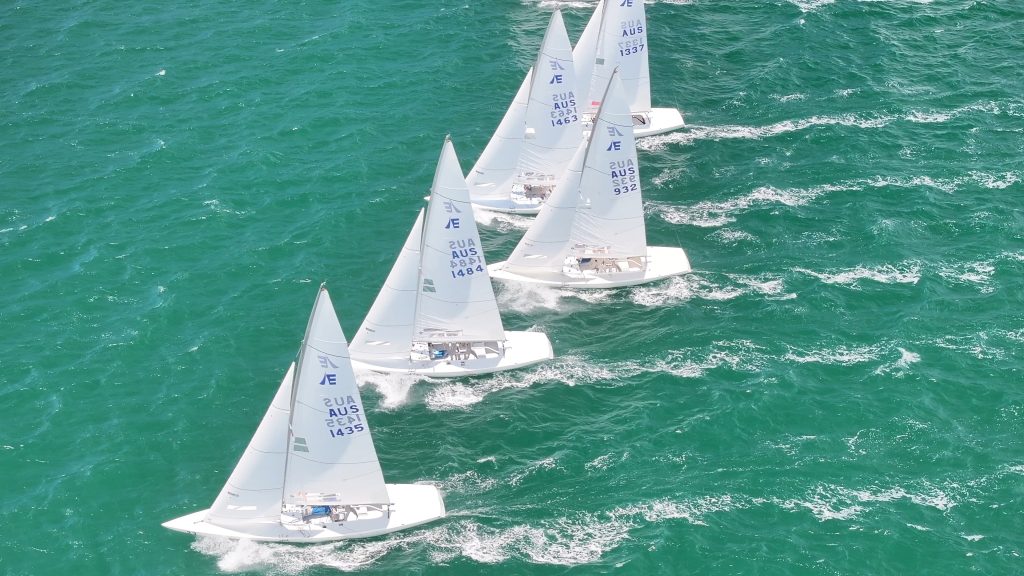 Racer CC wins Etchells NSW State Championship 2024
The Etchells NSW State Championship 2024 has concluded at the Royal Prince Alfred Yacht Club, with Mark Thornburrow's Racer CC team, representing the Royal Hong Kong Yacht Club, having a ripper of a final day to take the win in the nine race series. His gun crew of Malcolm Page, Nathan Wilmot and Julian Plante were no doubt a big part of the secret to an eventual six point margin, discarding only an eighth, in the nine race series over three days from 17-19 November. 
"Fantastic win!" exclaimed Thornburrow post racing. "Great racing, in a high quality class on a small track, all weekend. Fantastic", he echoed. 
"The first day was the windiest when it was in the south, but the shifts were most frequent and the biggest today". 
Racer CC only took the lead at the end of the eighth race of the series, and continued to push forward to be boat of the day, with a 1, 1, 4 and take the overall win, which Thornburrow put largely down to his team. 
"Mal [Page] and I have been sailing together for ten years now. I think we had the lowest drop by a long way, that's the way Mal sails. And we had him doing upwind tactics, and Nathan [Wilmot] doing downwind tactics", Thornburrow revealed. 
"We definitely had more gold medals than any other boat", he joked. Noting the two of Mal Page and Nathan Wilmot for their win in Beijing on the 470, and then a second for Page in London with Mat Belcher. 
"It was the first time I have sailed with Julian Plante, but we have sailed against each other for twenty five years now. Julian will do the Nationals in Sydney, and the Worlds with us in Perth". 
"We are working towards the ultimate goal of the next World Championships, and doing one better then we did at the 2018 Worlds in Australia [where the Racer CC team finished second]", he concluded as he went back to celebrate with his team. 
Winning Corinthians, Shoulda Gone Left AUS1395 skippered by Robin Deussen, with David Snoad and Jesse Mitton, all the way from the Cruising Yacht Club of South Australia had a very up and down regatta, but still had a blast in the class and at RPAYC. 
"In the scheme of things, with all of the results that we had that really hurt, we still had a good overall result in the end", said Deussen. 
"It was tough out there", he admitted. "Look at Chris Hampton who had a ten point lead overall this morning, who ended up fifth, that is how hard it was today. Everyone apart from Mark Thornburrow, Martin Hill and John Bertrand had bad ones today which is why there was such a mix up in the results. They finished 1, 2, 3.""But it's such a great place to sail, you are never out of the race! If you've had a crappy start or a bad work, you can still be in the game", he finished on the South Aussie team's trip to Pittwater. 
Chris Hampton and his team of Sam Haines and Charlie Cumbley on Tango AUS1466 from the Royal Brighton Yacht Club, were leading on a countback over Thornburrow's Racer CC, AUS1482 after day one on Friday 17 November. 
"We had a great day on the water", said Hampton after day one. "It was great fun close sailing with 31 boats, and relatively short courses at 1.1 – 1.2 nm in plenty of breeze". 
"There were big shifts, and the key was to join up the pressure & shifts which was easier said than done. There was also some tidal and water flow relief from overnight rains closer to shore", he added. 
"A great day's racing at RPAYC", he finished. 
The Australia II legend John Bertrand who loves to race his Etchells Triad2020 AUS1478 in his spare time, and at this event finished third with his current National Champion team of Louis Brake and George Richardson, was exceptionally complementary of Hampton, Haines and Cumbley who were also the leaders after day two on Saturday.
"Chris Hampton and his team bolted today", said Bertrand. "They kept their racing clean, very smooth. We sailed in 10-17 knots, with 10-30 degree shifts. Typical Etchells racing…the top teams were glued together in terms of boat speed". 
"It really makes for superb racing. Crossing within seemingly cm's", Bertrand described his love for Etchells racing. "What a way to live!"
But it wasn't to be for Hampton, who finished the regatta with his worst results, 8, 15, and 13 on the final day, and was relegated to fifth. 
"It's hectic racing with the start between Scotland Island and the western shore, and in a building nor'easterly breeze there are plenty of close calls", said local RPAYC sailor Jenny Danks, new skipper of the corinthian team on Miramar AUS1253, with Hugh Richardson and Bruce Dey. 
"It can be hard if you end up mid-fleet. But we all had a lot of fun despite our inexperience in the class, and my son was also racing and he did really well", said Danks of her weekend. Her son finished on the podium with Triad2020 AUS1478. 
The regatta would not have been possible without the local competitors, and volunteers. A massive thank you to the host club, the Royal Prince Alfred Yacht Club for their hospitality, and their brilliant team of volunteers, Steve & Rosemary Merrington, Bruce Lakin, Bob Rayner, Paul Slade, Pam Scrivenor, Ron Palmer, Trevor Hannah, Warwick Crossman, Phil Burgess, plus Micheal Lockley with his Rib. There were also four jury officials, who worked hard all weekend, Richard Hudson, Chris Hornsby, Steve Hatch and David West. 
Thank you as well to the Championship supporters, long time class sponsor North Sails, who supplied a $1500 voucher for the mid-fleet prize and Zhik, who provided a $150 voucher for each crewmember of the first three Corinthian teams. 
-ends-
More information: 
Nic Douglass
nic@nicdouglass.org
+61402454885
Or 
Brendan Rourke – Sailing and Communications Manager – RPAYC
brendan.rourke@rpayc.com.au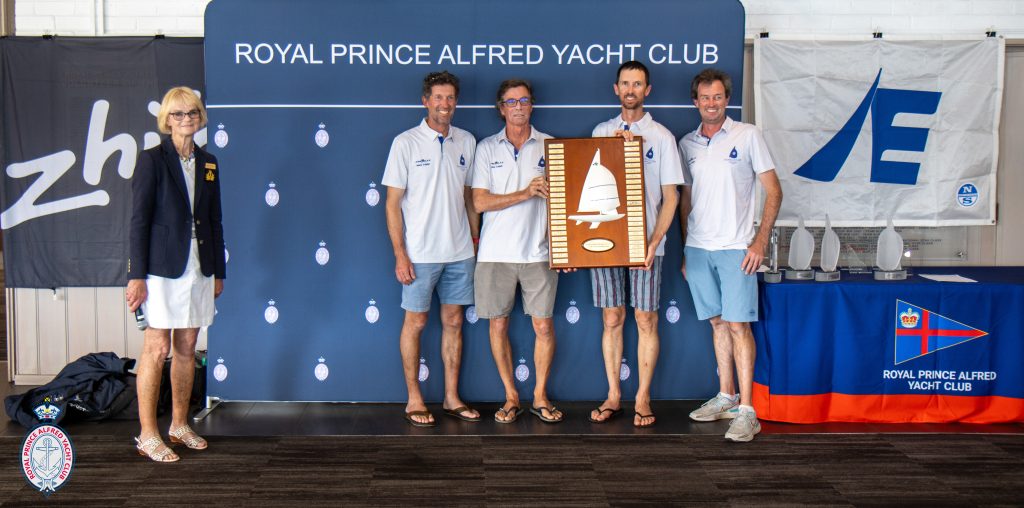 Full Prize List – Etchells NSW Championship 2024
Mid Fleet Prize (Provided by North Sails $1500 Voucher)
Jindavik AUS1487 Toby Richardson, Lucas Upton and Sam King
3rd Place Corinthian (Zhik $150 Voucher x3)
1463 AUS1463, Matthew Ramaley, Mark Langford, Jess Angus, Roelina Westerman 
2nd Place Corinthian (Zhik $150 Voucher x3)
Flirtation AUS1026, Matt Crawford, Lee Antill, Adam Law
1st Place Corinthian (Zhik $150 Voucher x3)
Shoulda Gone Left AUS1395 Robin Deussen, Jesse Mitton, David Snoad
Master
Triad2020 AUS1478, John Bertrand  
Grand Masters
Great White Hunter AUS1483, David Dunn
3rd Place Overall
Triad2020 AUS1478, John Bertrand, Louis Brake, George Richardson. 
2nd Place Overall
Lisa Rose AUS1484, Martin Hill, Sean O'Rourke, Noel Drennan, Nagisa Sakai
1st Place Overall
Racer CC,  Mark Thornburrow, Mal Page, Nathan Wilmot, Julian Plante