MEDIA RELEASE                                       19 March, 2021
Change of dates entices the best for Club Marine Pittwater to Coffs Harbour Yacht Race
A new superyacht, a super maxi, a TP52 that is the benchmark in yachting and a multihull that will be difficult to beat, along with their equally high-profile owners, are among the classy field taking part in the Royal Prince Alfred Yacht Club's (RPAYC) Club Marine Pittwater to Coffs Harbour Yacht Race to start on Friday 26 March off Barrenjoey Headland at Pittwater.
Marcus Blackmore's new superyacht, Ammonite (named for the extinct marine mollusc), Matt Allen's all-conquering Ichi Ban, Christian Beck's super maxi InfoTrack and Dale Mitchell's multihull, Rex, are among those lining up for the 36th edition of the race.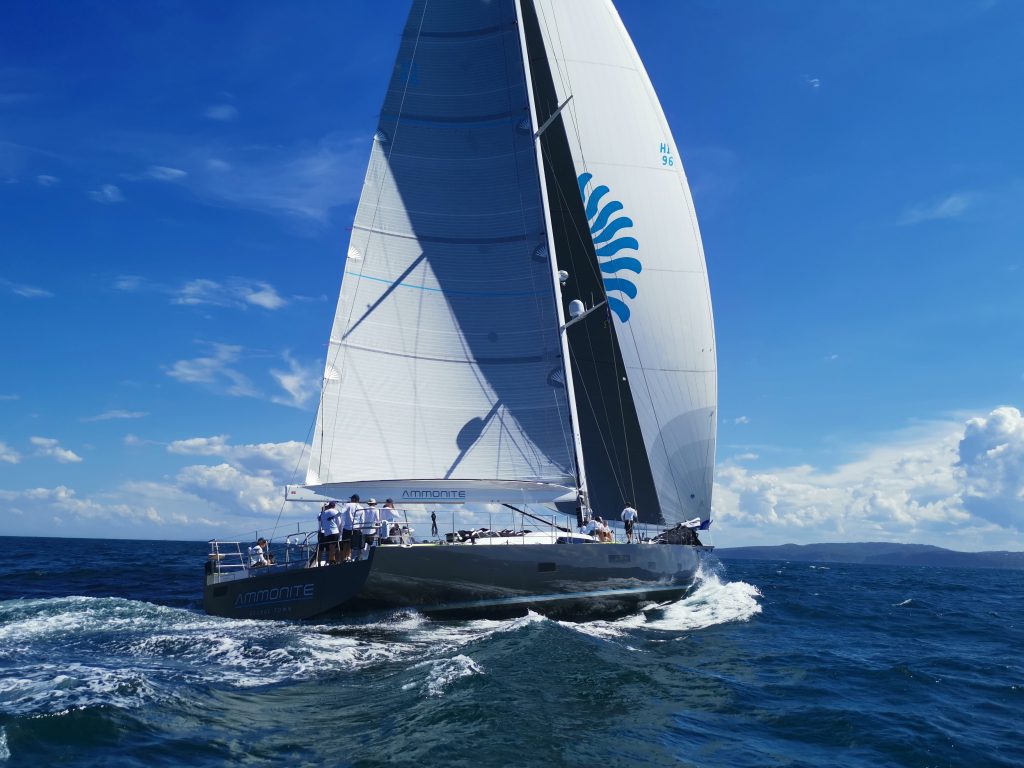 All eyes will be on Blackmore's new Southern Wind 96 luxury yacht when it makes its offshore racing debut in the 226 nautical mile race. A longstanding member of the RPAYC, the vitamin king's carbon fibre yacht with a lifting keel and twin rudders is an unknown quantity.
"This is our first offshore race – and probably our only one in Australia. I shipped it here because COVID changed everything I was going to do overseas," Blackmore said.
On the competition: "There's no way we'll beat InfoTrack. It's a stripped out racing boat; mine is a much heavier cruiser/racer. This is a good opportunity to use it though, and we've been doing a bit of training."
Poles apart from the rest of the fleet, Blackmore explained: "We have two generators, Australian artwork, five TV's – one a big screen, a coffee maker, cocktail bar and cocktail maker, sparkling water on tap, five burner stove and air-conditioning. There are two crew cabins for four, a master cabin for me and two guest cabins that take two or three people each – and five bathrooms. It's a beautiful yacht."
The Pittwater-based yacht club moved the start date from 2 January to 26 March, meaning it no longer overlaps with the Rolex Sydney Hobart, paving the way for the likes of Matt Allen's 2017 and 2019 Sydney Hobart winning TP52, Ichi Ban, and Christian Beck's InfoTrack, which as Perpetual Loyal broke the race record and took line honours in the 2016 Hobart, to take part. It allows competitors an opportunity to race at Sail Port Stephens and contest the Brisbane to Gladstone Race afterwards.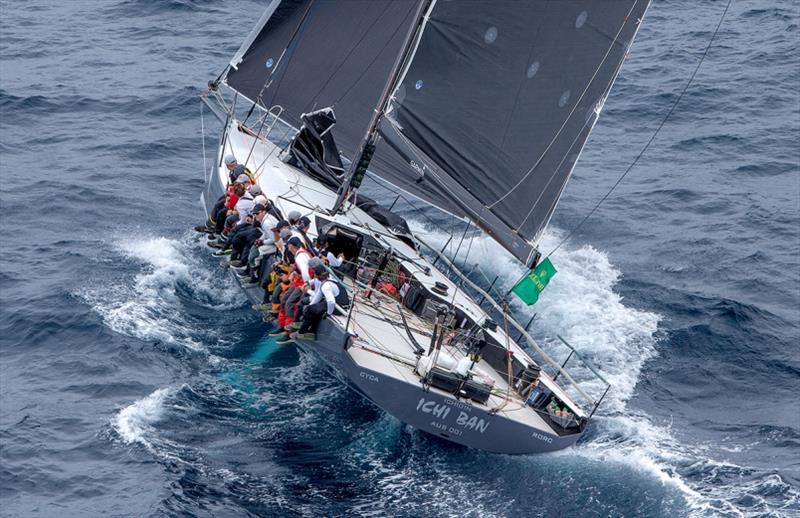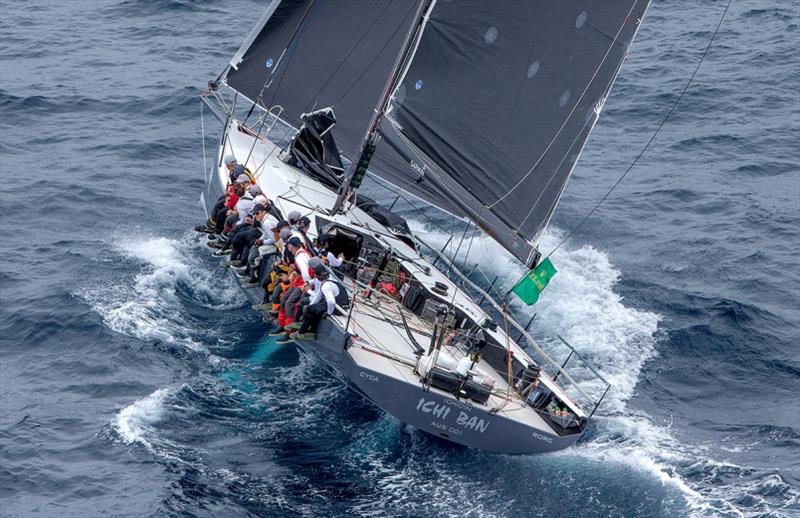 Ichi Ban will start as favourite for overall IRC honours, while software visionary, Beck, will be chasing the race record of 18 hours 29 minutes and 14 seconds, set by Wild Oats IX's in 2003, one of the longest standing sailing records in Australian history.
Beck is not alone in chasing a record. Prominent Queensland multihull sailor, Dale Mitchell, has entered his ORMA 60, Rex. The Whitsundays sailor brought his multihull to Australia in time to win Airlie Beach Race Week 2020.
Mitchell will be chasing Team Australia's (Sean Langman's ORMA 60), record of 17hrs 3mins 5secs set in 2014: "The ORMA record is a motivating factor for us – it's all about chasing the clock," Mitchell confirmed.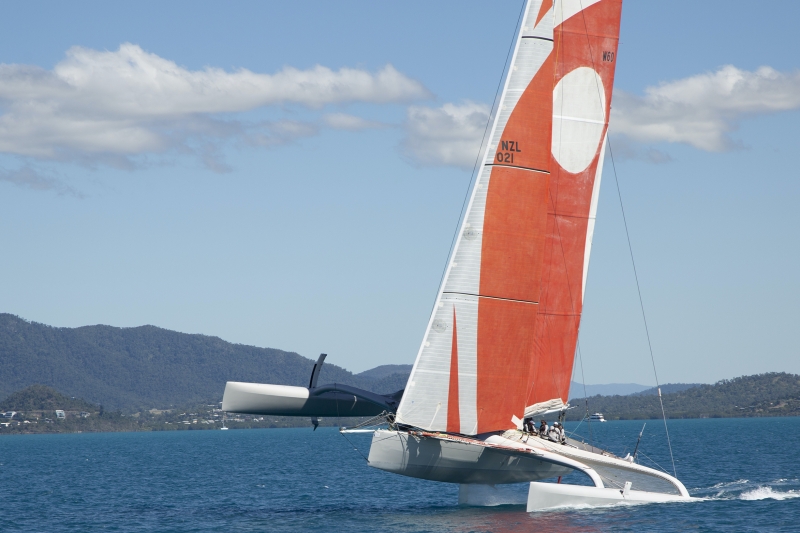 When it comes to winning overall, Mitchell says it's wide open and weather dependent.
"Darren's boat is suited to more breeze than us," Mitchell said of Darren Drew's well-campaigned Crowther 50, Top Gun, representing RPAYC. "We're better in light to moderate conditions, but any of the multis can win overall with the OMR handicap system.
"For us, the change in start date is much better; particularly as we have a lot of considerations around Christmas as to what we do with the boat. This way, we can sail from Coffs to Brisbane for the Brisbane Gladstone.
"The RPAYC has been fantastic in giving us a mooring right off the Club. Rex is as wide as it is long, so this is perfect for us," Mitchell ended.
Forty-two boats will start the race off Barrenjoey Headland at 1300hrs on Friday 26 March. The fleet is represented by NSW and Queensland across IRC, ORCi, PHS, Two-Handed and OMR (multihull) divisions. 'The Alfreds' is well represented with 13 boats across the divisions.
The start will be streamed live on the RPAYC Facebook page for those wishing to follow the race; and each yacht's position will be updated throughout.
For all information on the Club Marine Pittwater to Coffs Harbour Yacht Race, including Entry List, please visit: http://www.pittwatertocoffs.com.au/
Di Pearson/RPAYC media
**Ends**
Find us on Facebook: https://www.facebook.com/royalprincealfredyachtclub/
Follow us on Instagram: https://www.instagram.com/rpayc/
@rpayc #rpayc #pitt2coffs
Further media information:
Brendan Rourke and Nick Elliott, phone: 0427 477 854 or email: sailing@rpayc.com.au