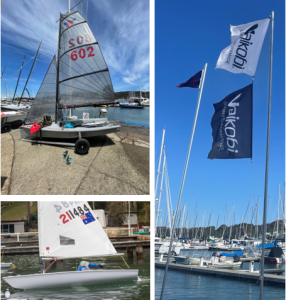 The first week back into club racing after New Year's, and into Round 1 of Summer Series on 22 Jan saw racing abandoned due to lack of wind – so we were gearing up for an exciting Club Champs round this past weekend. A nice breeze of 8-9 knts wasn't enough to entice our Waszp sailor but we did see a motley crew of other Centreboard sailors join in for racing. 3 Optis, an Ant, Multi, Skud, M14 and 29er took to the water with 10 Lasers. We got 3 races away before the storm started to close in.
Our Race Committee for the weekend saw our core group of volunteers again dedicating their Sunday to support everyone and provide an opportunity for the competition to go ahead. If you have ever considered volunteering but just not sure how to join in please reach out to Scott Paulson as we would love to grow our volunteer base.
Piper once again took the lead for our presentation back in the clubhouse which provided another good opportunity to recognise the participation and skill of our centreboard community of sailors.
There has been plenty happening over this summer holiday period and the Class Reps will be providing updates and images from all of the events in the coming days. If you have a story or some images you would like to share please send them through to our Rear Commodore Mat Butterworth or to the sailing office sailing@rpayc.com.au
See you on the water – Andy Springer – RO