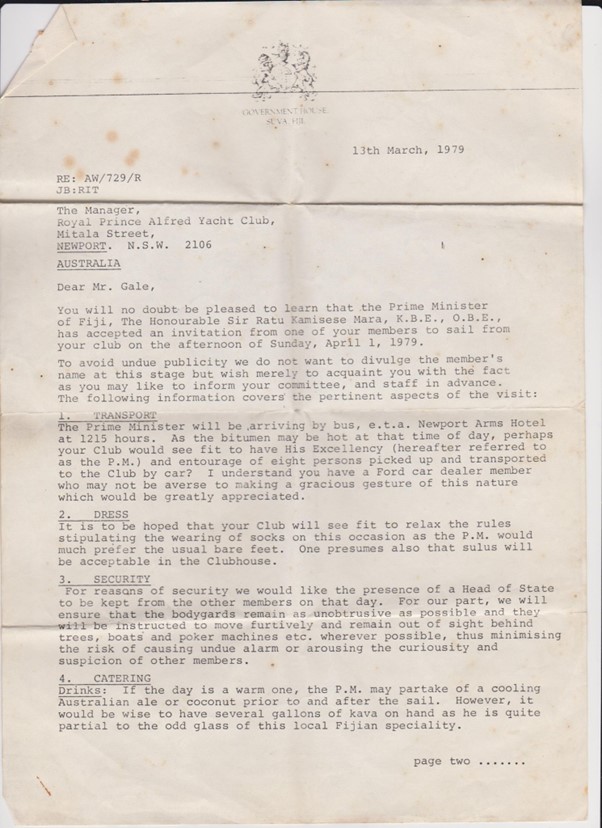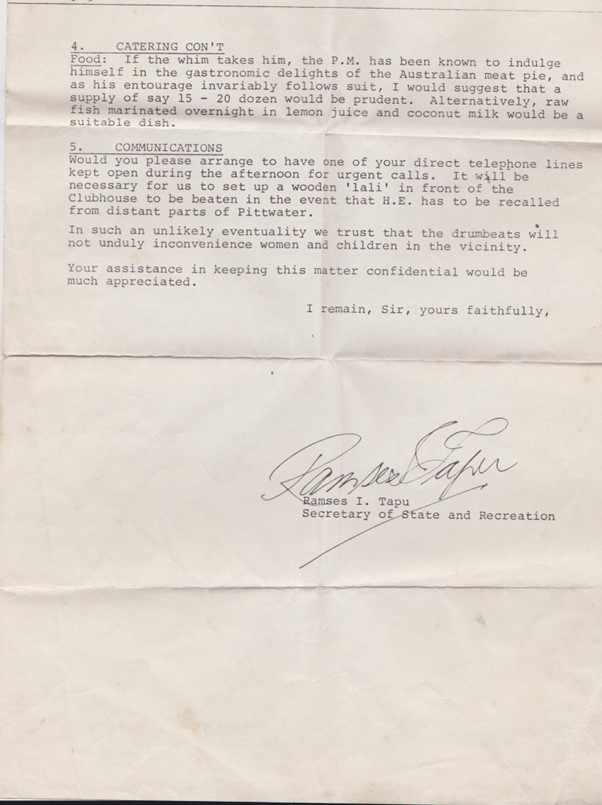 We received a call from an Adelaide Belyea (nee Thorne) last week advising us of the capers of her prankster late father, Peter Thorne, and his crew off Venus II.
On March 13th, 1979, RPAYC received an official notice from the Kingdom of Fiji informing that they could soon expect a visit from The PM of Fiji followed by a request that official protocol must be observed. This included using a red carpet in the carpark as the PM would be barefoot, all sailors to have bare feet to duly respect the PM, along with the PM's favourite refreshments which included cava and traditional Aussie fare, such as meat pies and beer (complimentary of course).
Behind the letter is a tale and it goes something like this:
The young advertising creatives that crewed on Venus II quite enjoyed club racing as it was a chance to let their hair down, sail Pittwater and have a few beers. Taking their time to quench their thirst, they were regularly last back to the clubhouse for presentation, which annoyed the ever-frowning members and committee.
One Sunday afternoon the crew off Venus II were finally refused entry, on the grounds that their attire did not meet the club standard: they were not wearing socks with their boat shoes. Affronted by this arcane law the gentlemen retired to the Mona Vale Hotel and hatched a cunning plan.
They drafted a letter from "The PM of Fiji" stating that he would soon be visiting and the necessary protocol (as mentioned above) must be followed. They produced the letter on official letterhead, dated, and signed it "Ramses I Tupu" (say it aloud)! They stuck it in the mail with a giggle on the Monday and thought nothing of it.
Until…..
a few weeks later after club racing on April 1st, they arrived late to the club and noticed the red carpet, the bare feet, the complimentary refreshments.  Fingers were pointed and stern looks from the committee were directed their way throughout that day's presentation as it was clear the PM was a no-show. The members and guests certainly enjoyed the complimentary refreshments and the relaxation of dress code that day.
We want to thank to Adelaide Belyea (nee Thorne) for finally letting us in on this intriguing piece of RPAYC folklore. To our longer-term members, do let us know if this story rings a bell!
A copy of the letter is above for your perusal. (Note the date of the proposed visit, and try saying the name aloud of the person who signed the letter!)