Worlds 2017 - Daily updates
Day #2 (race 3) - Report by CinqueCinque (SUI 227)
Boots or shoes? Do you think we will be wet today?
So long story short, weather was definitely wet and windy :)
After a first general recall, the race committee launched a race under black flag. A massive right shift during the first upwind leg let a big part of the fleet to be over-layline. So full speed to the first mark, then pushy first downwind leg with a uncertain goal, leading to drop the spinnaker and point high to the mark.
Second windward leg and then really pushy downwind leg, with only a few of the competitors keeping the spinnaker up (us). Last upwind leg, wet, wet, wet and wiiiindy, and back home after this cool race.
A very good one for our crew, good speed, good feeling!!
And cherry on the cake, the after race " Breton buffet" party, organized by the Yacht Club Benodet, was really amazing, with specialties from Brittany, fresh beer and cider, shrimps fresh from the Guilvinec fished this afternoon, and a workshop to learn, make and eat crêpes!
Chasing The Cup – My America's Cup Journey
Jimmy Spithill used Bulgarian 'heavy' to silence abusive Kiwi internet troll
Jimmy Spithill used New Zealand private investigators and a Bulgarian "heavy" to shut down a Kiwi in London who was giving him abusive and menacing comments over the internet in the wake of Oracle's miracle comeback to win the 2013 America's Cup.
Spithill certainly didn't endear himself to either Emirates Team New Zealand or Kiwi fans in general with his constant goading during the remarkable America's Cup match in San Francisco as Oracle Team USA fought back from the seemingly impossible position of 8-1 down in the race to nine points.
Spithill revealed the level of hatred directed at him and the lengths he went to stop some of it in his new biography, Chasing The Cup – My America's Cup Journey.
Bushranger brings home the silverware at HIRW
Well what a way to finish the regatta, with Bushranger getting another bullet!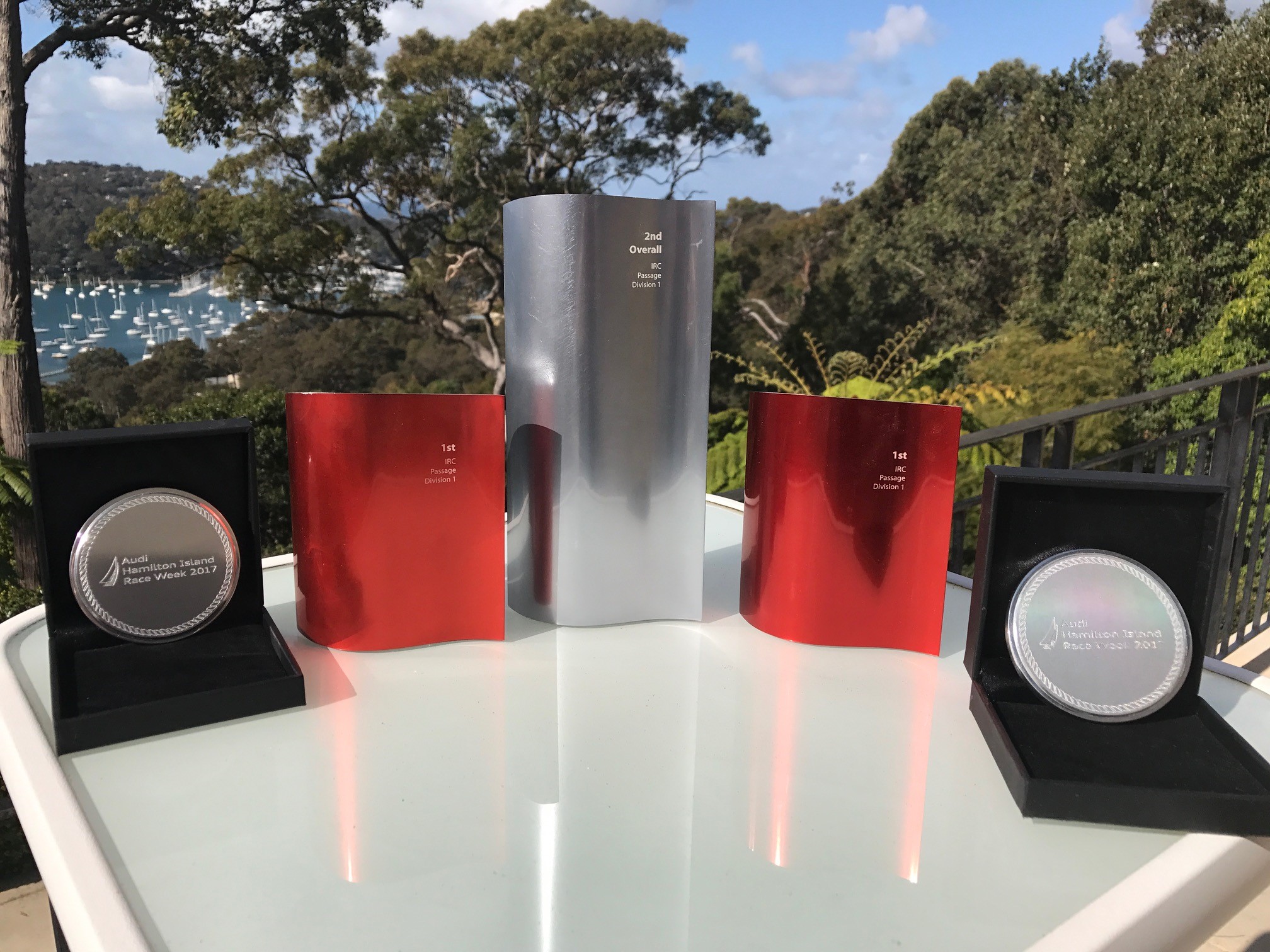 It was a fantastic way to wrap up the seven days of racing and it helped us to a clear 2nd in the series, only 3 points off 1st. Considering the passage style racing and fairly strong winds we are very happy with the result. Congratulations to Swish who were just too fast for us in this regatta.
Also well done to Toy Box 2 who was 3rd, as we had great racing with them all around the course. It's been an absolutely fantastic week up here a Hamilton Island. We have had stunning sunny days throughout and have sailed on some of the most beautiful waterways in the world. Congratulations to the Hamilton Island Yacht Club and the race committee for putting on such an enormous and well run regatta.
For anyone who has not done a Hamo, put it on your bucket list, as it is one of the best yachting regattas in the world!
A special thanks to our owner Gerry Hatton and our fantastic crew. We have all had a blast, along with many many laughs this past week.
Thanks also to North Sails, Olectrics B&G instruments, Mark Mills the Yacht Designer and MAT yachts for providing such a wonderful boat to sail on. Finally thanks to all who followed us this week, we hope you enjoyed it.
For now until our next regatta, it's Bushrangers out!
By Andrew Hatton
Deckhardware Invitation to All, 3 September Jack Gale Centre
INVITATION TO ALL
Join us at 10:30 on Sunday the 3rd of September on the Centreboard Lawn when Phil from DeckHardware will talk about sailing products, how to choose them, how to use them and how to maintain them.
Do you know what to use and where on your boat?
Do you know how to look after your rope and fittings?
When you coil your rope does it end up in knots? There is a trick to help avoid this!
Did you know there are types of Dyneema® fibre which then becomes different types of Dyneema® Rope?
One of the interesting things about hardware design over the last few years has been the development in rope technology. Previously block ranges faced an unchanging demand and lightness was the only desirable characteristic, however this is no longer the case.

Phil will be discussing the different loads on your blocks, depending on the application you are using them for and where they are placed in the system. As well as some of the new products available like Dog Bones.

Phil will discuss the different types of rope to help you choose which type to use. We know this can be a tricky process and often it comes down to the individual sailor and what they like.
RPAYC Sailors excel in the Ice Breaker Series
The final round (of four) of the Winter Ice Breaker Series was held on Sunday with 50 competitors braving the chilly conditions on Pittwater across nine divisions. The Series is a popular event attracting competitors from across NSW.
Notable RPAYC performances included Walter Tuite's gong in Optimist Intermediate Fleet. Markus Sampson also put in a stellar performance, placing third in the series, an impressive debut in Intermediate fleet. Markus will be one to watch this summer season!
All three laser classes saw fantastic performances from RPAYC members as well, most notably, Thomas Skinners hat-trick on Sunday and subsequent first place in the series point score in the Laser 4.7 class. The radial class saw tight racing with only 8 points separating 1st and 2nd place with Antony Hawke taking out first place overall.
The Club is very pleased to announce the naming rights sponsor for the 2018 Ice Breaker event is Seldon for Sailing. "We are very excited to see Seldon for Sailing come on board for the 2018 Ice Breaker Series…. this is a testament to the success of the event and confirms the Ice Breaker's place as a staple winter event in the Sydney metro centreboard community's calendar" said RPAYC Sailing and Marketing Manager.
The Club would like to thank all competitors and volunteers for their involvement in another successful Ice Breaker Series and we look forward to round 1 of the summer series commencing on Sunday the 3rd of September.
Fareast 28R Championship at RPAYC
Fareast Yachts is organising its first 28R Championship and has chosen the RPAYC to host their Class event on 4-5 November, 2017. The RPAYC are hosting the first of four season weekend regattas for one design and sports boats. Six races are scheduled on the windward / leeward course on Pittwater. The Club's annual program schedules a number on specific events tailored for such boats like the 28R, view the program here.