It was late in the evening at the 2011 Annual Prizing giving at the Royal Prince Alfred Yacht Club the bar depleted and the conversation deep. Having just won the Australian 5.5m Nationals in an aging Skagerak, borrowed from Roy Tutty for the event, Bob Stoddard was reminiscing lyrically on the great days of the 5.5 metres at the club. In the 60s and 70s the 'Alfreds' was one of the great centres of world 5.5m design, building and activity. Australia's first sailing Olympic Gold came in the 5.5m Class when club member Bill Northam and crew won in Tokyo in 1964 https://en.m.wikipedia.org/wiki/Bill_Northam. From 1970 to 1981 Australians, many from RPAYC, won 7 world championships https://en.m.wikipedia.org/wiki/5.5_Metre_World_Championship. The 'Alfreds' was at the heart of these activities and a new hardstand 'The 5.5m Stand' was build to accommodate the numbers. Sadly Bob reflected that the glory days were now gone, but that he was still enjoying his annual 5.5m race with Roy Tutty and Steve Brajkovich at the Nationals.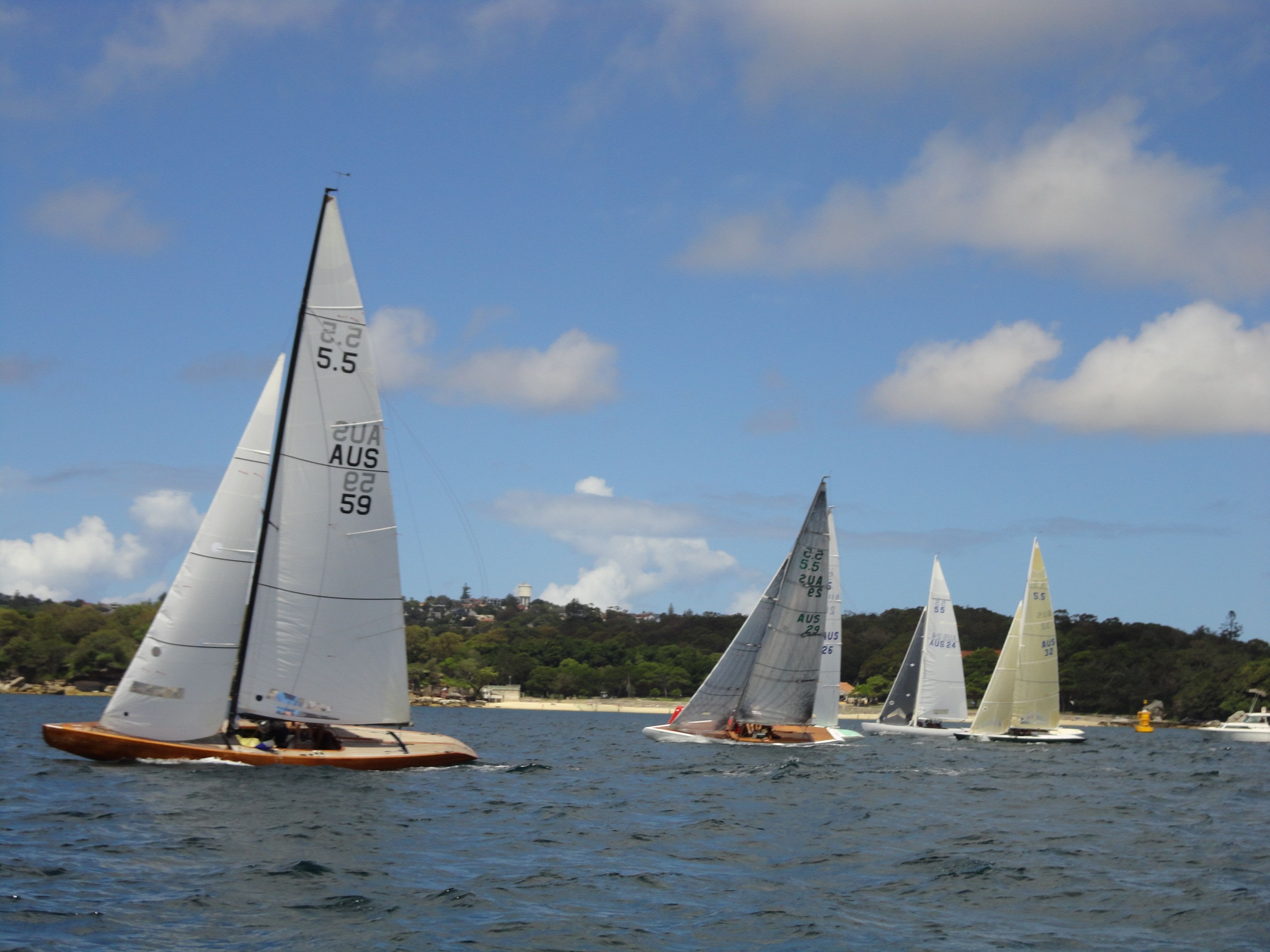 Evolution Marotte AUS59 leads out the fleet at the 2017 Nationals
Carl Halvorsen's Skagerak was purchased and raced by Roy after Carl, by then well into his 90's, retired from the sport. Sadly as a 1973 boat Skagerak, like her builder Carl, was starting to show her age and Bob was worried that unless someone renovated her over the next few years another important boat in Australian sailing history would be lost. I confessed I had fallen in love and always fancied a 5.5 metre ever since I saw a picture of one in the 1970 Yachting World Annual when I was young. We drank a bit more and the kernel of ideas and plans formed to buy and renovate the boat. Obviously when Bob sobered up in the morning the kernel had germinated and a few weeks later he brought Skagerak AUS32 from Roy. Then with the guidance and help of Steve Brajkovich many hours were spent renovating her to an immaculate state. In a lovely touch in 2013 Carl Halvosen, then aged 100 years old, turned up in the rain and poured the champagne on the bow for the official relaunch. Bob started racing her regularly at the 'Alfreds' in the PHS mixed fleet racing doing extremely well.
On the water Skagerak looked superb. She was elegantly beautiful and my first love of the 5.5m was reignited. Luckily I found a fully functional but tired, 1973 Antares AUS29, costing only slightly more than a new Melges 32 3Di jib! Antares does not have the classically beautiful lines of Skagerak because of her rounded canoe bow, but like a bulldog, she has her own elegance and charm. She also needed a lot of work on the tarnished varnished deck (Peter Gould and his son Scott spent many hours on this). It came up a treat and before we knew it we had match racing within the fleets on Saturday afternoon and Wednesday night twilights. The sight of these boats turned more heads for both their looks and the speed of these renovated 'greyhounds'. I personally was captivated with my new, old boat - they are true 'gentleman's' (or gentleperson's) yachts with impeccable manners; more like Rolls Royces than Ferraris and somehow point so high upwind that you swear you are defying the laws of sailing! They also race remarkably well to their ORC Club handicap ratings.

With Owen Crick regularly sailing Rhapsody AUS35 at the iconic Woody Point Yacht Club Wednesday twilights we now had 3 boats regularly sailing on Pittwater. Next on the scene was Jason Antill whose father Rob Antill sailed 5.5ms in the glory days with Carl and the King of Norway. He teamed up with Tom Spithill and Damian Macey and they bought the revolutionary Baragoola AUS26 a 1968 'Classic' 5.5m with a diamond shaped hull, roll forward mast, L shaped boom for the vang, chines and separate keel and rudder (helmed by Jason she was still fast enough to win the Australian Nationals this year). We now had some epic close 5.5m fleet racing and a race within the usual RPAYC Saturday racing.