The Club is committed to providing a safe facility for Club Members and to mitigate risk we undertake regular WH&S checks across the marina and Club facilities. The summer season is a busy one at the Club so we'd like to take this opportunity to remind all boat owners of the importance of ensuring that procedures are followed for the safety of, not only yourselves, but your fellow members and guests at the Club. 
 SHORE POWER
Unlike household electrical wiring, the electrical wiring and equipment onboard your vessel resides in a corrosive marine environment that requires regular inspection and maintenance.   The Club requests all Facility Holders review the "Ship to Shore Connection Policy" (click here) and to check that your connection complies, this includes ensuring that your lead is not wrapped around the power pedestal. We have included an image below (depicting how a lead should be tied off to your vessel, rather than wrapping around the power pedestal.)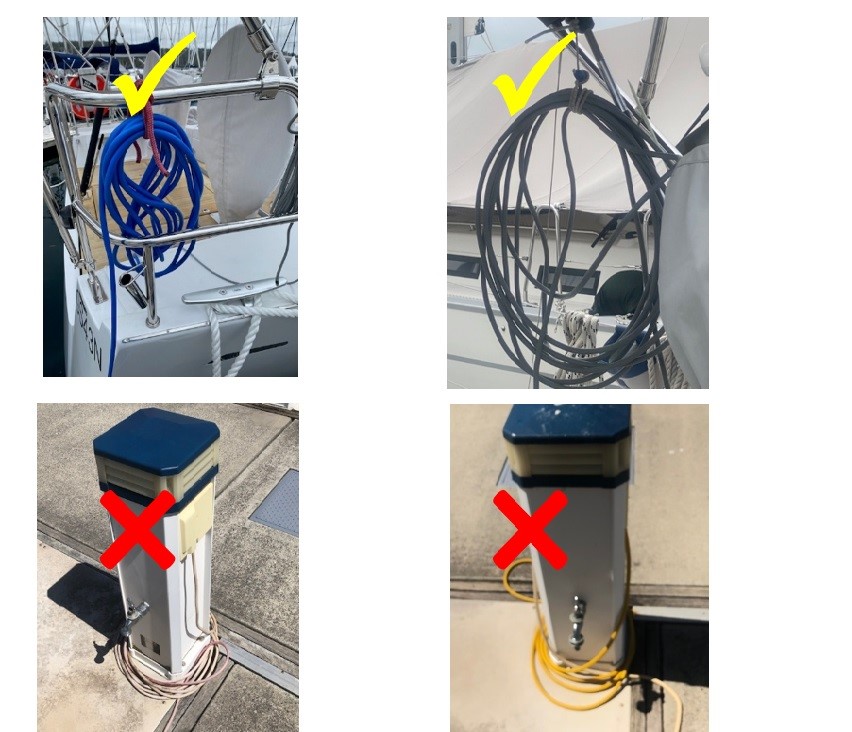 ANNUAL COMPLIMENTARY SHORE POWER LEAD "TEST & TAG"
The Club requires all shore power leads to be annually 'test & tagged' and to make this process convenient for Members, we offer facility holders a complimentary "test & tag" for the lead that connects your vessel to shore power (one lead per vessel).  If you would like to take up this offer, please drop off your coiled, tagged lead with your name and boat name at Reception.  In most cases the lead will be inspected and 'test & tagged' within one to two business days, and assuming the lead passes, it will be ready for collection from Reception.  In the event the lead does not pass staff will be in contact to advise the reason, and in order to reconnect the vessel to shore power Members will be required to rectify or replace the lead.  If your lead has been "test & tagged" by an independent electrician, please ensure that a certification 'tag' is affixed to the lead when you connect to the shore power.
Club staff will undertake a routine check across the marina the week commencing 25th January to ensure 'test & tag' has been undertaken within 12 months and will ensure the 'minimum safety requirements' as outlined in the policy are met.  If a lead is identified as not meeting the minimum safety standards, we will make contact with you. Failure to remedy the situation in a timely manner will result in the shore power lead being disconnected to avert any safety issues.
 BERTH/ MOORING LINES
Facility holders are required to maintain their own lines and the Club reserves the right to renew, replace or make good any unsafe mooring lines at the facility holders' expense. It is important that Members regularly check the integrity of berth/ moorings lines, looking for signs of chaffing, UV damage, brittleness or fraying.  Please ensure; 
 

loose ropes aren't floating and/or obstructing the adjacent berths or the passage of vessels.

vessels are secured in a manner that prevents any part of the vessel or attachment, including anchors, from protruding over the walkway regardless of the wind direction.

walkways are kept clear of all gear and trolleys are returned to their proper place at the shore end of the marina immediately after use. Note: equipment may be left temporarily on the marina fingers only by prior agreement between the occupant of that finger.
SHIP TO SHORE PUMPOUT
The discharge of untreated sewage from vessels is prohibited in all NSW waters: except into a waste collection facility such as a ship to shore pump-out.   Club members have access to a free ship to shore pump out (located on the services wharf). RMYC also provides free service for RPAYC members or visitors with a fuel purchase or the fee is $20.  For a comprehensive list of pump-out facilities throughout Hawkesbury/Broken Bay (Click here)
GAS BOTTLE & FLARE DISPOSAL
Flares – never dispose of flares into bins.   Flares must be disposed of through designated collection sites designed specifically for flare disposal. Reminder upcoming flare collection this Saturday, 16th January at Bayview Boat Ramp (7.30am – 5pm)
Gas Bottles – the Club does not have the capacity to dispose of used gas bottles.  Gas bottles must not be discarded in bins or left on Club property.  Please refer to your council website or EPA for further information regarding bottle disposal and collection dates.
 We are all very proud of our marina's long held reputation for safety and environmental sustainability and we thank you for assisting us to maintain this distinction.