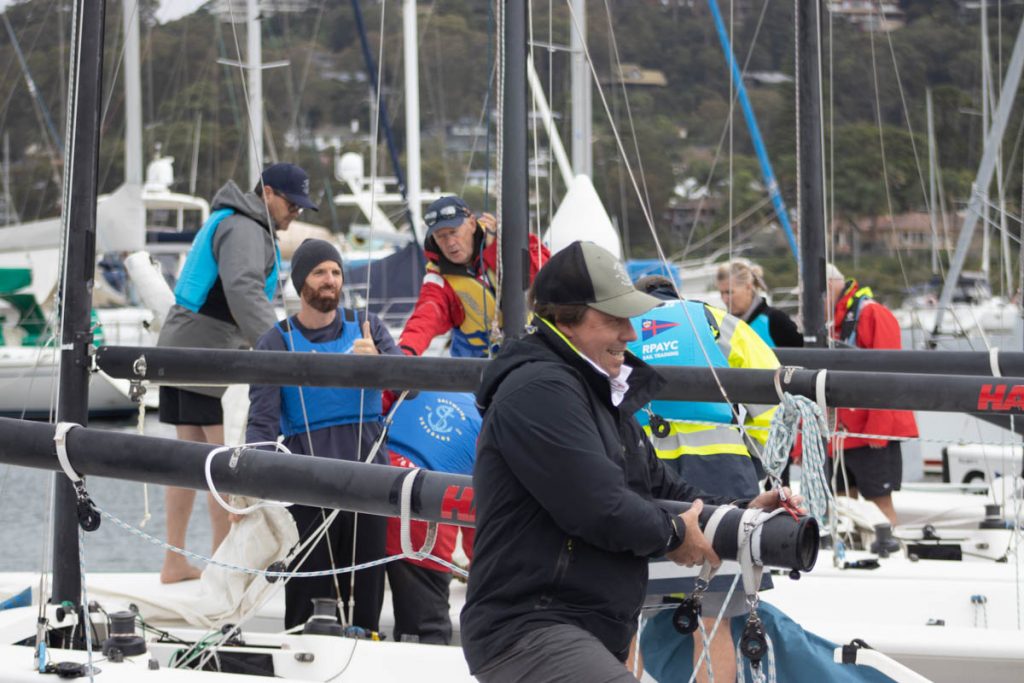 Easing trauma on the water
It's a spectacular winter's morning at the Royal Prince Alfred Yacht Club and a fotilla of boats is about to embark for a sailing lesson on Pittwater.
There's a motley crew on board – a mixture of seasoned male and female yachties, gnarled novices and (literally) a couple of "sea" dogs not wishing to miss a bow "wow".
At first glance there's nothing to link such an idyllic scene with the war zones of Afghanistan, the catastrophic bush fires of 2020-21 or the equally calamitous floods which drowned so much of northern NSW and southern Queensland last summer.
So what's the connection?
Most of us know what it means "to soldier on" (continuing with a battle plan no matter how weary it makes you or how hopeless it seems). Well, this morning's excursion could be called Operation Sailor On. For the men and women taking instruction from some of the club's senior volunteers have all suffered trauma on the frontline, whether in military uniform or in civilian life.
Brendan Rourke, the club's sailing and communications manager, explains The Alfreds' community sailing (ACS) program began in 2013 to provide on-water experiences to not-for-profit groups including those with disabilities, both physical and mental.
The ACS program is designed to integrate sailors into regular, inclusive-for-all, club sailing events, support veterans, our frontline workers, people with disabilities and community organisations.
"We normally meet around 9am for coffee and a chat at Halyards (the dub's bistro), are on the water by 10am and are back for lunch around 12.30pm," Brendan said.
James Milliss, one of those ready to set sail, admits these days afloat have been a godsend to himself and his family.
The father of three enlisted in the Australian Army in 1996 and served in East Timor as a medic with the Commandos (4RAR) before returning to civilian life as a paramedic in 2004.
However, James remained an active reservist and was deployed to Afghanistan in 2008-09. That was very rare. "There were only a few of us reservists who were with the 1st Commando regiment. "When I came back from Afghanistan I went straight back to work as a paramedic. I thought I was just having 'adjustment issues' returning from a war zone to civilian life.
"It was my wife Emma who told me, around two years later, That I was struggling and needed help."
Emma had read a story about a fellow soldier James had served with who had confessed the anguish he was going through to Soldier On Australia, the charity established to help all veterans suffering from Post Stress Disorder Syndrome (PSDS).
"He was blown up in a blast which killed one of our mates," James explains. "I thought, God, he was an amazing soldier. If it happened to him, it could happen to any of us."
Prompted by Emma, James contacted Soldier On Australia. Their three children – Johnny (12), Sienna (10) and Charlie (5) – "all know about my PSDS. There are ongoing issues but I'm nowhere near as low as I was".
Today James works as a spokesman for both Soldier On Australia and Fortem Australia (established to provide the same kind of mental health care for first responders Uke paramedics, firefighters and the state emergency service volunteers).
Is he a competent sailor now?
"No, but it has been very good for me," James says.
"Royal Prince Alfred Yacht Club is an amazing organisation. You're really welcomed into the club and placed with senior sailors who know what they're doing, even when you don't."
His praise for the club's volunteers – many of them retired-knows no boundaries.
"Sailing allows you that social growth you need if you're suffering as a first responder or veteran," he continues. "It could be anything – surfing… or throwing darts.
"It's all part of the healing process to have a good time" while you're socially connecting".
Not that his children always understand as they go off to school.
"They think i'm crazy when I tell them I'm going off for a sail on Pittwater and a good hamburger as part of my healing process!" – Steve Meacham, Pittwater Life
More info:
rpayc.com.au/ http://soldieron.org.au fortemaustralia.org.au