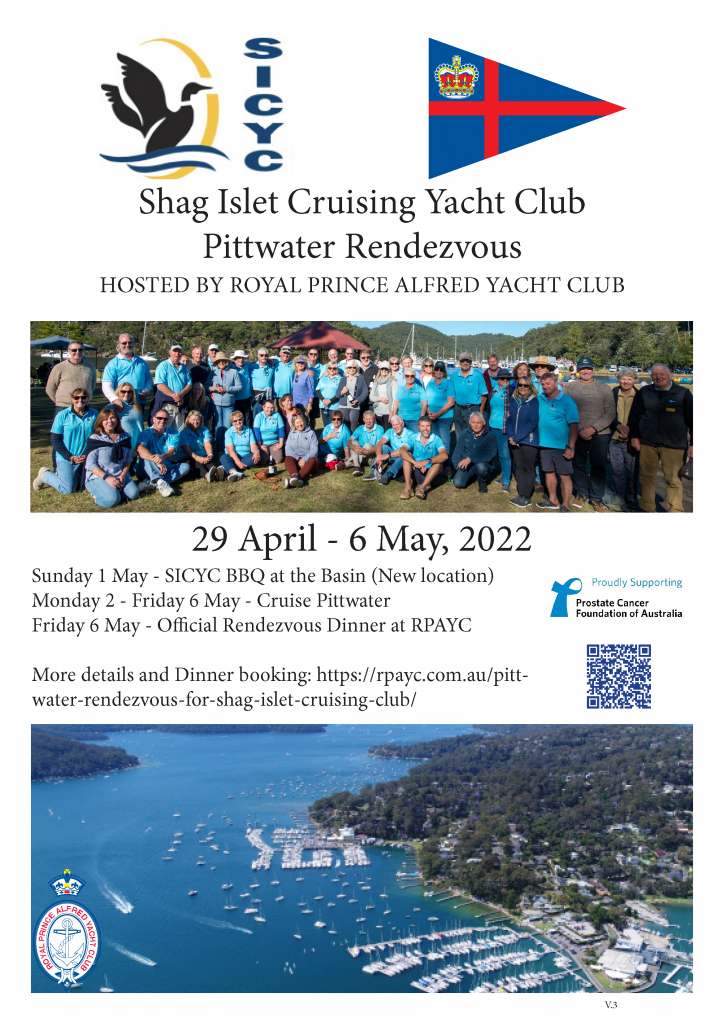 Pittwater Rendezvous for Shag Islet Cruising Yacht Club (hosted by Royal Prince Alfred Yacht Club)
RPAYC is once again proudly hosting the first stop in the SICYC Season of Sail. We will be having some events on Pittwater during the week along with a combined First Friday Dinner and Season of Sail Rendezvous at the club on Friday 6 May.
All local "Vice Commodores" and friends are invited to come together to celebrate the camaraderie of SICYC, as well as hosting SICYC members sailing north during the cruising season.
For the Pittwater event, the program is as follows
Sunday 1 May – SICYC BBQ at the Basin (NEW destination).
Come by boat or catch the ferry from Palm Beach. There will be sausages for sale to raise money for Prostrate Cancer, bring your own drinks and anything else you want to eat. BBQ commences at 12 o'clock. Look out for the Alfreds Cruising banner. Shaggers members please wear your shirt.
Monday 2 May to Friday 6 May – the opportunity to cruise the fabulous waters of Pittwater
Friday 6 May – SICYC Pittwater Rendezvous at RPAYC
Official Rendezvous Dinner at RPAYC, bookings essential. 
Book online at https://rpayc.com.au/sailing/cruising/first-friday-booking-form/ or call the club reception on 02 99983700.
Friday at the Alfreds Members Specials drinks from 5.30pm with dinner commencing at 7pm.
For those unfamiliar with the Shag Islet Cruising Yacht Club, it is a "NOT FOR PROFIT" incorporated club, the aim of which is to establish and maintain a Social Network for Cruising Yachts persons and to raise money in support of the Prostate Cancer Foundation of Australia. There are currently over 6,700 "Vice Commodores" with membership in 17 Nations.
For those of you sailing north the other SICYC rendezvous dates are below.
| | | |
| --- | --- | --- |
| 2022 Dates | Area |   |
| 14th – 21st May | Pittwater |   |
| 23rd May – 26th May | Lake Macquarie |   |
| 4th June – 10th June | Clarence River |   |
| 13th June | Gold Coast |   |
| 20th June | Moreton Bay |   |
| 3rd – 4th July | Brisbane |   |
| 10th July | Great Sandy Straights |   |
| 16th – 17th July | Bundaberg |   |
| 24th July | Gladstone |   |
| 31st July | Capricorn Coast |   |
| 7th / 8th August | Mackay |   |
| 20th – 22nd August | Airlie Beach |   |
| 26th – 29th August | Shag Islet |   |