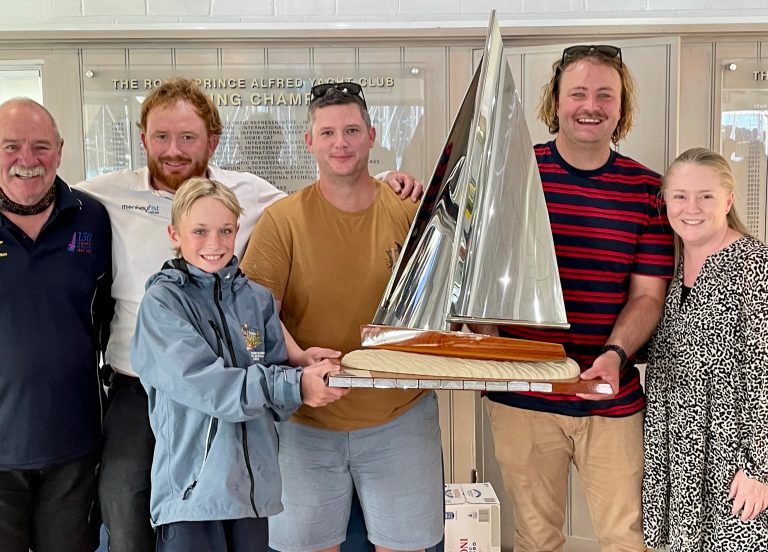 David Lukins Memorial Match Racing Regatta 2022
10 – 11 September 2022
The weekend saw the return of the David Lukins Memorial Match Racing Regatta after a 2 year absence. The 8 teams comprising of current and graduate squad members of the Youth Development program spanning 29 years as well as current Club members took to the water in the Elliot 7's where they were busy tacking and gybing as the wind shifted, blasting across Pittwater one moment and standing still the next. The Teams vied for position, narrowly missing each other in a controlled manner (this is Match Racing) as they jostled around the buoys and deftly outsmarted each other in a boisterous match. It is a great sport to watch. Best of all is the camaraderie the David Lukins regatta brings on and off the water. 
As one Spithill, James, was competing in France in the SailGP, and taking the win another Spithill, Thomas, was on the helm up against his best mate and on water rival, Murray Gordon, in a best of 5 race final. Gordon took the early advantage winning the first 2 races leaving the team needing a single race to win. But the master of Pittwater (Thomas Spithill) displayed his determination and focus to balance the score line and then took the win in the 5th race, to be crowned the 2022 David Lukins Memorial Match Racing Champion. 

The Regatta is held in memory of David Lukins. David was a tireless volunteer around the club, helping out in a variety of areas such as kids learn to sail, Centreboard, Youth Development mentoring, race management, & umpiring just to name a few. This resulted in David receiving one of the clubs most prestigious awards, Volunteer of the year for 1998-99.