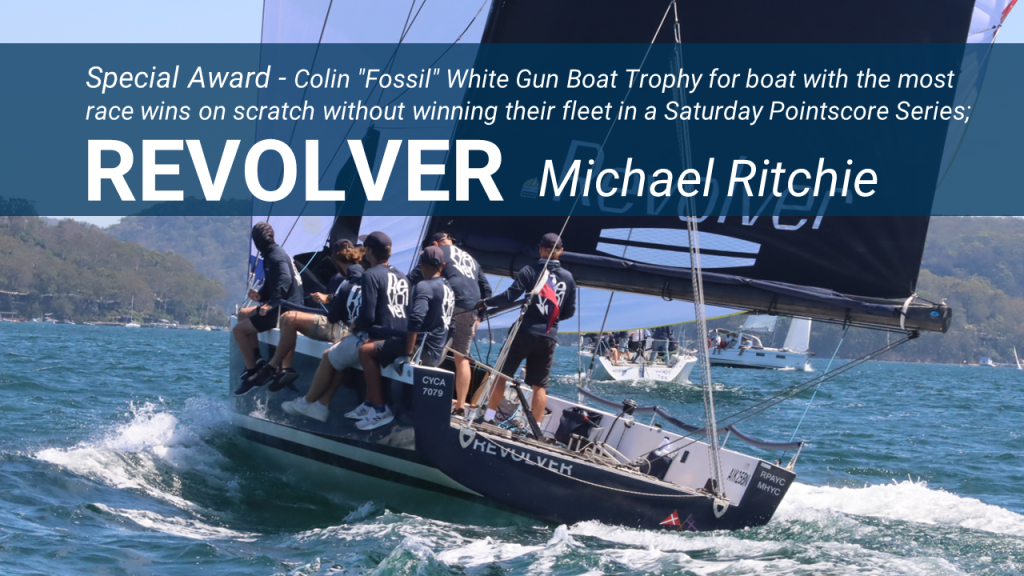 Colin "Fossil" White Gun Boat Trophy – Awarded to the boat with the most race wins on scratch without winning their fleet in a Saturday Pointscore Series – REVOLVER – Michael Ritchie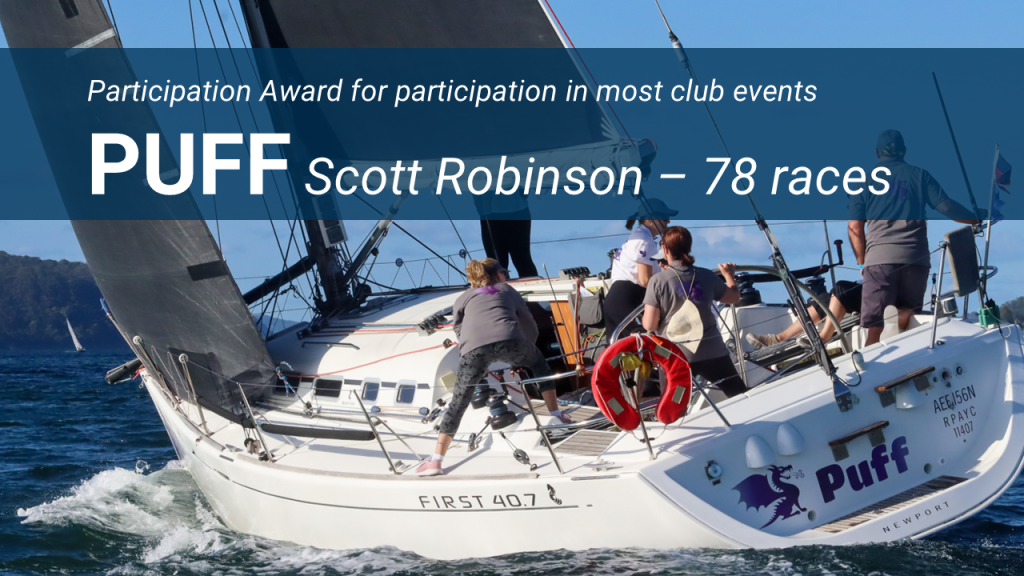 Participation Award – Awarded for participation in most club events – PUFF – Scott Robinson – 78 club races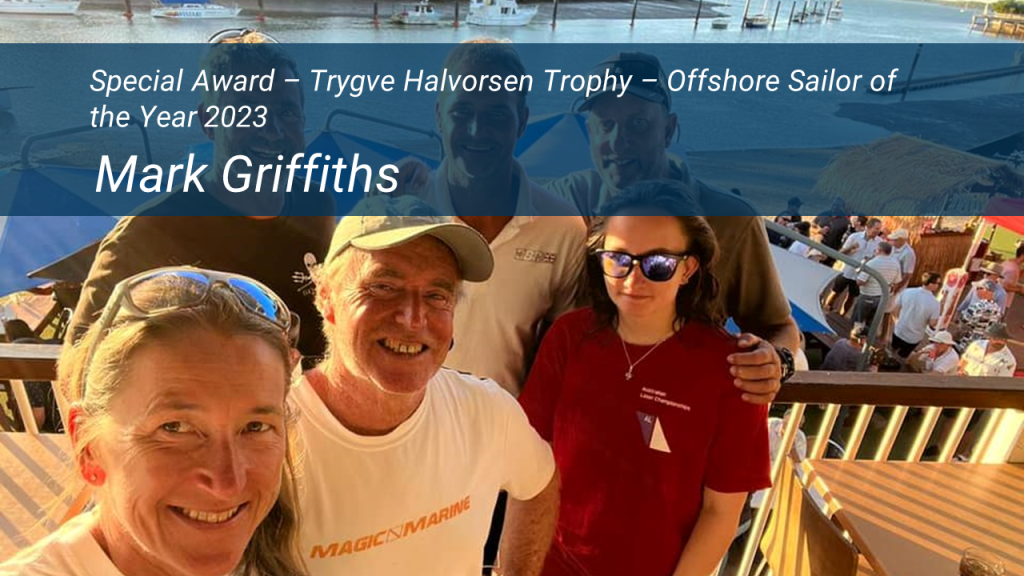 Trygve Halvorsen Trophy
This year's Offshore Sailor of the Year goes to someone who has seen success throughout the clubs offshore season and campaigning along the coast from Hobart to Gladstone.
Awarded to – Mark Griffiths, Old School Racing campaigned the RPAYC Bluewater Series, then from the Pittwater to Coffs Harbour Race continued up the coast to compete in the Brisbane to Gladstone Race. Mark also jumped on to the TP52 Zen as Watch leader to compete in the Rolex Sydney to Hobart Race.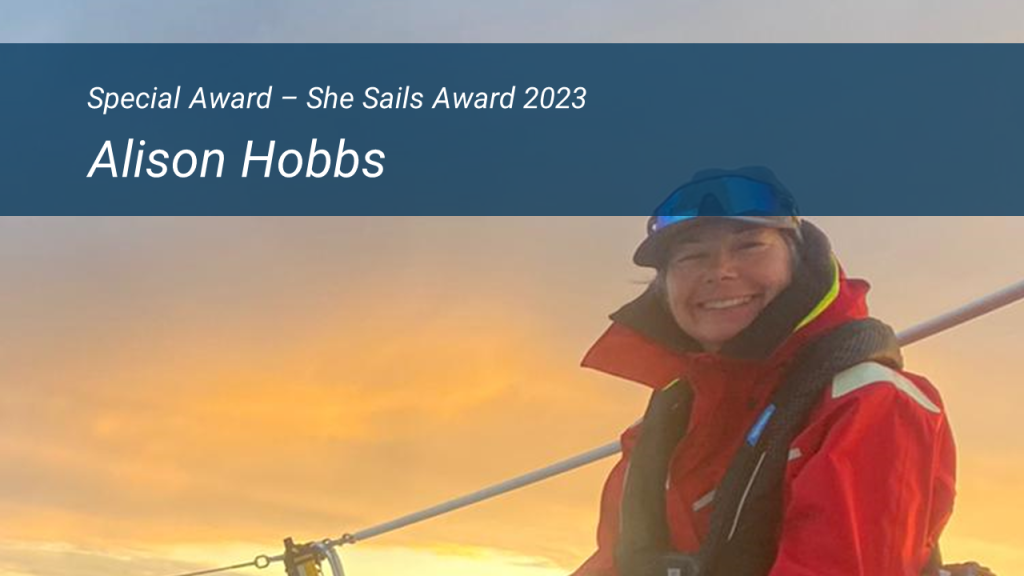 SheSails Award – a new award for 2023, and awarded to Alison Hobbs.
Alison has spent the last 4 or so years building her confidence to compete in her and husband, Dave's yacht Quantock in the 2022 Rolex Sydney to Hobart Race. Ali has skippered the boat in club racing, only female division 1 skipper, taking on the Inshore, SOPs and Bluewater races at RPAYC. Then in the build up to the Hobart race competed in the Pittwater to Coffs Harbour Race, Noakes Sydney to Gold Coast Race, Flinders Island Race, Cabbage Tree Island Race and then the Rolex Sydney to Hobert Race. An inspiration to all female skippers and potential skippers.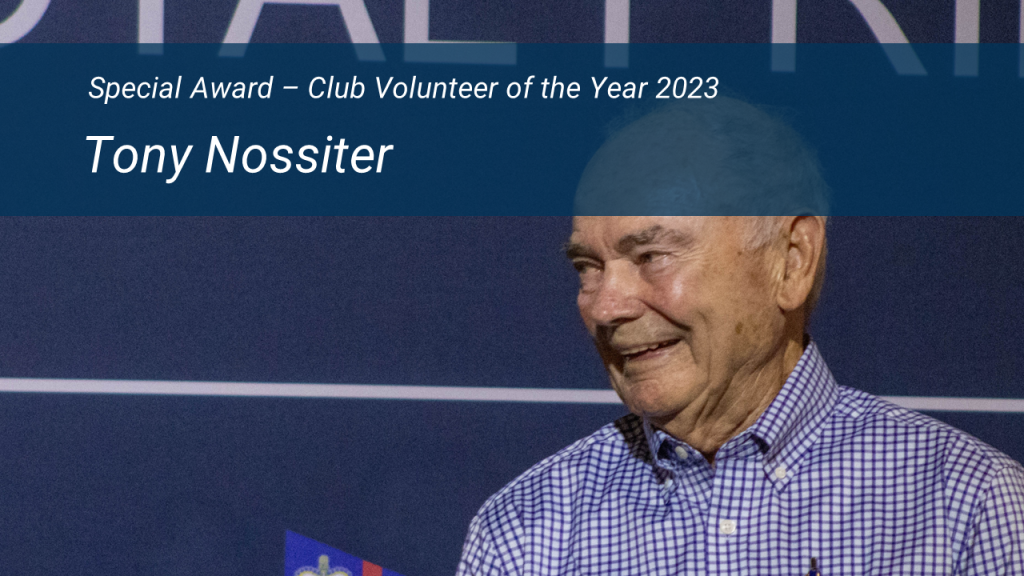 Club Volunteer of the Year Award – Awarded to Tony Nossiter for outstanding voluntary contribution. This years winner Tony has been auditing boats at the RPAYC since approximately 2008. He is very thorough and reliable while being very personable and helpful to owners and the sailing office. He brings a huge amount of knowledge and experience and is often available last minute to help owners complete the paperwork to be eligible to take part in racing. He completes a lot of audits and follow ups where required. 40 audits over thew last 2 years alone, plus all the returns to follow up on missing, out of date and out of compliance items. A real unsung hero of our racing.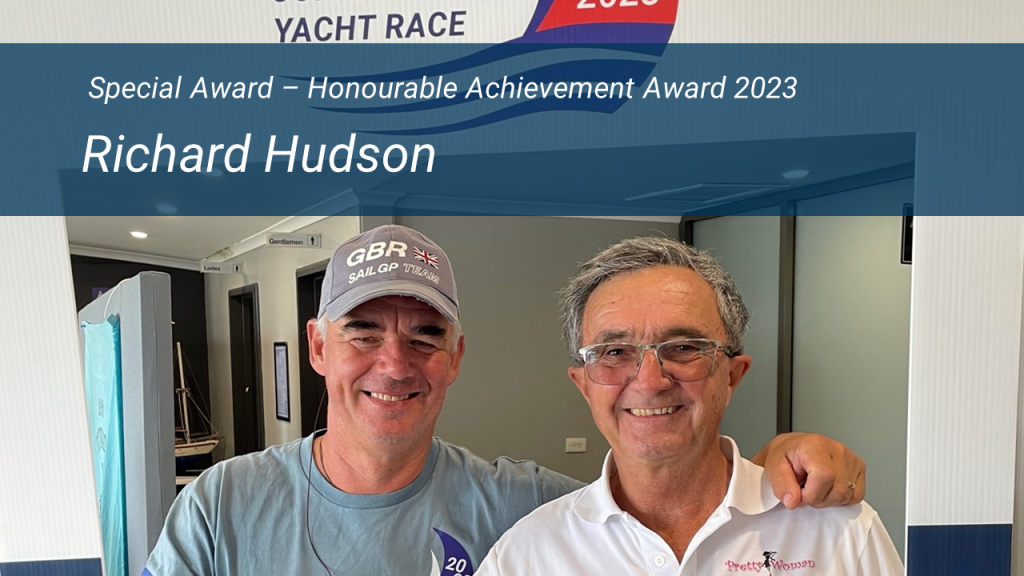 Honourable Achievement Award – New for 2023 and awarded to Richard Hudson
Richard has introduced and nurtured offshore crew within the club for many years. Giving opportunities to our youth sailors to get offshore experience within a competitive crew while maintaining a safe and inclusive environment. Richard has helped nurture their talents and grow their skills – from the bow to the stern of the boat, helming, trimming and navigating. Passing on vast experience to the next generation.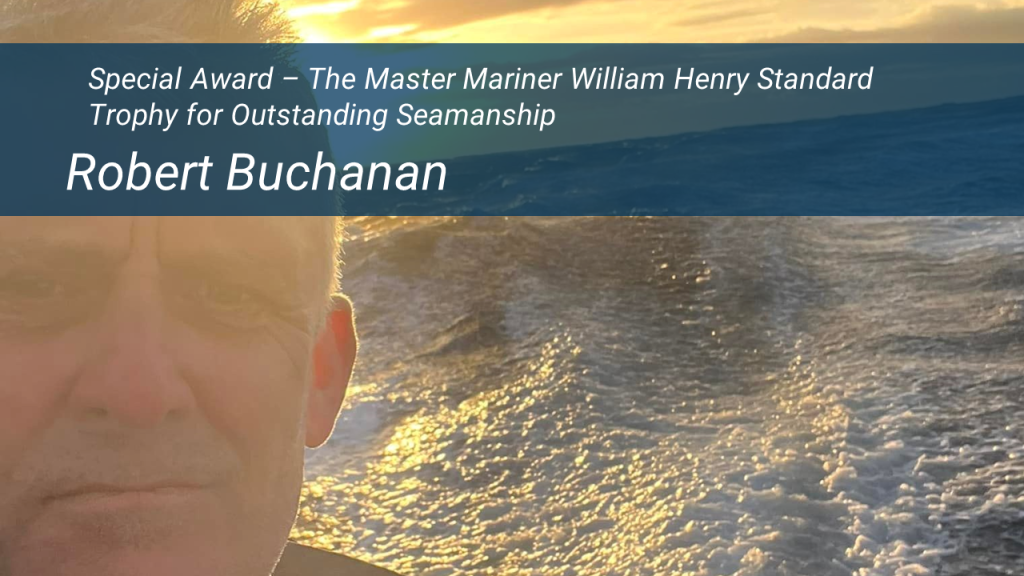 The Master Mariner William Henry Stannard Trophy presented for Outstanding Seamanship – Awarded to Rob Buchanan
When on delivery back to Sydney from Hobart Showtime suffered catastrophic keel failure – Rob Buchanan's survival instinct and training kicked in. Trapped below decks with the offwatch – he remained calm, assessed the situation and the escape route ensuring it was clear. Kept the crew calm and helped them escape the upturned hull. The crew gathered – fortunately alive and with no life-threatening injuries they freed the liferaft and entered it.
The survival of the crew, while no doubt they all played their part, was certainly enhanced by Rob's experience and ability to keep everyone together and calm.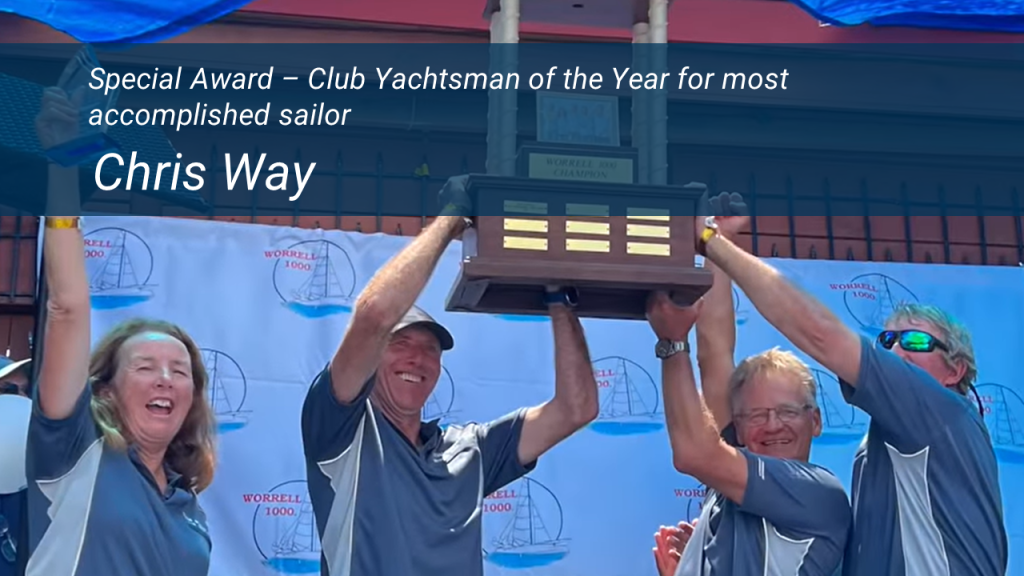 Club Yachtsman of the Year Award – Awarded to Chris Way – Winner of the 2022 Worrell 1000 Race.
There are some events that sound a bit CRAZY and then there is sailing 1000nm offshore in an off the beach catamaran. That is the Worrell 1000. A staged event, 1000nm along the United States coastline between Florida and Virginia.
In May 2022 that is exactly what Chris Way and Rod Waterhouse set out to do. As with everything that Chris does, not only did he want to compete and finish, he set out to win.
In a race that was predominantly upwind – making it even more epic – that is exactly what they did.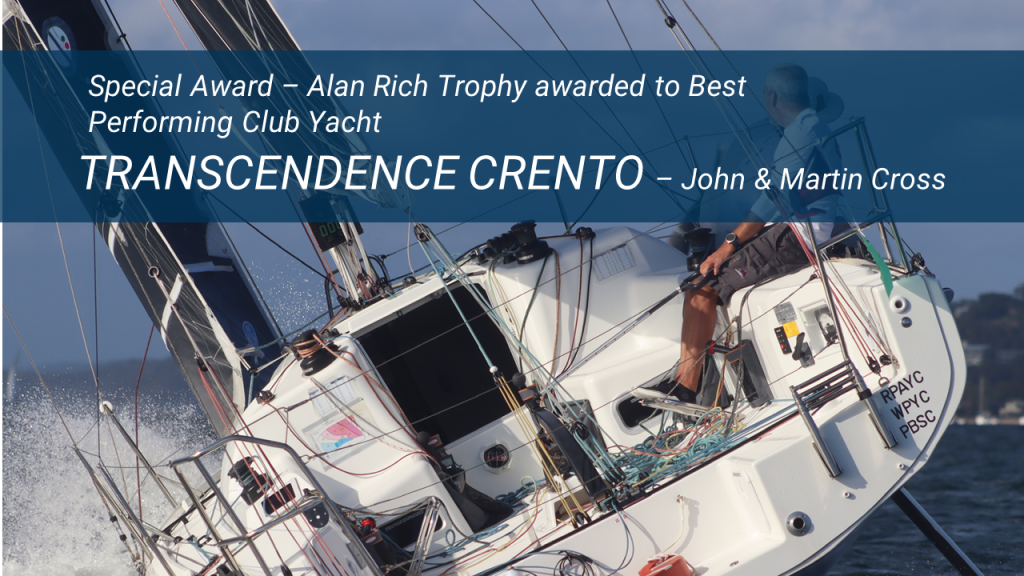 Alan Rich Trophy – Awarded to the Best performing club yacht – TRANSCENDENCE CRENTO – Martin and John Cross
Preparing and campaigning a new boat takes a lot of energy and work. Add a new discipline, Two-Handed Offshore Racing, new crew – John Cross (son) back to competitive racing – the results they have achieved have been fantastic.
Cleaning up in the RPAYC offshore series and being at the front of the CYCA Bluewater Two-Handed Series
• 18th IRC Overall
• 6th IRC 2
• 3rd IRC & ORC 2handed
• 10th ORC Overall
• 5th ORC 2
• 2nd PHS 2 Handed