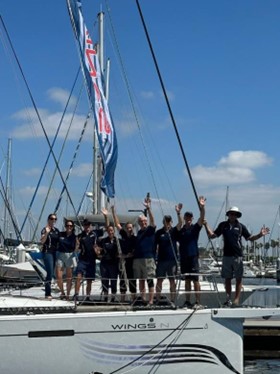 The Wings team starts the 2250nm LA to Honolulu Transpac Race 1pm Tuesday June 27.
It has been a 8 month journey to prepare Wings in Sydney, delivery passage to Brisbane, ship to Mexico, deliver to LA, and intense final preparation and team practice in Los Angeles. We are ready to race.
The Wings has a great Australian team for "Transpac 52"
Ian Edwards
Jim Whittle
Janease Graham
David Hirsch
Elyse Guevara
Jim Nixon
Mark Holzberger
Meike Wight
Lindy Edwards has been providing great onshore team support.