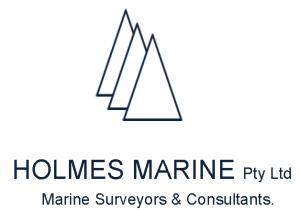 David Holmes commenced trading Holmes Marine as a marine surveying and consultancy business in 2005, following nearly 20-years in the marine industry as a shipwright & boat builder.
The journey started for David as a child and having a family of boat builders, marine surveyors, yacht brokers and with a family of sailors, David was drawn to sailing and the marine industry.
At 16 David started a shipwright apprenticeship at Halvorsen boats at Bobbin Head. Following the apprenticeship moving on to various boat yard shipwright roles, building custom yachts on the Northern Beaches and finishing as an employee after 5-years at McConaghy boats assisting with building a number of high-performance yachts, the One Australia Americas Cup campaign yachts, and ultimately gaining foreman's role.
In about 1996 David was offered to start a business at Treharne's Manly Boatshed, when David Holmes Boat building commenced trading. After 4-years of running the Treharne's Manly Boatshed slipway and employing up to 5- shipwrights, painters and slipways hands, David moved the operation to Balmain Marina.
In 2005 David ceased trading as David Holmes Boat building and commenced marine surveying full time.
In 2007 David was approached by the IAG group to assist their staff and clients with the assessment of vessel damage insurance claims and quickly expanded from handling insurance claims in NSW, to Qld and Victoria and ultimately expanding the client base to Australia largest marine insurers
Since 2005 Holmes Marine has grown to be one of the largest marine surveying business's in Australia, with offices at RPAYC in NSW and Savages Wharf in Williamstown Victoria and full time or contract staff in Adelaide SA and Fremantle WA.
With over 35-years of boating , sailing and marine industry experience David Holmes and the staff of Holmes Marine are recognised throughout the industry as experts in field and any reports, whether it be insurance risk, pre-purchase, damage assessment or expert testimony is recognised by all insurers, underwriters, financial institutes, and legal fraternity.
David remains an active yacht sailor and competes in many blue water sailing events and through Holmes Marine has been an active supporter and sponsor of 13' & 16' skiff at Manly 16' skiff club and the youth development program at RPAYC.
Managing Director: David Holmes
P: 0412 918 289
E: david@holmesmarine.com.au