10 November 2022
By Stephen Robson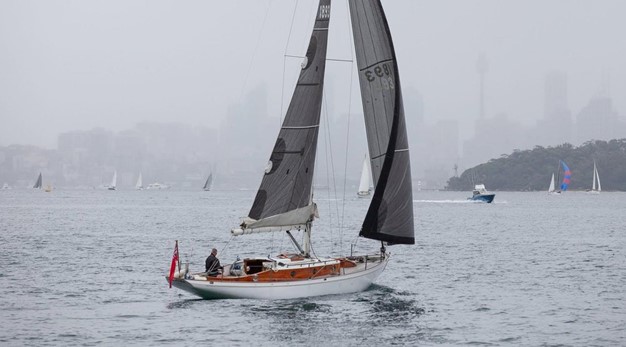 One Of The Great Privileges Of Becoming The Custodian Of A Heritage Timber Boat Is The Understanding That There Must Be A Lot Of History Before You.
More than a century of archives for VENTURA show that she has a royal connection, was rebuilt several times including increasing her length by more than 25%, and very recently has been reunited into the family of her original owner. VENTURA has journeyed up and down the east coast with numerous owners, was lost for a while, then found and given a complete facelift. She is once again gracing Sydney waterways.
Records confirm that VENTURA was launched November 18, 1893 on the Tamar River in Tasmania. VENTURA was then, and still is today, a beautiful yacht that turns heads wherever she goes. Taking her for a cruise today has been described as akin to accompanying a beautiful lady to a ball: Everyone stares at her, ignoring her rather motley partner(s) … except to wonder how he ever became associated with such a stunner.
In her founding years, VENTURA has a fascinating royal connection. This is courtesy of her designer – GL Watson of Glasgow, Scotland. George Lennox Watson was a highly regarded naval architect, designing many famous yachts including several America's Cup challengers: THISTLE (1887), VALKYRIE II (1893), VALKYRIE III (1895), SHAMROCK II (1901). Sadly, none of these vessels were successful. But Mr Watson did go onto to design another rather incredible yacht named the BRITANNIA. The BRITANNIA is said to be the most successful racing yacht of all time. She was also built in 1893 being originally commissioned and raced over 43 years by Albert, Prince of Wales and then his son who became King George V.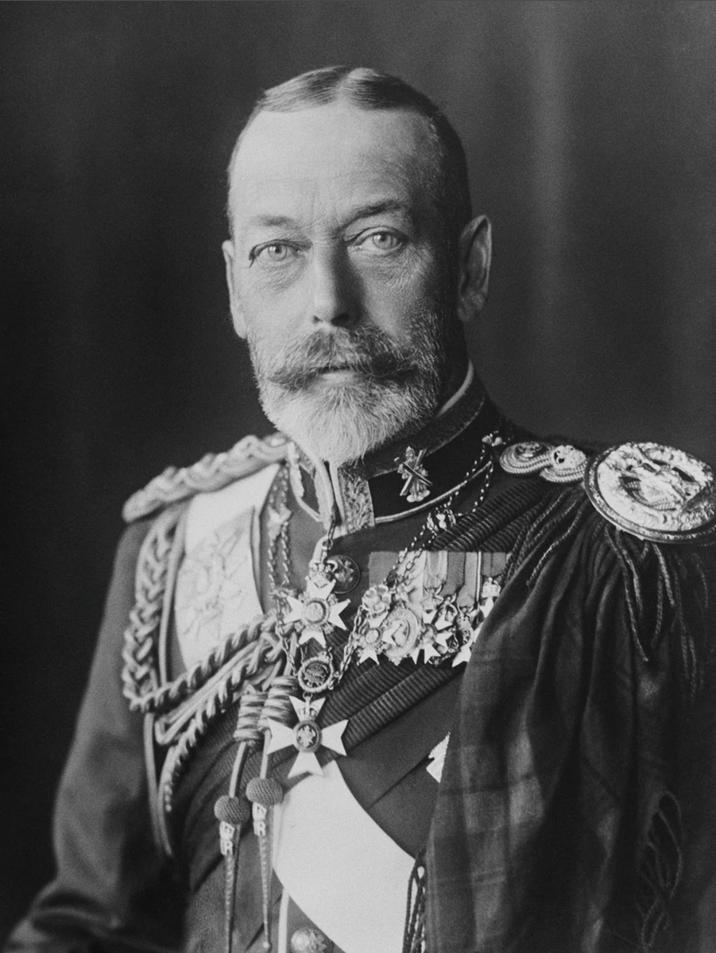 During her time, BRITANNIA won an astounding 231 major races – a feat that has never been bettered, nor will it likely be. Remarkably – or perhaps selfishly – King George V loved his boat so much, it was his dying wish was for her to follow him to the grave. As a result, after his death on July 10, 1936, BRITANNIA was towed out to St Catherine's Deep near the Isle of Wight, and duly scuttled by the HMS WINCHESTER.

King George V was succeeded by King Edward III, then King George VI, who in turn was Queen Elizabeth II's father. Her majesty would have been 10 years old when the BRITANNIA was submerged by King George V – so she would likely have seen this beautiful boat and may have even sailed on her. Of course, the name BRITANNIA lived on in the royal household for many years with another BRITANNIA, this time as an ocean-going ship known as the ROYAL YACHT BRITANNIA, which sailed from 1954 to 1997 during much of Queen Elizabeth II's reign.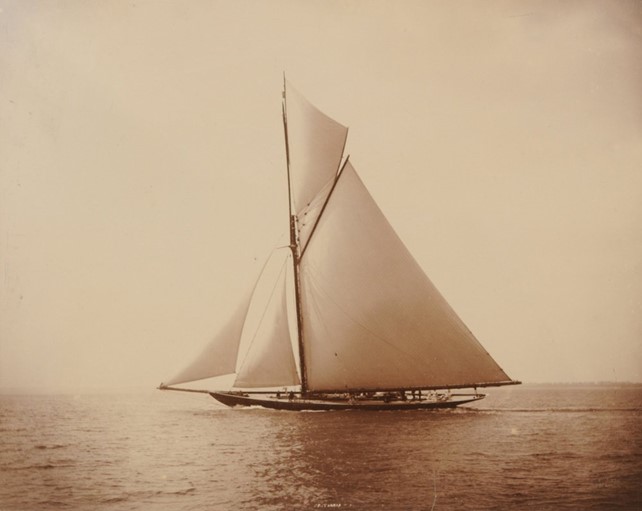 Very fortunately the original Britannia's graceful lines survive today in VENTURA. These early photos of Britannia and VENTURA show how GL Watson was thinking in 1893. Although almost half her size, VENTURA had the same hull overhangs and gaff rig design, making her a smaller version of BRITANNIA that is just as graceful.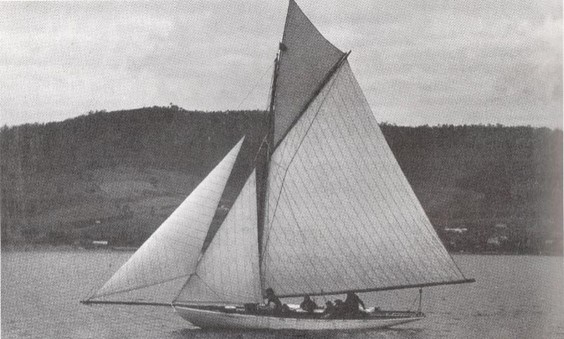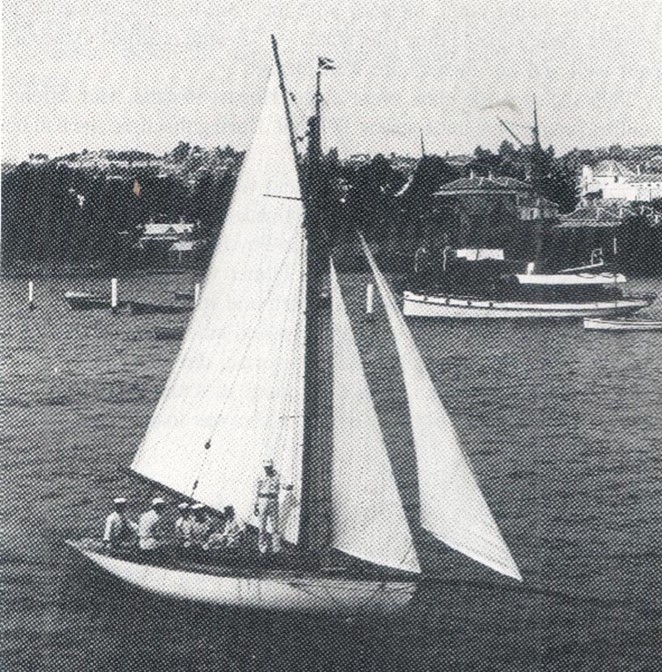 In Australia, several maritime historians have referred to VENTURA as the first 'modern' racing yacht constructed here. She was commissioned by William Hunt and built by Edward (aka Ned) A. Jack, a highly regarded member of the boatbuilding fraternity in Launceston. At launch, her LOA was 31 feet with a beam of 8 feet. Her recorded draft of only 4 feet was supplemented by a centreboard. In her original format, she was both light and fast compared to her competitors. VENTURA had a waterline length of 21 feet which allowed her to race in the highly competitive 21-foot Class in Tasmania. However, when heeled her substantial overhangs gave her the advantage of a much longer LWL under sail. As a modern yacht for her day, VENTURA proved difficult to beat for a number of years.
William Hunt adored his new boat calling her little "Ventie". This was possibly in deference to the fact she was practically a half scale replica of Britannia – which at the time was defeating all comers in Northern Hemisphere yacht racing circles. On our southern shores "Ventie" was also successful, winning many regattas on the Tamar and Derwent Rivers from 1893 to 1896. In these early days, as a centreboarder she was able to be transported between Launceston and Hobart by rail rather than sail down the east coast of Tasmania.
VENTURA's successful forays down south, from Tamar to the Derwent, resulted in some great yacht racing. This even led to the introduction of the 'North vs South Cup': A regatta for the 21 Foot Class of racing yachts was known as 'The Tasmanian Champion Yacht Race'. The courses were sailed over 15 miles on the Derwent and Tamar rivers.
However, it wasn't all beer and skittles for VENTURA in these early days. On a sunny Monday in spring (October 7, 1895), several boats including Ventura were drying their mainsails in a light breeze whilst tethered to their moorings on the Tamar after a weekend of racing. As can happen in our southern latitudes, the breeze increased unexpectedly from the south ripping several boats from their moorings.
Several vessels were lost in the mayhem, but VENTURA, with her enclosed deck managed to stay afloat, and was grounded on the sand of Fishermans Beach. As it was a soft grounding, she was refloated without significant damage – and continued her winning ways throughout the summer.
At the turn of the century, VENTURA was sold, going to Devonport (1900) and then down to Hobart (1905). Here, she was quickly snapped up by WF Darling, a highly regarded skipper and went on to win the 100-mile Bruny Island Race. She also placed second in the Royal Hobart Regatta in 1907.
VENTURA returned to her home port of Launceston in 1908 when acquired by JL Taylor. However by 1909, some 16 years after her launch, competitors were catching up to her technologically and she suffered what was widely labelled an "embarrassing defeat" – losing both races in the North vs South Cup to the Hobart yacht, ELF, by significant margins. 
It was decided that some substantial reconfiguration was required. As per the original plans from GL Watson, the centreboard system was replaced with a solid keel. This increased her overall draft by 15 inches. Then her coach house was subsequently rebuilt under the ownership of Sholto Douglas back in Hobart in 1914. These design alterations were ultimately successful, helping VENTURA to place third in the 1914 Hobart Regatta.
She was then acquired by EP Harrison in 1919 and became a founding boat in a new class known as the 1st Class Division in Hobart.
In 1928, she was acquired by Alex J. Clark and went onto win the 1928 Hobart Regatta – which was some 35 years after her original launch.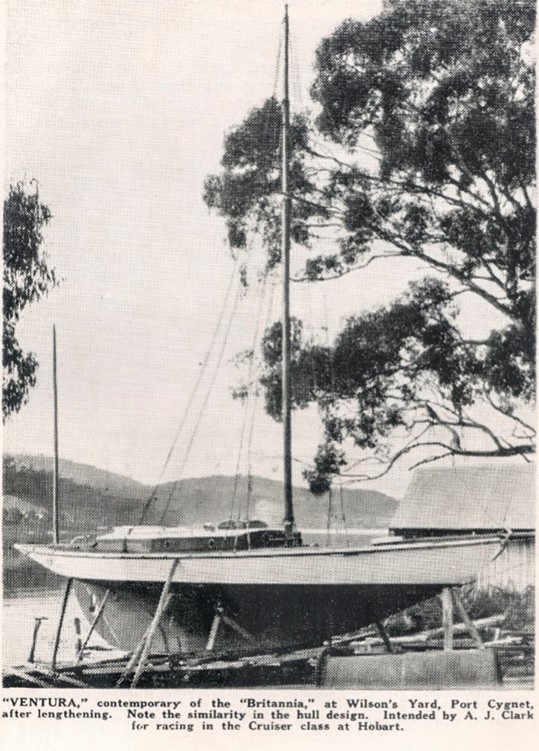 A.J. Clark, the Vice Commodore of the Bellerive Yacht Club, then arranged the most significant alterations in VENTURA's long history. Whilst maintaining her lines, she was cut in half and lengthened resulting in a LOA of 41', with a waterline length of 33'. This work was conducted in Wilsons Boat Yard in Cygnet, around the coast from Hobart.
Her rig was also significantly upgraded, with the removal her gaff rig and the placement of new a mizzen mast behind the rudder post, to create a yawl. In this new configuration, she raced in the newly formed "Cruiser Class" with the sail number of C4.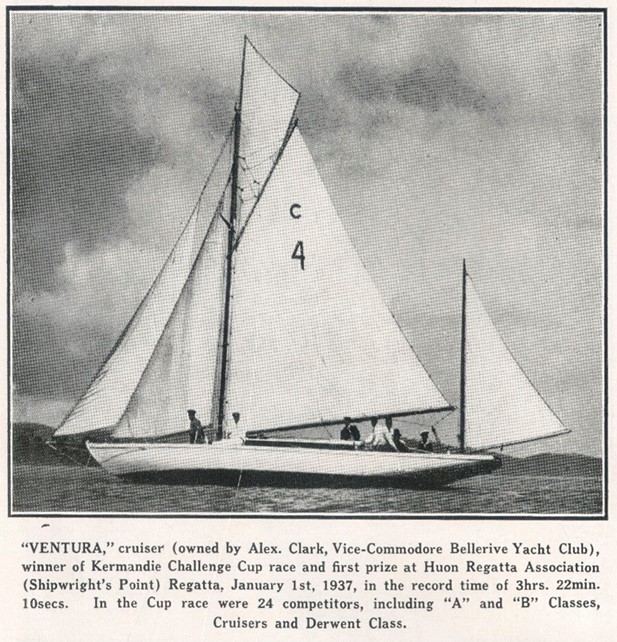 In 1935 VENTURA was then acquired by D McAllister who had success with her new set up, beating 24 yachts from all divisions, to win the Kermandie Challenge Cup. She also won first prize at the Huon Regatta in January 1937.
In 1945 VENTURA was purchased from McAllister by Hedley Calvert. By this time the mizzen mast had been removed and she was given a more modern Marconi rig. In the photo below (1948) we can see the 8 Metre style rig with a larger mainsail, lower hounds, longer boom and running back stays. She also had a relatively low freeboard, making her a complex yacht to sail with an uncomfortably wet ride in a breeze.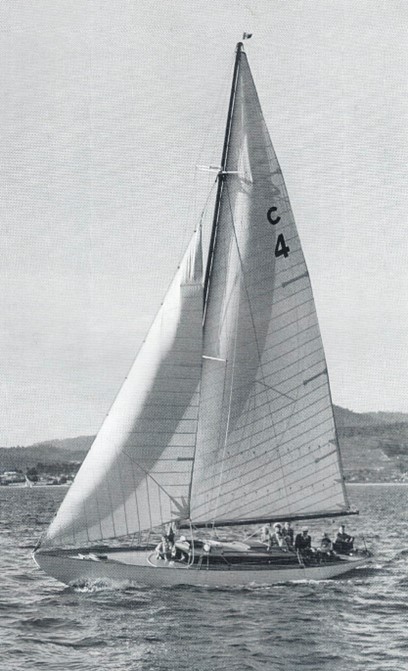 The Calvert's raced and cruised VENTURA extensively as can be seen in these photos from during WWII.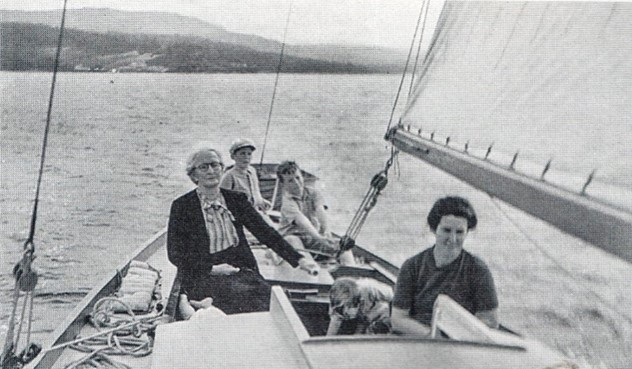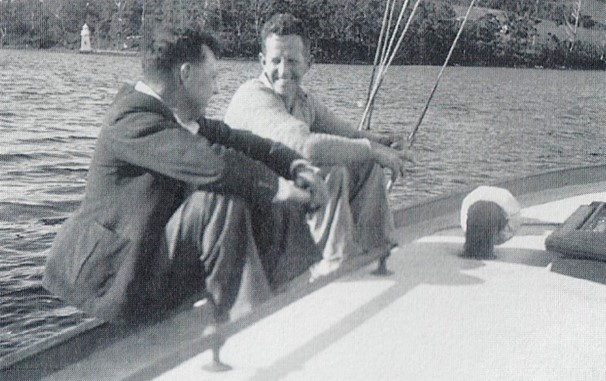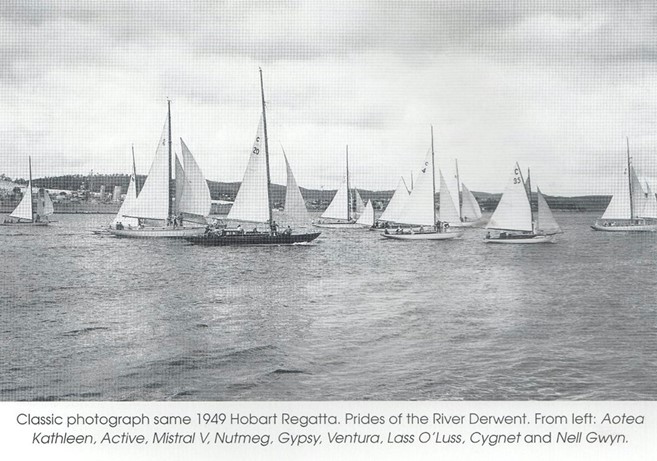 After custodianship by the Calverts, the history of VENTURA becomes a little vaguer. We know that VENTURA made her way to Sydney when she was acquired Captain Kennedy of Phoenix House around the 1960's.
She was subsequently purchased by Lt Commander Wally Grittle, who was in charge of the torpedo range in Sydney, thankfully avoiding the same fate of Britannia under King George V.
The next recorded custodians were Dr Ian and Marjorie Johnson of Lovett Bay. Here Ventura was visited by previous owners including the Calverts, but eventually she fell in a state of disrepair.
After many years of searching, VENTURA was located by Brendan Hunt – the great grandson of the original owner Willian Hunt – in 2011. After some negotiation Brendan subsequently acquired her dilapidated hull for half a dozen bottles of French champagne.
This completed the full circle for VENTURA, as she was returned to the hands of the Hunt family who had originally commissioned her.
VENTURA became a pet project for Brendan when he entrusted her rebuild and refit to the master shipwright and boat builder, Bruce Gault from Taren Point.
Brendan's vision was to rebuild her graceful design. And to create a yacht that would be both beautiful and very user friendly for himself and his family. A creative type, he sketched the plans above to show Bruce what he had in mind. These drawings were then interpreted by Bruce and his team and skilfully constructed using classic timber boat building techniques.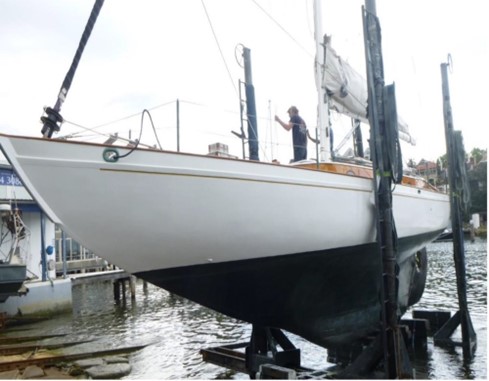 VENTURA was totally rebuilt in the ensuing four years. Each of her carvel planks from the original Huon pine hull were reattached to the original frames. To help make her drier and more comfortable, the sheer line was raised by one plank plus a bulwark plank. Below deck she was strengthened with a new sheer clamp, deck shelf, and carlins. Raising the sheer height and alterations to the transom shape had the effect of increasing her LOA to just over 43', with her beautiful lines being retained.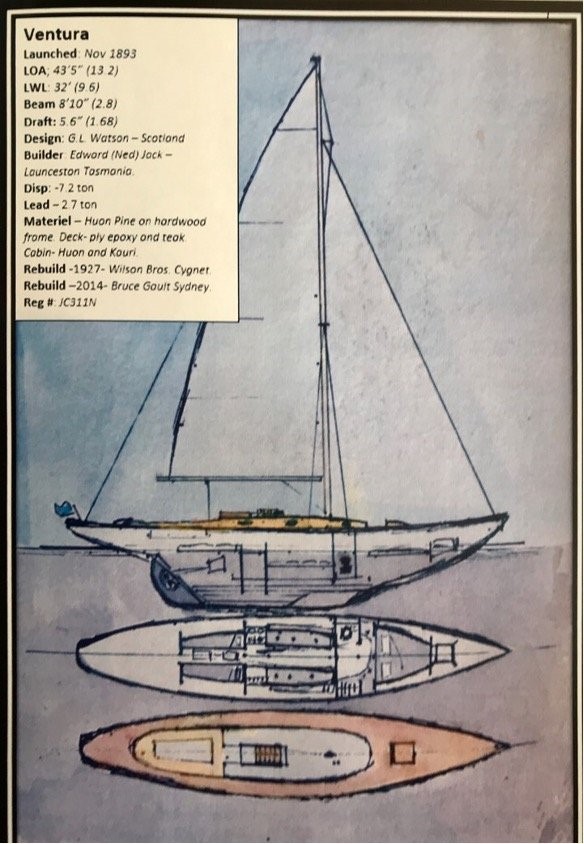 VENTURA's hull was further stiffened with new full-length stringers. Her original steam bent frames and grown-transverse floor timbers were substantially supplemented with modern timber boat building techniques. This included the fitting of new laminated timber ring frames in high stress areas around the chain plates, keel and cockpit area.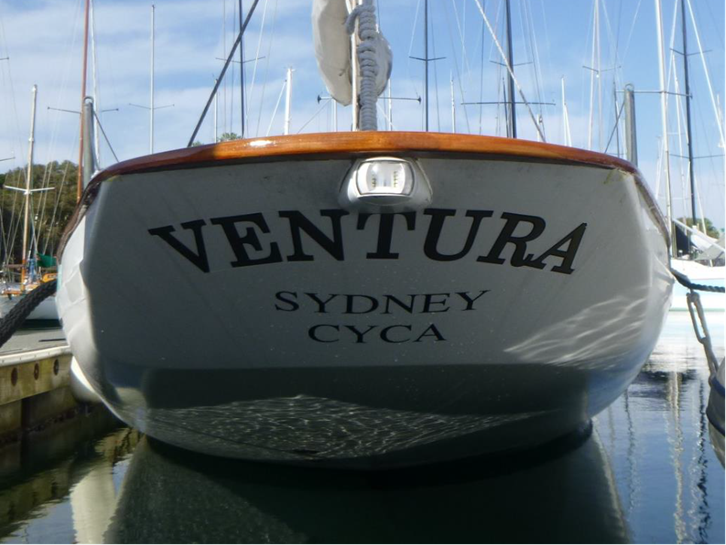 Finally, a totally a new deck with a new coach house and cockpit was constructed featuring many of the original fittings and windows. This also allowed a new interior to be assembled, with an emphasis on the simplicity that comes with a heritage wooden boat. Kauri pine features internally with Huon pine facing externally. The new deck is made out of a laminated plywood and then epoxy sheathed making for an extremely dry boat below. The deck was then finished with teak, which whilst not exactly original, is appropriate for her classic timber finish. The previous traditional butterfly deck hatch and timber foredeck hatch were refitted and enhanced by period port-lights at the cabin sides. This was finished with a handrail on the coach house and stanchions which were also original.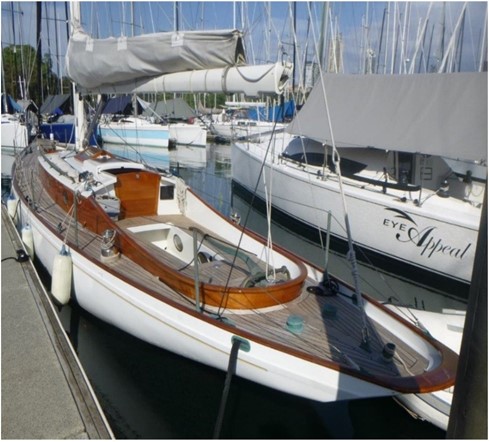 These alterations, with a new cockpit coaming, have created a remarkably dry day sailing boat featuring a very kind action at sea.
Most importantly she has evolved from a complex rig, that was technical to sail, to a vessel which is beautiful in its aesthetics as well as its simplicity. A spirit stove and simple galley is complemented by electronic winches, carbon spars and rod rigging.
In her new format she is both a fun twilighter, as well as an enjoyable coastal cruiser having been down to Tasmania and up to Port Stephens in recent times.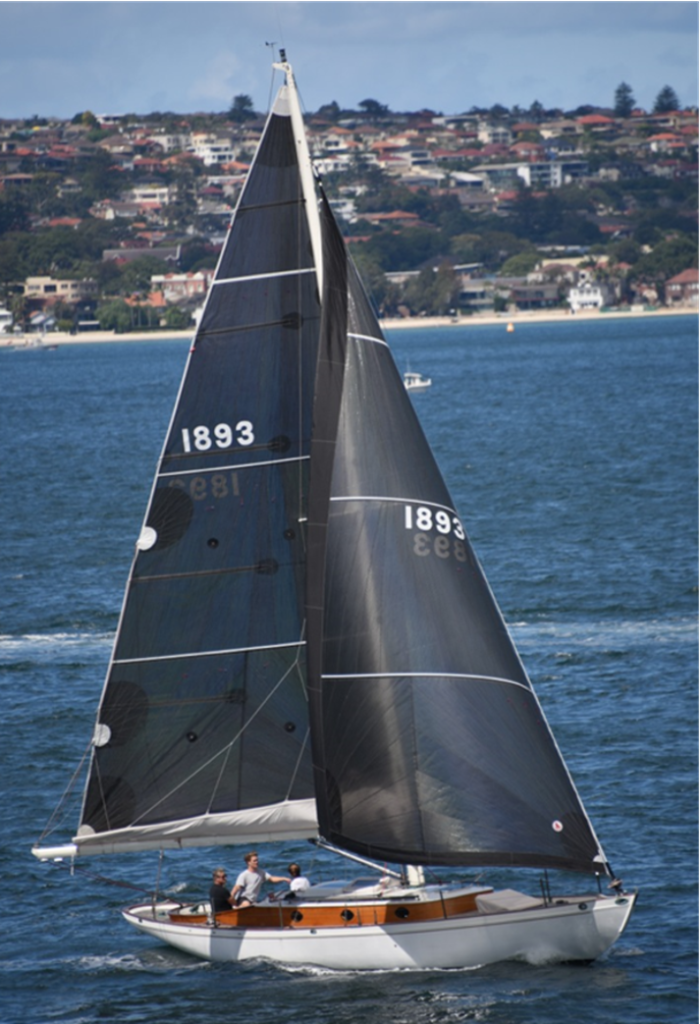 Today VENTURA is under the custodianship of an established private syndicate which includes eight families calling themselves the "Timber Tragics".
This syndicate also has the Margaret C on its list. Access to these two beautiful boats is a privilege that the current custodians never take for granted.
It also ultimately ensures that these classic vessels get the use, care and attention that will keep them in good condition for many years to come.