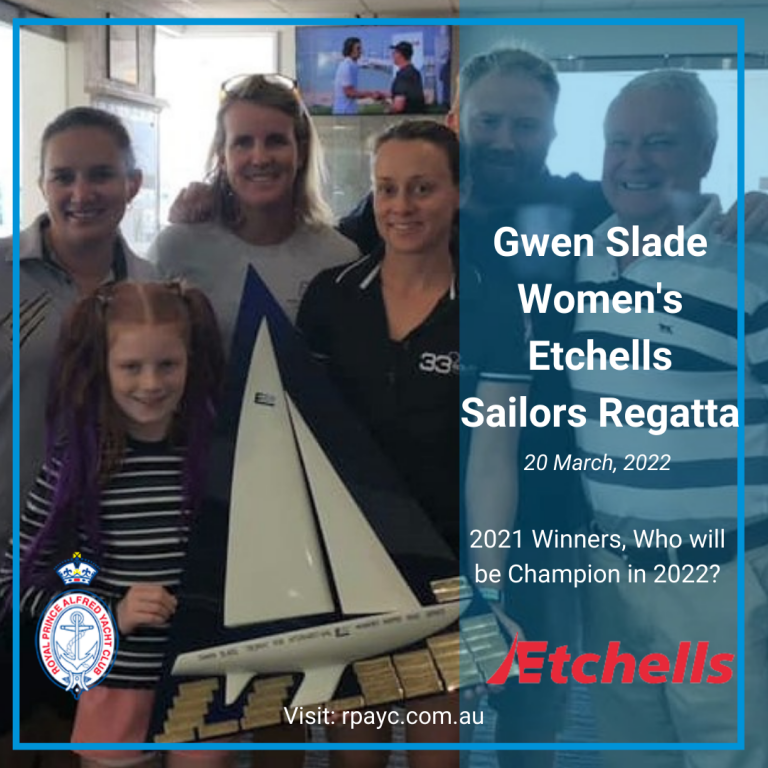 The Gwen Slade Ladies' Etchells Regatta was created by Life Member and world-class sailor, William Russell Slade in honour of his late wife, Gwen Slade.

Russell Slade was a prominent face of sailing in the 1960s, having competed in the Olympics and being a strong competitor in 16ft Skiffs and 5.5m class boats he was also the first person to build a Fibreglass yacht in Australia, Janzoon II.
Russell, as described by his son, Paul Slade, was a very passionate man and envision that sailing is a family involved sport based on fun with winning not being the major objective. Russell's love for One design racing lead to the choice of boat and development of the Gwen Slade Regatta.
The Etchell was chosen as it was a growing class and the simplicity factor would help promote the inclusion of advanced and beginner sailors. With a little media help from the Packers, Russell was able to launch the first Gwen Slade Ladies Regatta in 1981.
Today, the regatta is still going strong with the RPAYC hosting it every year in conjunction with the Etchells association. 
For 2022 the Regatta will be held in conjunction with the SheSails Women's Regatta.