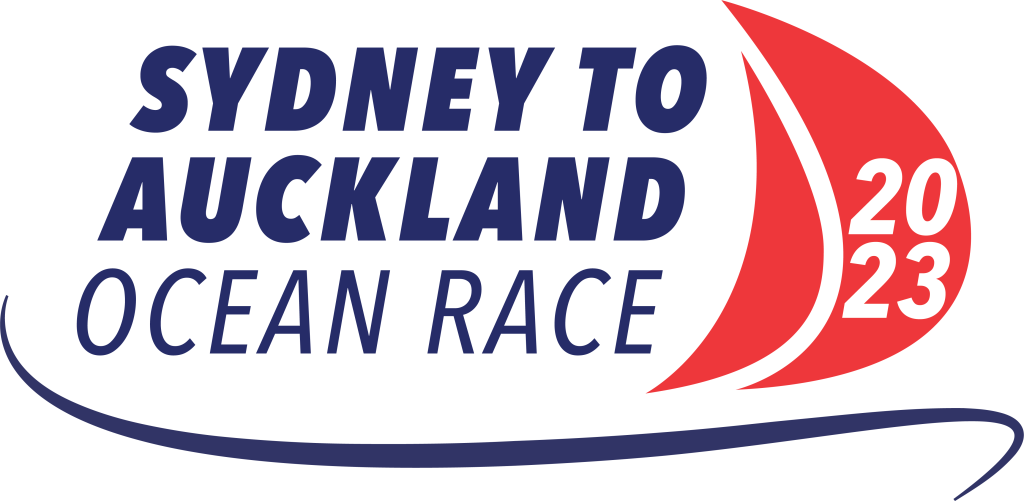 MEDIA RELEASE
With the fleet having finished the inaugural Sydney to Auckland Ocean Race for 2023 the Organisaing Authority is now preparing for the 2025 race scheduled for 11 October. 
The fleet have all now triumphantly crossed the finish line in the inaugural Sydney to Auckland Ocean Race! There are so many tales of camaraderie, challenges and achievements coming from those who stepped up and took on the challenge to Conquer the Tasman. We will share them all in the coming weeks as we look towards what's next for this epic race event.
Mick Martin and his crew onboard Frantic were awarded the perpetual Sir Lipton Cup for winning the Sydney to Auckland Ocean Race on IRC. Geoff Hill's and his crew onboard Antipodes took out line honours and PHS with their crossing of 5 days, 3 hours and 37 minutes. James Irvine Mayfair claimed the ORC title with RPAYCs own Marc Depret and George Martin completed their undeniably awesome two handed crossing on Intiy in 7 days, 18 hours and 37 minutes. Graham Barrett and his crew on Painkiller cruised their way to victory to join the history making competitors in the 2023 race proudly knowing they conquered the Tasman.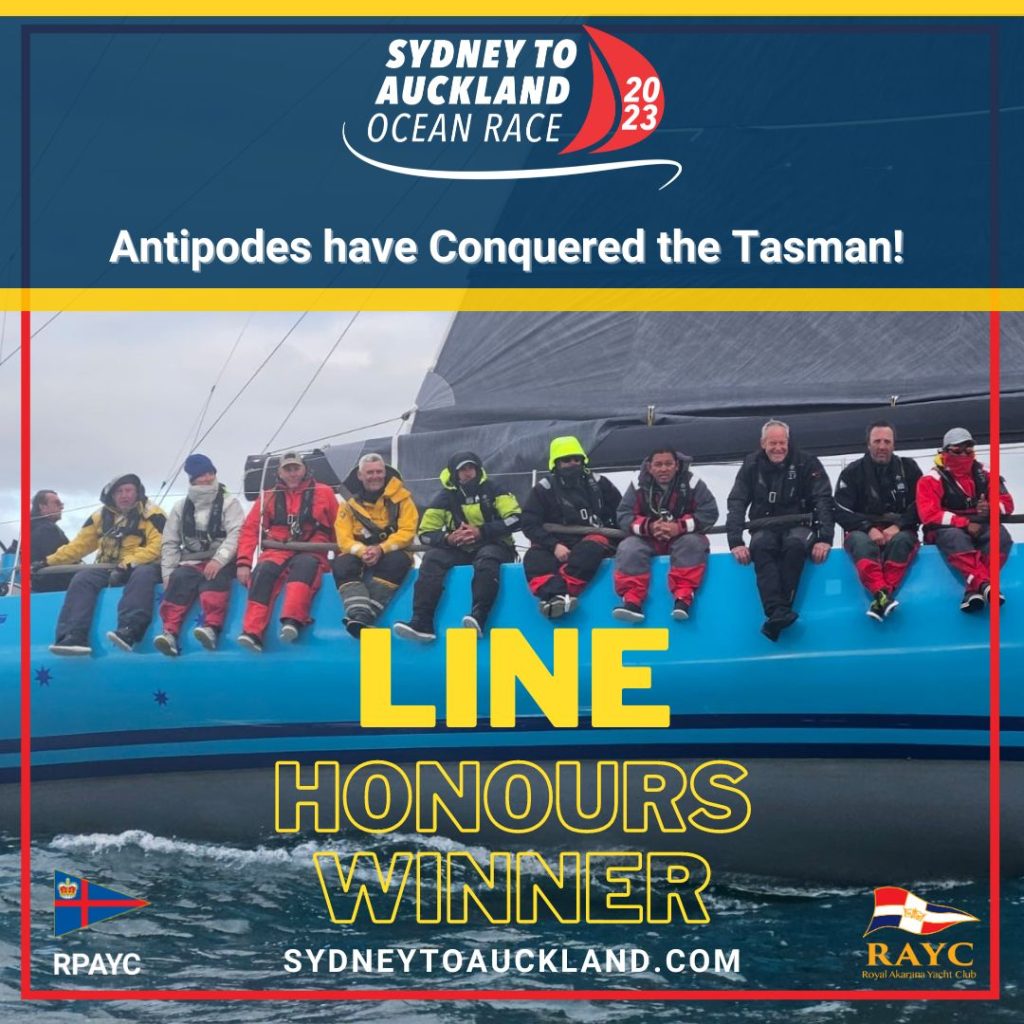 Line Honours: Antipodes, (Santa Cruz 72) skippered by Geoff Hill
Finished: 5 days: 3 hours: 37 minutes: 57 seconds 
1st PHS
3rd IRC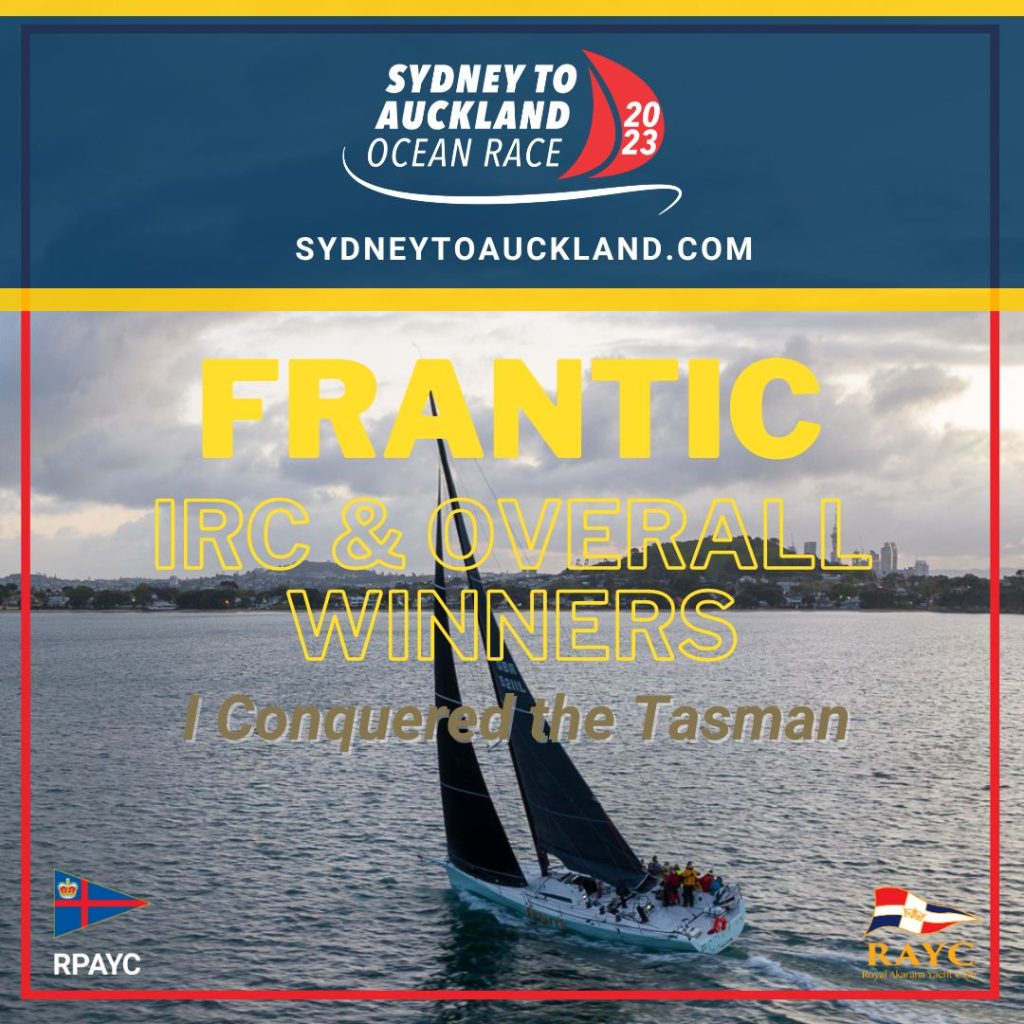 OVERALL winners
IRC: Frantic, (TP52) skippered by Michael Martin
Finished:  5 days : 4 hours: 53 minutes: 19 seconds
1st IRC
2nd PHS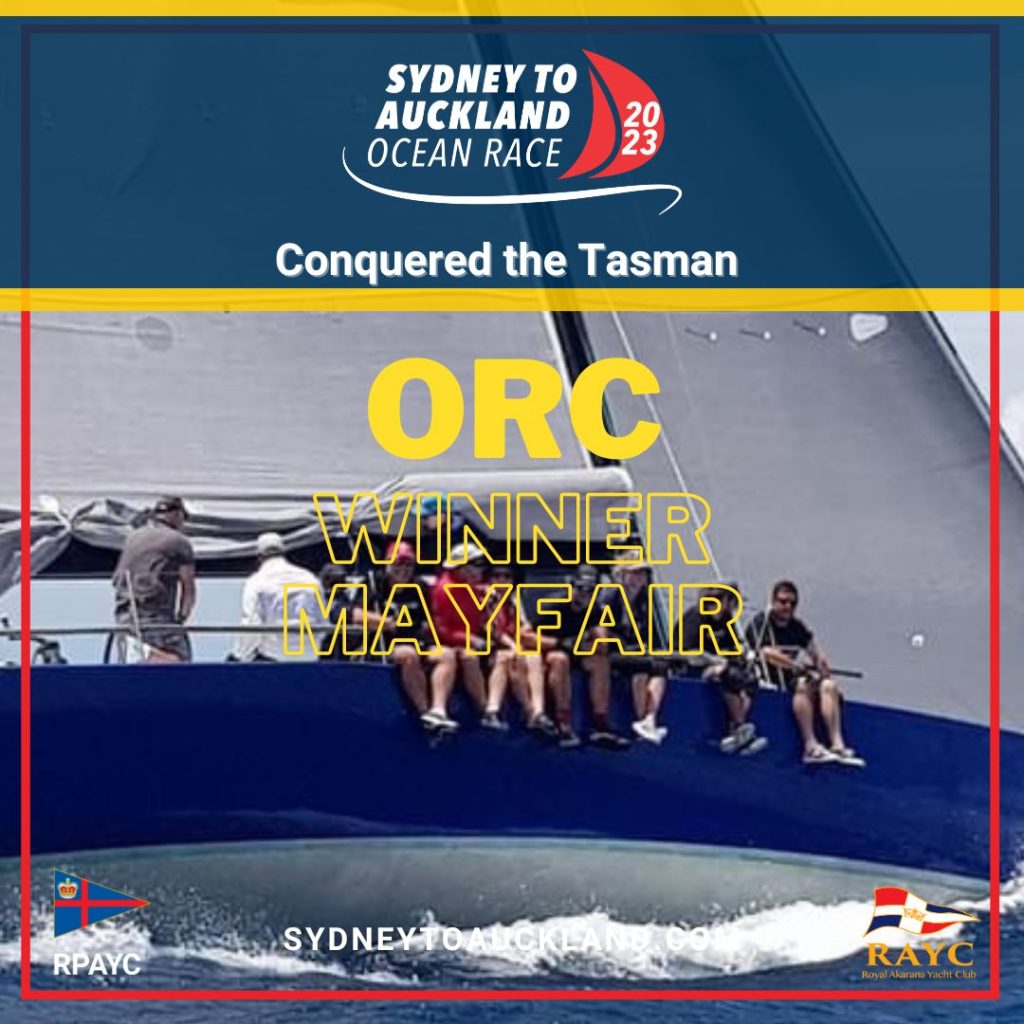 ORC: Mayfair, (Rogers 46) skippered by James Irvine
Finished: 5 days : 12 hours: 59 minutes: 21 seconds
1st ORC
2nd IRC
3rd PHS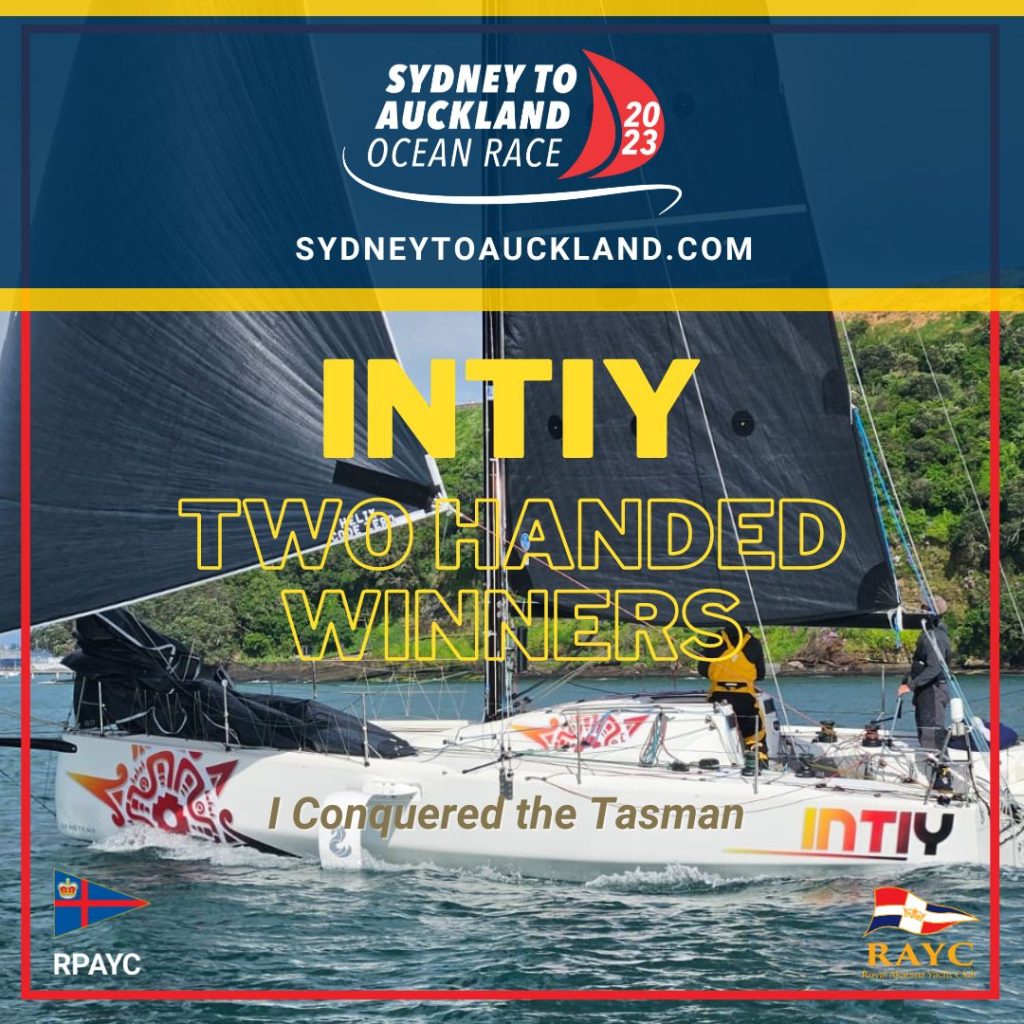 Two Handed: Intiy (Figaro 3) Marc Depret & George Martin
Finished:  7 days: 18 hours: 37 minutes: 58 seconds
1st Two-Handed Line Honours record
 2nd ORC
4th PHS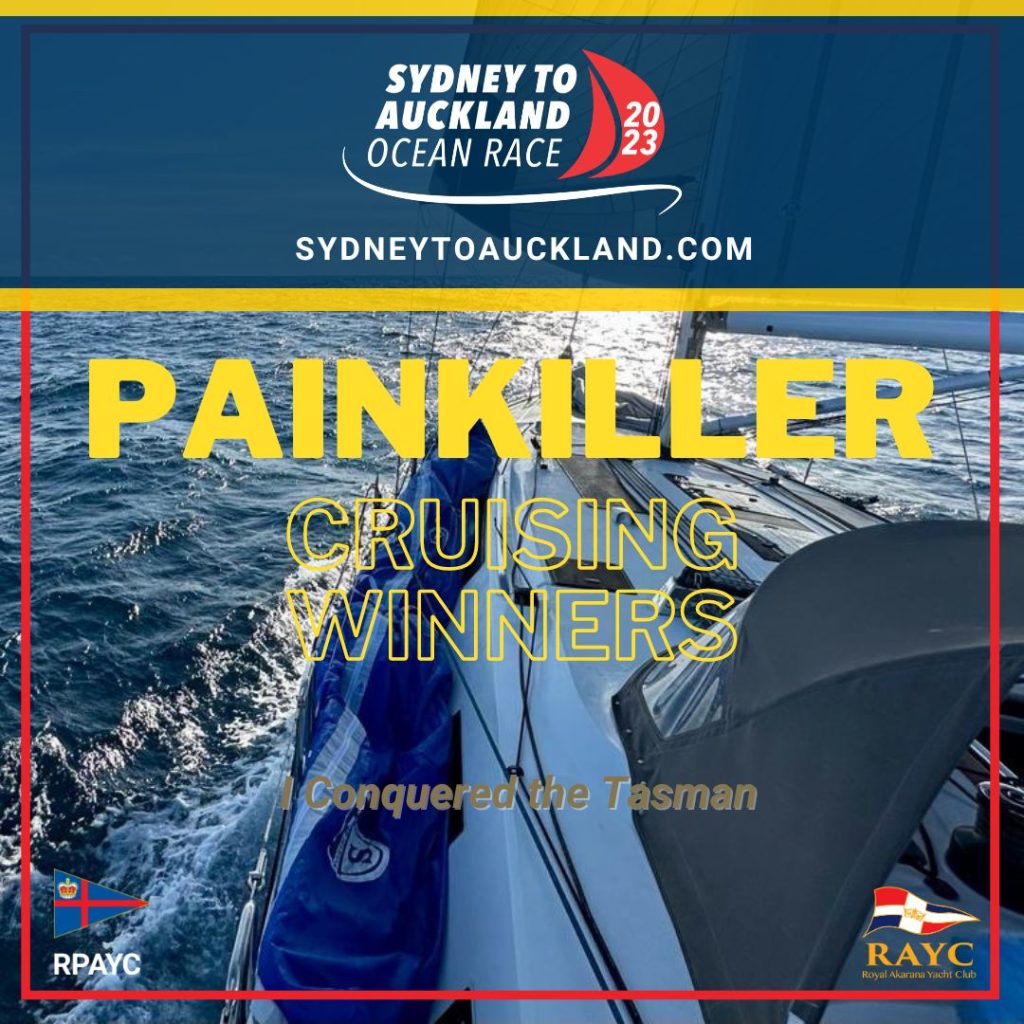 Cruising: Painkiller, (Bavaria 51) skippered by Graham Barrett
Finished:  9 days: 5 hours: 7 minutes: 3 seconds
5th PHS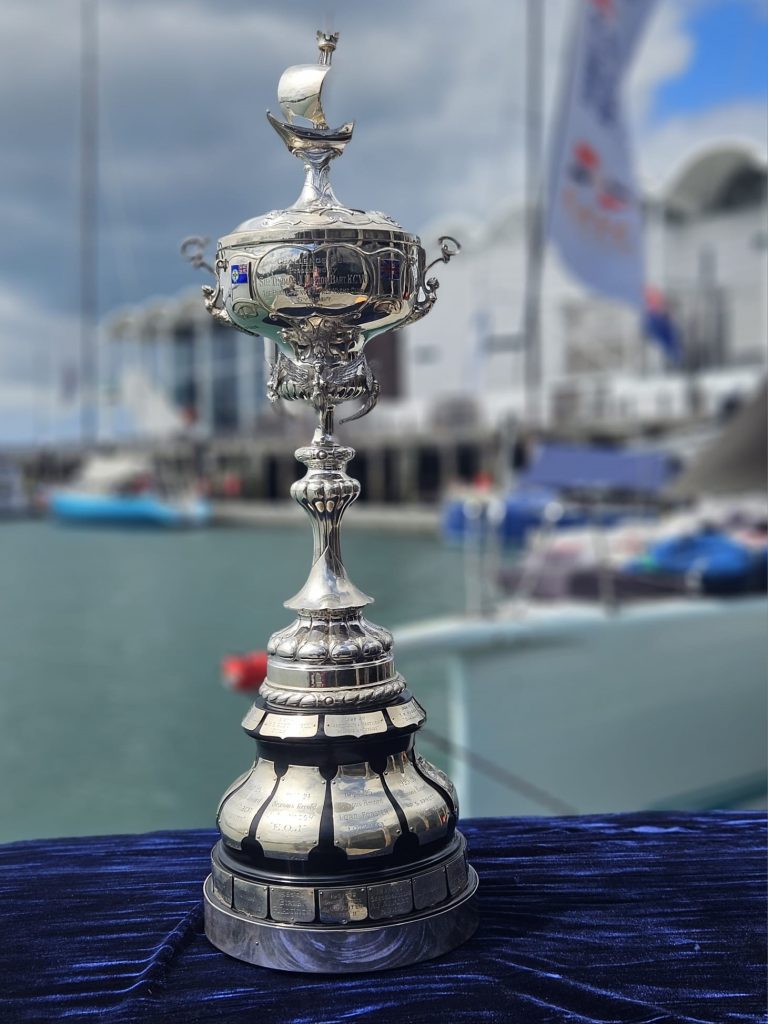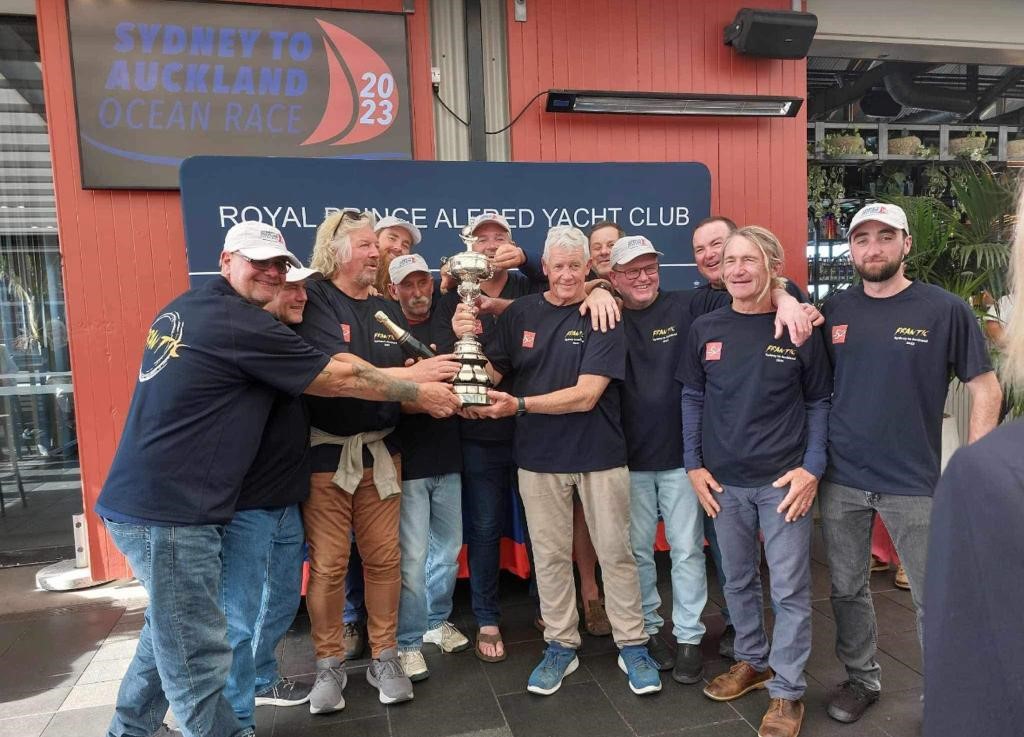 Virtual Regatta
Results
World:
Asterix-TP83 06.35h 36m 02s
TeleoMartius-TPN +02m 43s
Mamichula – Bises Patplon +06m 26s
Australia:
Toothfairy.LPO-ESF2 06d 23h 55m 09s
IMPI II @ Team AI +22m 13s
Woftam! BK + 36m 59s 
RPAYC:
Frantic ~^:^ 07d 43m 36s
Fresh Undies-AADU +04m 38s
dreamtime +01h 34m 12s