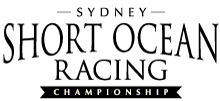 Middle Harbour Yacht Club's annual Sydney Short Ocean Racing Championship reignites the good-natured rivalry between Sydney and Pittwater sailing crews – each believing they have the better pedigree, particularly within the Premier Divisions.
These turf battles play out a few times each year and will heat up for the 44th edition of SSORC to be conducted by the Middle Harbour club over the weekend of November 27-28 on Sydney Harbour and offshore.
The entry list features a stellar IRC line-up, where most of the harbour versus Pittwater bloodline battles play out. Multiple division 2 winner, Jack Stening and Colin Gunn's Sydney 36 Stormaway, will be up against it with Peter Farrugia's Bull 9000 Bullwinkle and Mark Hellyer's Italia 11.98 Cicero bringing sail bags full of local talent down from the Royal Prince Alfred Yacht Club.
In division one, the competition between MHYC's Bob Cox's DK46 Nine Dragons and Gerry Hatton's RPAYC Mat 1245 Bushranger, bearing plenty of northern beaches pride, lives on. SSORC will be the regatta debut for Phil Dash's new Grand Soleil Gs44 Justadash which looks fast although boat and crew are untested.
Premier Divisions 1 and 2 and Sydney 38s will sail an offshore race on Saturday November 27 and windward/leewards on the Sunday. Division 1 features three DK46s, Khaleesi (Rob Aldis and Sandy Farquharson) and Nine Dragons from the harbour and Pittwater-based Old School Racing owned by Mark Griffith.
Old School Racing's RPAYC crew is keen to benchmark against two 'like' boats in the closing weeks before the Southern Hemisphere's pinnacle bluewater event, the Rolex Sydney Hobart Yacht Race. "We want to develop into a regatta-winning team and SSORC is a good start," said Griffith. "Lining up against the other DKs will identify the areas we need to work on."
Griffith opted for the Mark Mills design, originally Dekadence, given its reputation as a great dual-purpose cruiser-racer with a handy rating that suits the windward/leeward format.
Khaleesi is also on the Rolex Sydney Hobart start list.
The Farr 40s and Super 40s, including the MC38s and Adrian Walters' Shaw 11 Little Nico, will have a fleet start in Hunters Bay on the Saturday for the Seven Islands Race. On Sunday, the Farr 40s will join the offshore course for three windward/leewards while the Super 40s will remain inshore for their three short course races. Between 30-40 boats are expected for the mixed keelboat divisions of the Seven Islands Race which is part of the Jeanneau Cup Series.
A separate TP52 division is on the cards and Principal Race Officer Denis Thompson and MHYC Sailing Manager David Staley are looking at the options for a mix of windward/leeward and a coastal sprint on the Sunday.
MHYC Special Events Chairman and owner of the Xp 44 Toy Box 2, Ian Box, says "SSORC has a fabulous history that we work hard to preserve, while staying innovative. This year we have developed a wider weekend offering to cater for the diversity of racing preferences and at the same time we are focused on nurturing the heart of SSORC, the very competitive Premier and One-Design boats. I encourage everyone to get an entry in and participate in some of the best racing on offer."
Enter SSORC and take advantage of the club announcing an extension of the early entry fee, up until 1700hrs on Wednesday 24 December, which is when final paperwork is also due.
Images from SSORC 2021 thanks to Tilly McKnight Media.
MHYC is grateful for the support of CYCA race management and thanks key SSORC sponsors Club Marine, Sail Racing, Robert Oatley Wines and Short Marine for their generosity.
The Notice of Race and Sailing Instructions are available at www.ssorc.mhyc.com.au
How to follow the SSORC:
Website www.ssorc.mhyc.com.au
Facebook: @MiddleHarbourYachtClub
Instagram: @middleharbouryachtclub