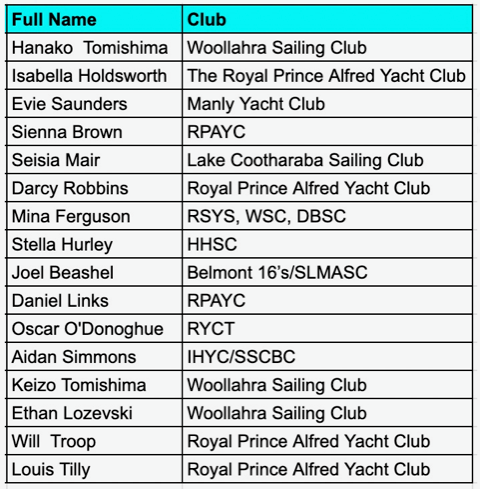 As the world's top sailors prepare for the ninth event of SailGP Season 3, 39 young people will get the chance to rub shoulders with world-class athletes in Sydney through SailGP Inspire. The global championship's youth and community outreach arm will showcase the future of the sport at the event on Sydney Harbour.
Initiating partnerships through local sailing clubs and organisations, the Adopt-a- Club program is designed to expand opportunities in the sport for diversity and inclusion as part of the global league's Race for the Future – driving towards a better sport and a better planet.
6 RPAYC members are part of the 16 under 21 years old sailors (8 female and 8 male) selected or qualifying for SailGP Inspire.
All nine of the competing nations in SailGP will be involved in the initiative, recognising that sailing organisations and clubs are the entry point for many young people looking to pursue a career within the sport. The aim of the program is to have a positive influence on their future by inspiring the next generation, providing industry insights and opening their eyes to potential career pathways in the marine industry.
The pairings for the Adopt-a-Club program at the KPMG Australia Sail Grand Prix I Sydney
are:
Australia – Woollahra Sailing Club
Canada – Double Bay Sailing Club
Denmark – Oak Flats Sailing Club
France – Narrabeen Lakes Sailing Club
Great Britain – Royal Prince Alfred Yacht Club
New Zealand – Vincentia Sailing Club
Spain – Newcastle Cruising Yacht Club
Switzerland – Southern Highlands Sailing Club
USA – BYRA
Australia SailGP Team driver and CEO Tom Slingsby said: "SailGP's Adopt-a-Club program was a roaring success when it was introduced in Season 2 of SailGP and we're excited to be partnering with Woollahra Sailing Club once again for the initiative. As we approach our home event in Sydney, it's a great way to engage local communities, showcase this incredible sport and hopefully inspire SailGP athletes of the future."
Alongside the Adopt-a-Club initiative, SailGP is also welcoming the return of its Inspire Racing and Inspire Careers Programs, which initially launched in February 2020. The once-in-a lifetime opportunity aims to increase diversity and accessibility to the sport and the wider sailing industry, as well as provide genuine racing, careers and learning pathways for the next generation.
There will be 22 young male and female sailors taking part in the Inspire Racing X WASZP and the Inspire Wing Racing programs, exhibiting their skills and passion for sailing on the same iconic Sydney Harbour course that will host SailGP's competing nations on February 18-19.
The 16 participants in the Inspire Racing x WASZP program were selected based on their application to the program or through qualification at the WASZP Nationals in Perth last week; Isabella Holdsworth, Darcy Robbins, Will Troop, Louis Tilly (all The Royal Prince Alfred Yacht Club), Hanako Tomishima, Ethan Lozevski, Keizo Tomishima (all Woollahra Sailing Club), Evie Saunders (Manly Yacht Club), Sienna Brown (RPAYC), Seisia Mair (Lake Cootharaba Sailing Club), Mina Ferguson (RSYS, WSC, DBSC), Stella Hurley (HHSC), Joel Beashel (Belmont 16's/SLMASC), Daniel Links (RPAYC), Oscar O'Donoghue (RYCT), Aidan Simmons (IHYC/SSCBC).
Six of the best under 21 year old wingers in Sydney have also applied to be part of the wing foil racing/exhibition freestyle event – made possible thanks to the partnership with Armstrong Foils – in front of the crowds on Genesis Island. These are; Roan Tucker (16), Henry Myers (15), Will Sproule (19), Ryan Littlechild (20), Luc Lohier (17) and Will McMillan (16).
As well as a F50 based technical tour (including chatting with members of the SailGP teams), all of the Inspire sailors have the chance to practice and train on WASZPs with top coaches prior to a selection series. From the selection series, sailors are split into Silver and Gold fleets. Some of the Gold feet races are integrated into the F50 SailGP global telecast schedule on both official race days. They will be racing in front of huge crowds around the harbour and directly in front of the Genesis Island exclusive SailGP island arena located on Shark Island. See this for a sample of Inspire's Slalom format from Dec 2021.
The top Female and top Male from the Gold fleet will be presented with awards as part of the SailGP presentation ceremony in the Adrenaline Lounge at Barangaroo on Sunday evening and will be sent to San Fransisco to represent Australia in the SailGP Grand Final.
Finally, the Inspire Careers program will give 17 students aged 18 years+ the opportunity to work across several areas of the SailGP organisation, including the technical team, hospitality and event management, on-water operations, media and communications, race management, and sustainability. The program starts in the week leading up to the event and provides students with a hands-on experience and inside look at what it takes to execute a global sporting spectacle.
The Shore Team Careers Candidates include: Tom Dawson and Ella Delaney with Australia SailGP Team; Catherine Colbert with New Zealand SailGP Team; Markus Sampson with Great Britain SailGP Team; Lachie Webber with France SailGP Team; Bridget Conrad with Denmark SailGP Team presented by ROCKWOOL; Chelsea Williams with Spain SailGP Team; Chelsea Ann Osborne with Switzerland SailGP Team; Simon Hoffman with Canada SailGP Team and Noelle Scheer with USA SailGP Team.
In addition to the Shore Team roles SailGP supports career placements across many other departments in SailGP and the candidates joining SailGP in Australia include: Anya Von Allmen, Francesca Shaw-Elliot, Thomas Holmes, Harry Miller, Alexandre Rogers, Zac West and Magdalena Komarek.
Australian Sailing Manager for NSW/ACT, Emma Humphries said: "SailGP's Inspire program does exactly that – it inspires the next generation. It's a fantastic gateway into our wonderful sport and a good way of increasing diversity and accessibility as we approach an exciting time for sailing in the state."