Record fleet to usher new era for Sail Port Stephens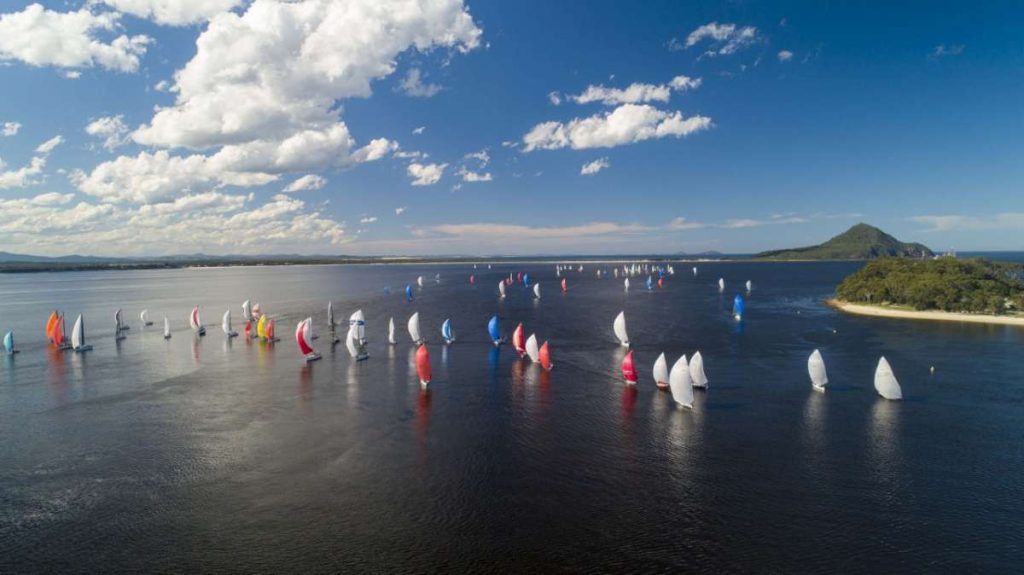 As a record for the opening days of Sail Port Stephens, a bumper fleet of 108 yachts will greet the starter at midday tomorrow in Race 1 of the new six-day Passage Series, comprising the Pantaenius Commodores Cup and Port Stephens Trophy.
Among them are a significant number of first-time entries, the revised race format having availed additional berths at the three local marinas. And awaiting for the first time is five full days of passage racing between tomorrow and April 29, Thursday being a layday.
With breezes predicted to be moderate south-east to nor'easters, Principal Race Officer Denis Thompson has 15 courses at his disposal; many utilising inshore and offshore islands as nature's own rounding marks. All starts are conducted off Nelson Bay's breakwall, affording front-row spectating.
In addition, Port Stephens Council is setting up a 'Locals Lounge', with comfortable deck chairs and umbrellas, to watch the race starts on April 26, 28 and 29 from the Dolphin Watch cafe near the Nelson Bay Cruise terminal.
Today, the Newcastle Cruising Yacht Club's Newcastle to Port Stephens Race again proved a popular way for competitors to get their yachts to Nelson Bay for the main event. It started at 10am outside Newcastle heads, the fleet of 40 racing in company across Stockton Bight.
The 12-knot south-easter allowed a close reach for most of the 22 nautical mile crossing. First home and IRC winner was Mick Martin's TP5 Frantic in 2hr18m, 15 minutes ahead of Adrian Walter's Shaw 11 Little Nico. Jeanneau scored a PHS trifecta, led home by Peter Lewis on Ca Va, from Beluga and Elysium.
RPAYC staged its own Pittwater to Port Stephens Race on Saturday as the 7th and final race of the club's Coastal Pointscore Series. Results were Pretty Woman, a Farr 45 Modified, first home while the Beneteau Figaro Intiy won PHS and Transcendence Crento ORC.
Sail Port Stephens' renowned social scene ramps up tomorrow night with a Brix Rum welcome party and the signature Regatta Ball on April 26. The 'Aussie Country' themed event will see sailors swapping polo shirts for flannelette, sipping Zilzie wines and riding a mechanical bull.
Regatta Director Paul O'Rourke believes the 16th annual regatta will be the biggest and best: "The event's popularity reached the point where we had to split the different series over several weekends to make more efficient use of berthing and accommodation.
"The new format has been well received by crews and local businesses alike. Over 1000 people will participate this week alone as competitors, supporters, industry representatives and media, providing a multimillion-dollar tourism injection.
"We're expecting thousands more to follow it via our media reporting and social media channels, encouraging visitation outside regatta times."
Long-time sponsor Pantaenius is again running a teams' event to spice up the interclub and intraclass rivalry, with the top two paired teams winning a SUP for each member. All teams will be automatically entered into the Pantaenius Australia Club Championship.
Pittwater's Royal Prince Alfred Yacht Club (RPAYC) leads the entry split with 16 starters, followed by the CYCA and Newcastle Cruising Yacht Club with 11 each and Middle Harbour Yacht Club having 10. There are nine Port Stephens Yacht Club entries, led by the Farr 51 51st Project.
The Windward-Leeward Series incorporating the Australian Sailing NSW Championship and Rob Hampshire ORC Cup is a stand-alone offshore event (May 5-7), attracting a strong fleet of TP52s and offshore racing yachts. Part three of the regatta will see trailer sailers, sportsboats, Windsurfers and off-the-beach dinghy classes enjoying their own 'Bay Series' on May 19-21.
Sail Port Stephens website: https://www.sailportstephens.com.au/
Sail Port Stephens is supported by the NSW Government via its tourism agency Destination NSW, Port Stephens Council, Pantaenius Australia and subsidiary sponsors.
By: Mark Rothfield, MySailing.com