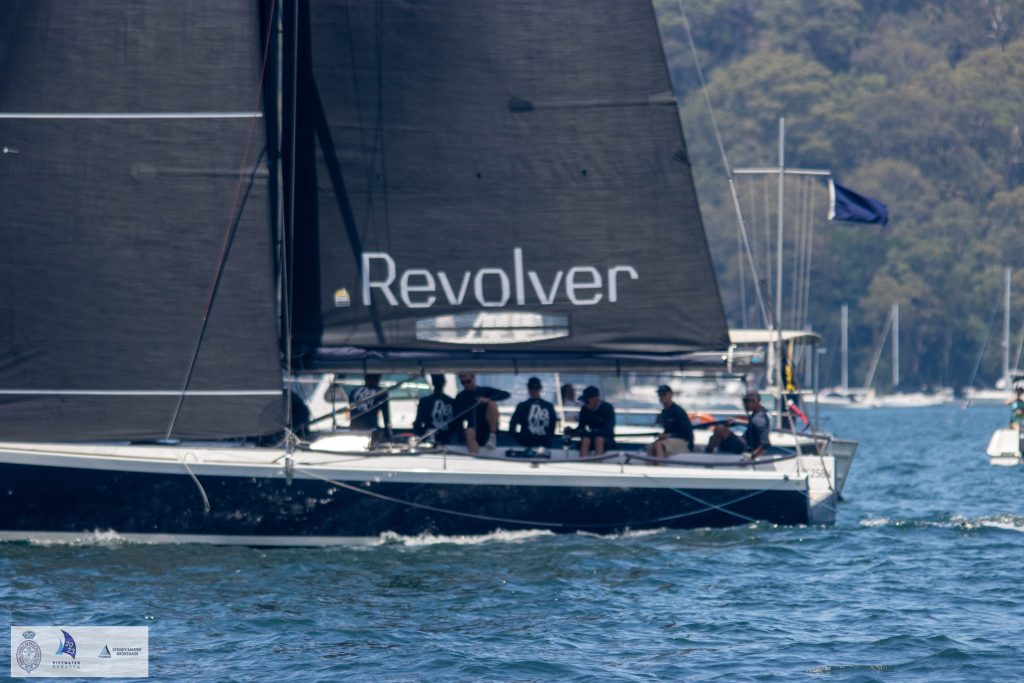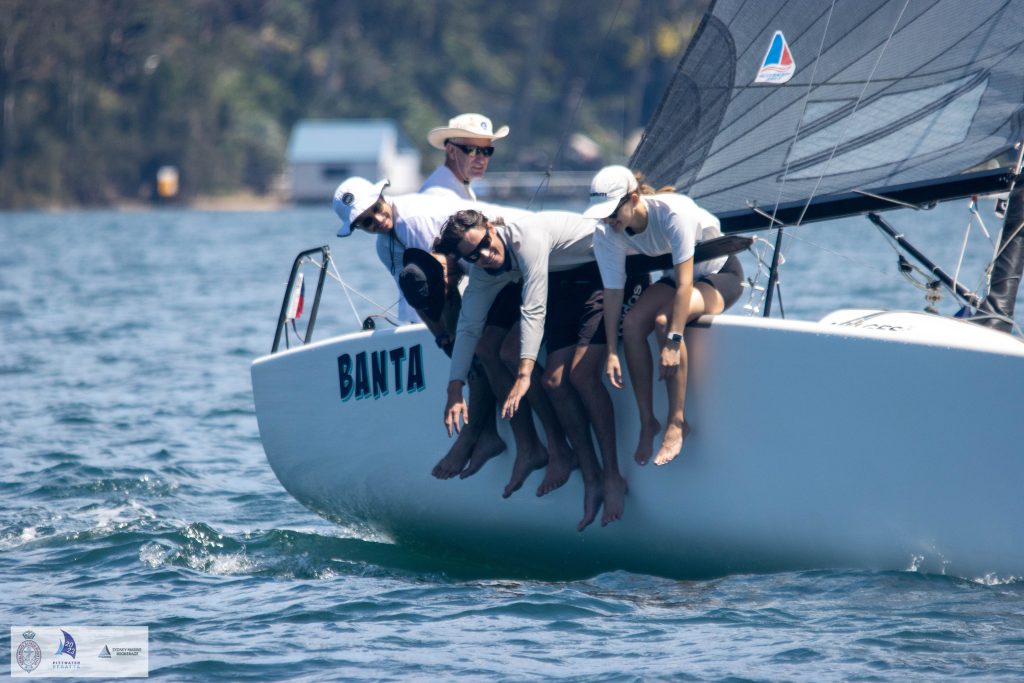 While the ORC NSW Championship resumed at Pittwater today, Pittwater Regatta competitors relished their first outing with two inshore races across three divisions, both events hosted by Royal Prince Alfred Yacht Club (RPAYC).
Michael Ritchie's self-designed Ritchie 38, Revolver, leads the PHS pointscore by a lone point to the tenacious crew on David Hudson and Peter Byford's Sydney 38, Conspiracy. Revolver scored third and second places compared to Conspiracy's fifth and a win.
However, the tables were turned under ORC, the main scoring system this weekend. Conspiracy's two wins outweigh Revolver's fourth and third, leaving them fourth overall. Susan Walters skippered Cape Fear, a Cape 35, into second place, with third and second in Races 1 and 2. Tomorrow is all to play for.   

An effervescent David Hudson declared after racing, "You know we have a big red Conspiracy on our backs to hide the blood where our tactician, Allen Stormon (he is also RPAYC's Commodore) whips us into shape! He's a hard taskmaster, but we love him for it."
Hudson steered Conspiracy in the opening race: "It started comparatively light, 10-12 knots, so it was more of a tactical race. We weren't necessarily sailing for speed, more for height, to take advantage of the light breeze. All went smoothly," he said.  
"Peter steered the second race in 16-22 knots, so we sailed to the boat's maximum potential. It couldn't get any better. It was a standard two-sausage and a tight triangle in the middle, so it was challenging and tested all the crews."  
Alpha Crucis, Bob Stoddard's 5.5 Metre yacht, won both Division 2 races. Heath Walters skippered  the Melges 24, Banta (the new Melges 24 Australian Champion), is in second place overall, just three points in arrears.
"We got off the start line well. In the second one we had to push two boats over early to start on time. I was very pleased that the wind came in for the second race, because we reveled in that. We have a flat headsail, which worked well in the second race," Stoddard said.
"We have to beat Banta tomorrow. They beat in all three races last year, so I'm out to get them," Stoddard ended, amid laughter.
Under PHS, Time Bandit made the best of time around the race track in Division 2, Russell Murphy scoring a win and a second to lead the tied Joji and Alpha Crucis.
Murphy, whose boat is an 11 Metre One-Design, commented, "We had a great day. It was a beautiful day on the water. It started out light with holes in the course, but the nor' easter built in the afternoon to 18-20 knots. It was like someone turned the fan on."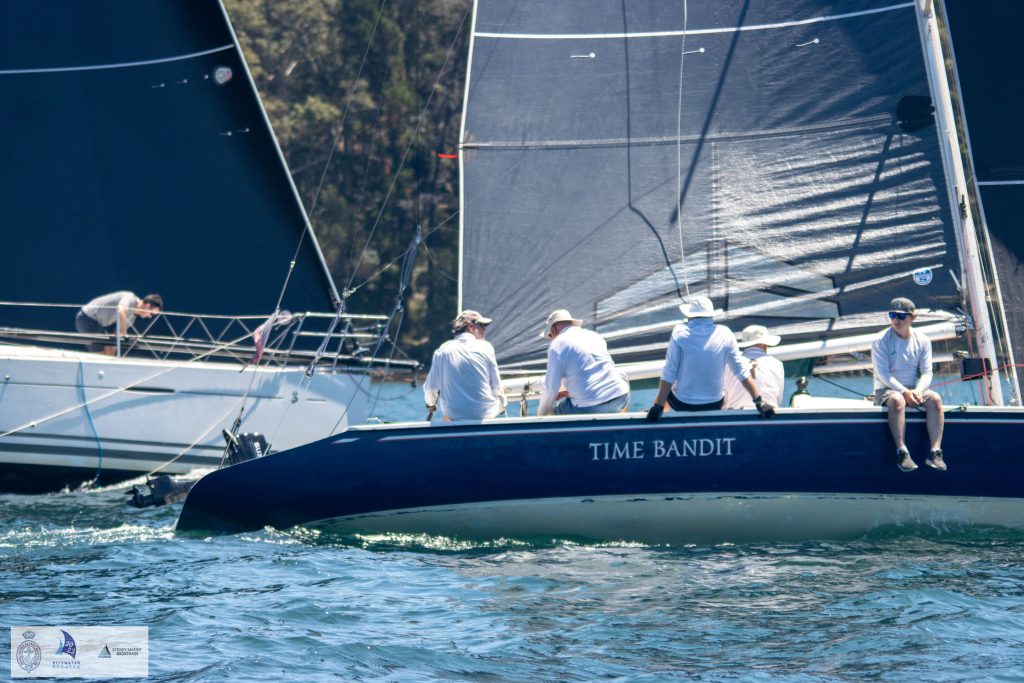 ORC Division 3 is led by John Afaras' Oceanis 35.1, Eirini from Phillip Smith's Wahoo. Under PHS, Leon Wilson's Nirvana's Kitchen leads and was named Boat of the Day. One point behind is Peter Barry's Jeanneau 389, Shearwater. This PHS division is mainly made up of cruisers and it's pleasing to see so many out racing.
Day 2 of the ORC NSW Championship and a lovely sea breeze for the 25 nautical mile offshore passage race kept all happy. Division 1 headed north to First Point, then easterly to the 04 mark,  Box Head and finished off West Head, while Division 2 took in the Second Point mark, 04 mark, Box Head mark and finished off West Head.
Gerry Hatton's Bushranger (RPAYC), with son-in-law Michael Fountain skippering (Hatton was absent today), cleaned up Division 1 again, with Keiran Mulcahy's Soozal in second place again – by one minute 35 seconds. Bushranger is proving hard to beat.
Bushranger three wins equate to a four-point overall lead to Soozal and a further point to Bob Cox's DK46, Nine Dragons from MHYC. Three offshore windward/leeward races are the plan for tomorrow and will decide the new champions.  
Division 2 was close and went Mark Hellyer's Italia 11.98, Cicero's won by 28 seconds. Jack Stening and Colin Gunn's Sydney 36S, Stormaway from MHYC, placed second.
Mark Hellyer: "It was perfect conditions for Cicero; 15-20 knots and the opportunity to stretch our legs. My tactician, Atho, made a great call upwind that put us in the right place and the crew did everything right. It was a great day for us. Not too many better places in the world to sail than this." 
Simon Grosser's Young 88, Young at Heart, remains at the top of a very tight Division 2 leaderboard.  In fact, Grosser's lead is on countback to Martin Cross' Sun Fast 3300, Transcendence Crento, with a few other still in the running.
Tomorrow's races will decide both the ORC NSW Championship and the Pittwater Regatta.