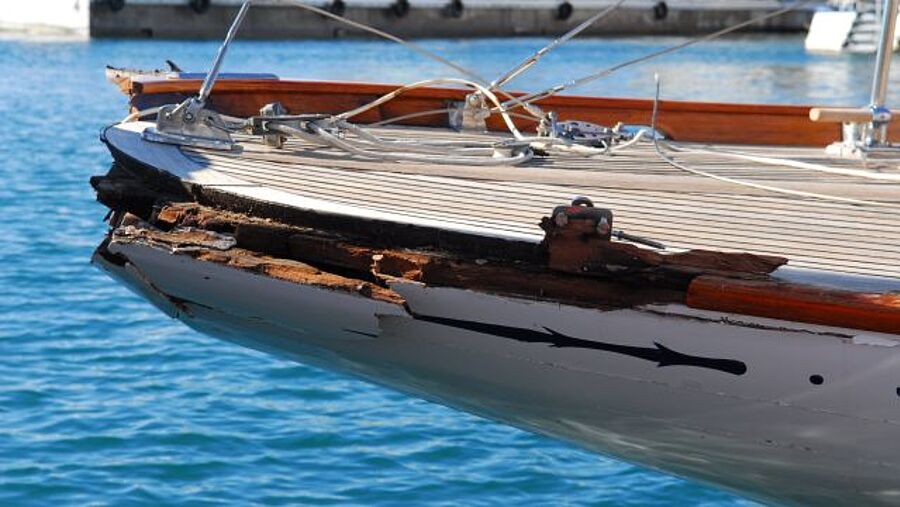 Relatively small collision claims are generally the order of the day at Pantaenius. There is often contact between yachts in particular when maneuvering in and out of berths in marinas, but fortunately this usually only results in very minor damage.
If, however, there is a collision in open waters, it is generally a more serious matter. In the worst-case scenario, this results in a total loss and not infrequently also in personal injury. In fact, just a few generally known rules need to be observed in this respect.
A lack of seamanship is the most common cause of collisions. On leisure yachts there is often no one who is keeping a look-out – a development that our claim experts are unfortunately noting more and more. As a result of the increasing amount of technical equipment on board leisure vessels, some skippers become careless, rely too much on the on-board electronics and steer solely on the basis of displays and waypoints.
The increasing use of autopilots and self-steering systems is tempting more and more skippers not to keep an eye on the surrounding area, whether it is to quickly take something below deck or to attend to other matters in the cockpit. Anyone behaving in this way is being grossly negligent. The primary rule is to keep a look-out at all times.
KEEPING A LOOK-OUT IS A DUTY
In the International Regulations for Preventing Collisions at Sea (COLREGs,), regulation no. 5 states that every vessel shall at all times maintain a proper look-out by sight and hearing as well as by all available means appropriate in the prevailing circumstances and conditions so as to make a full appraisal of the situation and of the risk of collision. This applies, of course, not only to sailboats and motor yachts, but also to all watercraft and to maritime and professional shipping. These vessels have the most modern technology on board, but you should not rely on the fact that they have always seen you and your yacht.
THE SKIPPER'S RESPONSIBILITY
Of course, a vessel's skipper cannot stand at the helm and keep a look-out non-stop. Especially during longer trips he/she needs to take regular breaks. It is, however, up to him/her to select a suitable helmsman to take his/her place. This is something you should consider carefully as a skipper. Even if you were not at the helm at the time of a collision, you are responsible if something goes wrong.
INACCURACIES IN THE GPS SYSTEM
The number of incidents of grounding is also rising. The position given by the GPS system is subject to a degree of inaccuracy. Even today, there can still be a difference of up to 200 metres. Similarly, a poor satellite configuration can lead to inaccuracies. If, under these circumstances, you rely solely on your plotter in the Swedish archipelago, you will quickly run your yacht aground. Electronic nautical charts are essentially based on the large-scale charts used in professional shipping and are therefore not ideally suited for navigating in tight spaces. Modern navigation electronics are nonetheless helpful and useful, especially in open areas and over long distances. They are, however, only an aid and not a substitute for careful navigation and good seamanship. Paper charts are still recommended; you should therefore also know how to navigate without on-board electronics, should these fail unexpectedly.
COLREGs: INTERNATIONAL REGULATIONS FOR PREVENTING COLLISIONS AT SEA
A thorough knowledge of the rules is the most important prerequisite for avoiding collisions. This applies in particular to harbours and areas with a lot of traffic. On the water, every vessel, whether a tanker or rowing boat, is obliged to comply with the international regulations for preventing collisions. 
Observe the collision prevention regulations 
Always keep a look-out and an eye on the surrounding area 
If necessary, appoint a reliable helmsman to take over the look-out 
When using electronic nautical charts, allow for inaccuracies 
Always keep paper charts on board and familiarise yourself with conventional navigation techniques 
Regularly correct and update nautical charts
CORRECTING NAUTICAL CHARTS
When using either electronic or paper charts, you must also make sure to update them regularly or to make the necessary corrections. This is often neglected. In the best-case scenario, you merely wonder why the symbols on the chart do not coincide with your own observations. However, new shallows can quickly form as a result of wrecks or strong tidal waters. And then there is a risk of grounding.
A QUESTION OF PERSPECTIVE
On small displays in particular, the use of the zoom function is indispensable in electronic navigation. In this case, you should be aware that at higher zoom levels it is often difficult or impossible to identify shallow waters. Make sure, therefore, that you are thoroughly familiar with the use of your electronic charts and regularly check whether the selected zoom level contains all the important information.
RADAR OR AIS?
The decision as to whether you require radar equipment on your boat depends primarily on your preferred sailing area. If you sail mainly in the Baltic and night-time trips are the exception, it is sufficient to keep a careful look-out. In areas with heavy traffic, where visibility is often hindered by fog, such as the English Channel or the Strait of Gibraltar, on-board radar is a wise safety measure. It does, however, require a certain amount of practice to get to grips with the unfamiliar display. As a replacement for, or in addition to, a radar system, the visualisation of maritime traffic via the Automatic Identification System (AIS) is significantly more user-friendly
SPEEDING WITH CONSEQUENCES
Unlike road traffic, speeding is not a particularly common reason for accidents in leisure sailing. Nonetheless, motorboat drivers should keep an eye on their speed. When an accident does occur, it is not uncommon for this to result in personal injury. People fall overboard and can in some cases seriously injure themselves. Although there is no general speed limit for recreational boats in maritime navigation, all vessels must travel at a safe and reasonable speed so as not to jeopardise the safety of maritime traffic. Speed limits generally do apply in inland waterways.