Royal Prince Alfred Yacht Club
Royal Prince Alfred Yacht Club is situated on Green Point on the pristine body of water called Pittwater, on Sydney's Northern Beaches.
"The Alfreds", as it's known by members and locals, has a long and colourful history and is one of Australia's oldest and most prestigious yacht clubs. The Club is currently home to the Admiral's Cup, one of yachting's most sought after trophies.
The Club offers members and their guests one of the finest facilities in Australia; with state-of-the-art floating marina, a modern boat yard with 50 tonne travel lift, two hard stand areas, on-site marine services, tender service, gymnasium, multi-level secure parking, dining restaurant, casual waterfront bistro and function facilities.
Royal Prince Alfred Yacht Club takes pride in its past achievements and dedication to its future success. The Alfreds' has an ongoing commitment to providing the best facilities and conditions for its members and their guests and, a warm and friendly welcome to local and international sailors.
The Club provides inshore and offshore racing, cruising events, centreboard racing, social activities, a successful sailing academy for youth development, year round sail training programs, a schools program and looks forward to its premier offshore racing event, the Pittwater to Coffs Harbour Yacht Race.
We look forward to welcoming you to our Club.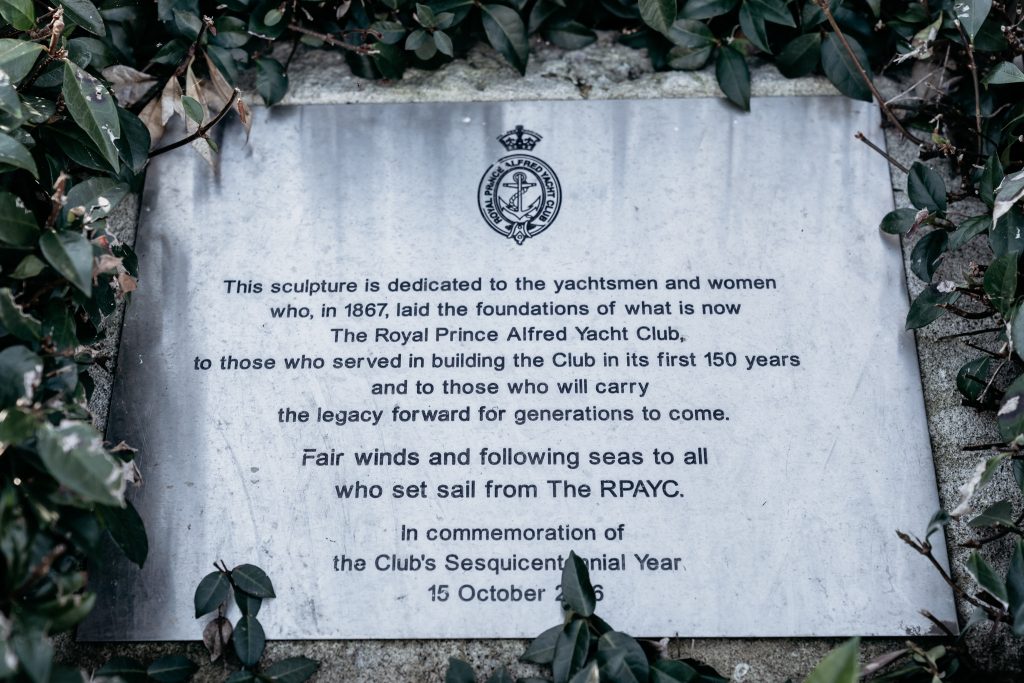 Our Vision, Values and Mission
Our vision is to provide a world-class yachting facility that attracts and involves members in the enjoyment of the sport of yachting and sailing. 
To achieve our mission we will: 
Offer comprehensive programs in racing, cruising, youth development and sail training.
Provide a world-class marina, waterfront and clubhouse facility.
At all times provide a standard of excellence in service to members.
Interact with industry bodies such as Australian Sailing.
Provide a sense of belonging and 'Club spirit' for our members and their guests.
Provide a motivating working environment for our staff.
Proactively contribute to supporting the external community.
'One Club'
The Club embraces and supports the diverse sailing interests of its members.  Unity across all groups is paramount to the success of the Club, which offers a diverse range of sailing programs, clubhouse, marina and ship repair facilities.  
Integrity
The Club expects the highest levels of individual and corporate integrity.  Compliance with the Club's Constitution, it's by-laws, policies and State & Federal legislation are paramount.  The Club's assets will be preserved and safeguarded. 
Openness & Transparency
Decision-making processes should be open, transparent and rational.  Decisions are made for the common good of the membership rather than individual members.
Respect
All actions, decisions and communication should be respectful of all members, staff, the community and the environment.
Safety
The safety of our members, guests, staff and visitors is fundamental both on land and water. 
Quality
Delivery of quality service across all levels (internally and externally) is vital to the success of the Club. We welcome challenges to existing processes to foster continual improvement and a drive to success.
Fairness & Equity
The Club promotes an environment that fosters fairness, equity and respect for social and cultural diversity.  Everyone is to be treated fairly and equitably regardless of their status within the Club.
Proud History
All stakeholders will preserve, respect and contribute to the history that has created the Royal Prince Alfred Yacht Club since 1867.
Success
Success is valued and celebrated across all activities within the Club.