Round 2, June 30th to May 2nd.
Day 1.
The first day of any regatta is always the most difficult, while crews get used to the vagaries of the race area, settle down as a crew and hope that the recent work on their boats has improved things. As such the organisers provide two ways of helping. One is to make the first race a practice race only and secondly is to drop their worst score, (days two and three do not allow discards). Four teams were very thankful. Team 258 were still in the yard being worked on at the start and missed the first race. Team Pine Pacific was late for the first race and Esy Tiger suffered terminal damage to their main sail and missed a race replacing it, team Doolalie needed a DNF discarding. However, three scoring races were managed in spite of very changeable light winds.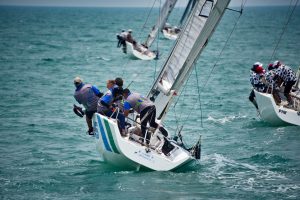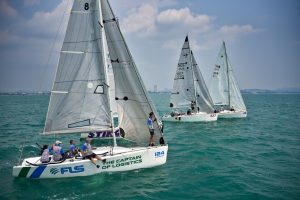 Day 2
The weather forecast was not good, but it was correct, unfortunately! After the first race it took 90 minutes for the wind to change course 280 degrees and rebuild into the minimum 4 knots to allow racing to begin again. One race had to be abandoned when the wind dropped out completely and another cancelled during the preparatory signal due to a sudden 90 degree shift. Three windwards marks were set so that there was no delay for a course change of up to 30 degrees. Even then the last race of the day involved a change of course during the race. But five worthwhile races were run and the regatta had begun in earnest. By this stage, team Easy Tiger were showing their wealth of experience by moving into a six point lead over K Ithinai's, Pine Pacific. It is worth mentioning that K Ithinai's Platu had been sunk by lightening the week before, but Rolf Heemskerk generously lent him his Platu for the event. Rolf would normally be racing but covid rules kept him in Europe.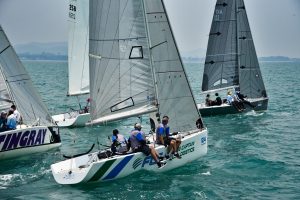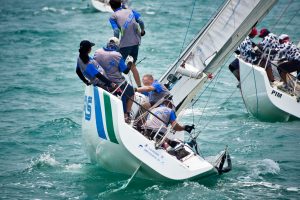 Day three
This time the weather forecast was good, and accurate. Winds of 12 to 16 knots, coming through high rise buildings, meant that crews were thrown around in turbulent conditions of big changes in wind pressure and direction. This created a few "incidents' but no protests. All boats "did their turns" and tempers were kept in check. Unfortunately Team Le Vent suffered a loss of their forestay and had to retire. It bodes well for the future that a 14 year old on Easy Tiger and a fifteen year old on Team FLS, managed to handle the foredeck in such difficult conditions for that job. This time it was easy to run races and only the engine failure on the mark boat created a delay of 30 minutes before racing started for the day. In these conditions the "professionals" on board Easy Tiger could show that when all boats are One Design that crew work is paramount.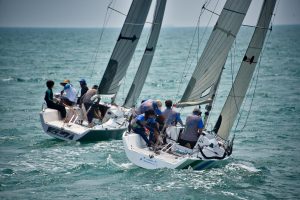 As always with this Championship, the last race is a medal race carrying double points and this can often shake up the results quite a lot. This time Pine Pacific showed Easy tiger how it was done and came in just ahead of their rivals. It was not enough to change the final result but it was enough to show that Easy Tiger still has to work hard for victory in this super closely contested Championship.
Crews packed up their boats, having enjoyed 13 races, and assembled on the magnificent lawns of Ocean Marina to await results and presentations. Scott Finsten presented the awards and as usual all teams were invited to the podium to receive their 'bottles' as a way to acknowledge that it is not just the winners that we should congratulate. All crews are equally respected for taking part.
The three podium places went to Easy Tiger on 17 points, Pine pacific on 30 points and team Doolalie on 43 points. The report, full results and photos can be viewed on www.yachtsinthailand.com in the Championship 2022 section.
Thanks go to Scott Finsten and Ocean Marina Yacht club for supporting this Championship with on water facilities and excellent office staff to handle the paperwork
Doug Smith as ever for his background assistance with crews and boats.
Toby Thanathorn and David Gray for the photos.
And especially to all the crews who make this such a great Championship with their friendly attitude off the water and fiercely competitive racing on it.
No animals were harmed during the running of this event but we are proud to announce that the Committee Boat crew rescued a domestic budgie which was later given a good home by Nathan from team Le Vent.
Kev Scott Ferret news 2 May 2002.

Final Scores
Easy Tiger 027 2,1,2,1,1,1,1,1,1,1,1,4 17 pts
Pine Pacific 1 154 1,1,1,3,2,4,2,2,5,5,2,2 30 pts
Team Doolalie 118 3,3,3,2,3,3,6,3,4,3,4,6 43 pts
Pine Pacific 2 258 2,5,5,5,4,2,4,7,2,2,5,14 57pts
Team FLS 124 4,4,4,4,5,6,5,5,6,4,3,8 58 pts
Le Vent 122 3,4,6,6,6,5,3,4,3,7,7,14 68 points

NEXT ROUND June 10,11, 12 Friday Saturday, Sunday.