The brand new AC9F Youth America's Cup yacht has undergone an official on-water sail testing day in Auckland with fantastic results, and the event is well on track for 2021.
With two female and two male crew on board, the boat was up on the foils straight away, and was pushing speeds of up to thirty knots. The crew even managed a few foiling gybes and showed – even in this early testing stage – that the AC9F is the real deal and will be an incredibly exciting boat to see in action during next year's event.
Watch AC9F Sailing Video HERE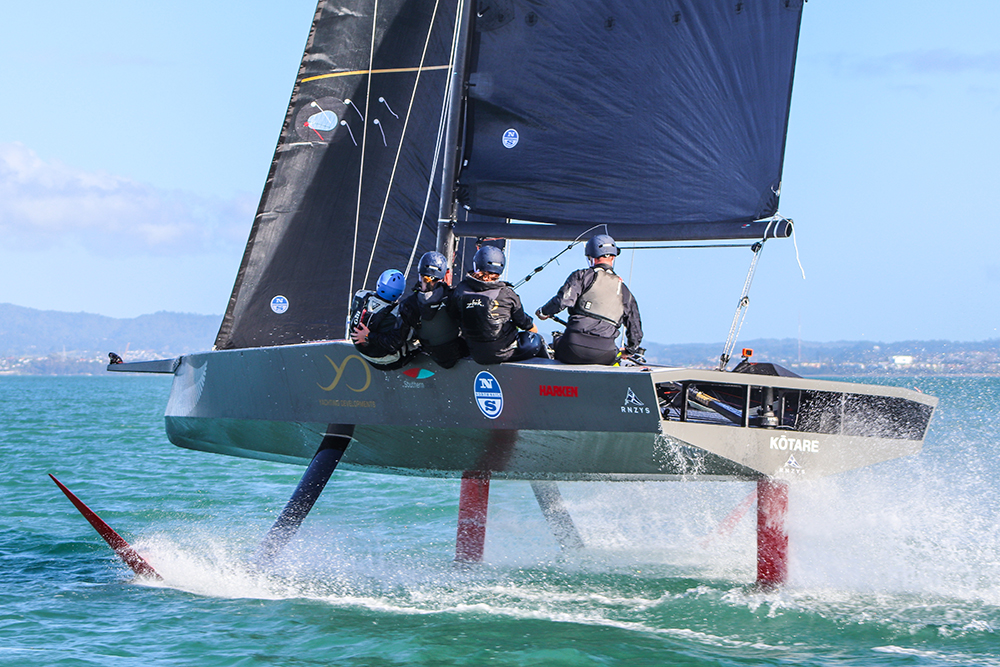 This first AC9F has been designed and built in New Zealand in a collaboration between Yachting Developments and the NZ Marine Industry, including Southern Spars, Harken and North Sails. It is great to have had this unique project built here in New Zealand, generating jobs and money for the country.
Yachting Developments owner Ian Cook was out on the water to witness the boat in action and was incredibly happy with the outcome –
"It was great to see the boat sailing and working well, we are thrilled with how it performed. It has been a big combined effort from the NZ Marine Industry to make this happen, and to see it flying on the foils at speed today was a massive result for everyone involved."
The Royal New Zealand Yacht Squadron has received seventeen confirmed entries with fifteen of these teams' internationals. With more in the pipeline, the goal of twenty teams is looking likely. Collectively the teams are set to bring in over two-hundred-and-fifty people to New Zealand, all of whom will be staying in the country for several months which will have a significantly positive impact on the New Zealand economy. This figure doesn't include families and spectators, which will then push this impact up even further.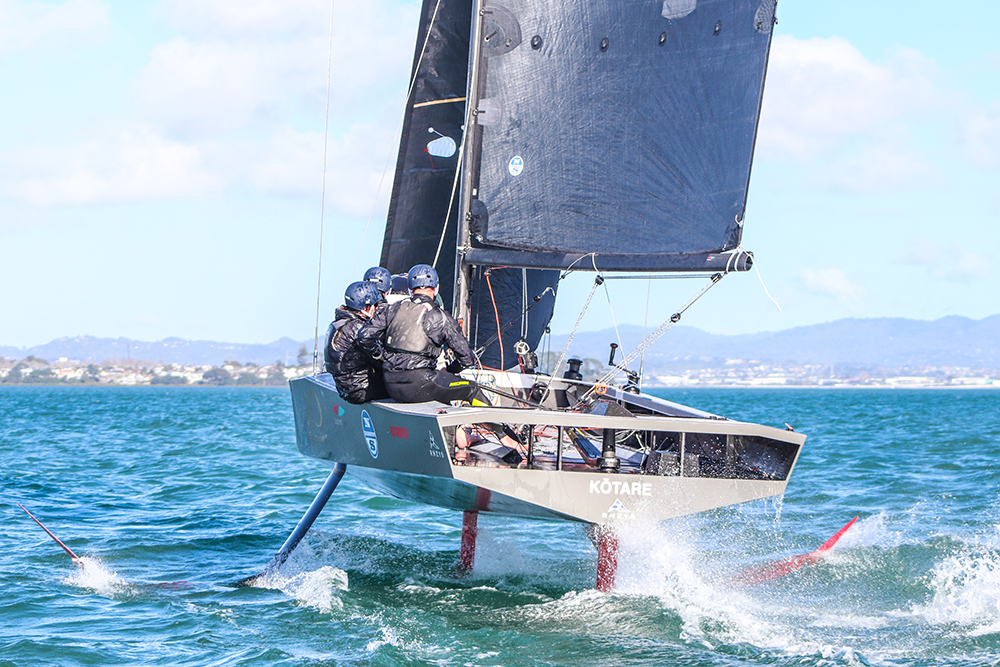 Dear All Selden for Sailing Centreboard Winter Series 2020 Sailors,
We trust you are looking forward to this coming weekend's Round 2 at RPAYC. Registed participants would have recieved an email last night with some changes for this Sunday's round. Please note, the email address that is being used for this communication, is the one that is listed against your own Australian Sailing 'MySailor' profile.
Australian Sailing 'MySailor' profile
As we plan to send further communication via email and SMS text message about this series later this week, (using the information in your AS profile), we kindly request that you please login to your Australian Sailing 'MySailor' profile, to confirm that all participant 'personal information', plus 'medical and emergency contact information', is current and up to date.
To ensure that you receive all emails and text messages, please take the time to update and confirm your details as promptly as possible, as we are aware of incorrect details from 'bounce-backs'.
Start Times & Session Splits for Sunday 28th June
An Official Amendment to the Sailing Instructions has been published, in relation to Start Times & a new Course 5.
Start Times and Session Splits for Sunday 28th June;
Session 1 (28th June) - rigged and ready by 0800hrs
0800 Competitor Briefing (centreboard lawn)
0900 First Warning Signal
Division 5 - 29ers, NS14, MG14
Division 6 - Waszp
Division 7 - F16, F18, Hobie 16
Session 2 (28th June) - rigged and ready by 1030hrs
Division 1 - Optimist (all)
Division 2 - Lasers (all)
Division 3 - Flying Ant & Puffin Pacers
Division 4 - Windsurfers (all)
The dropping of the "AP Flag" ashore from the centreboard lawn, will indicate 30mins until First Warning Signal.
Casual Entrants
If you were a 'Casual' entrant for Round 1 of this Series, you are required to make a new 'casual' entry (registration) for each additional Round that you wish to sail in; including Round 2 on Sunday 28th June.
Please note, if you do not register before Round 2 entries close (23.59hrs on Thursday 25th June), you won't be permitted to turn up and race on the day. Series entrants are not required to register again, unless, there are changes to the entry that you initialy submitted (see below).
If you are unsure of your status (ie, Series or Casual), please contact the Sailing Office promptly or before COB on Thursday 25th June.
Change of 'Sail Number' or 'Boat' or 'Crew'
If you will be sailing this weekend (28th June), with a different Sail Number, a different boat or a different Crew to what is shown in the results, please contact the Sailing Office promptly or before COB on Thursday 25th June. Any change beyond the 25th June may not be accepted for this weekend.
'Sign-on & off' location
Sign on and off location will be at the top of the RPAYC Centreboard launch ramp. Make sure your Sail Number is correct.
Kind Regards,
The RPAYC Sailing Office Team
Dear Members,

I hope that this message finds you well.

On the water
I had the pleasure of getting out on the water last weekend for the first time in many months. A fleet of around 80 boats participating in the Lion Island Series was exceptional. The following day our centreboard fleet hit the water with around 100 entries involved in the first race of the Winter Series. A total of around 600 sailors competed at RPAYC over the weekend assisted by dozens of valuable volunteers and there were also many other members out enjoying their boats in less competitive pursuits. There is nothing better than getting out on the water and escaping thoughts of COVID 19 for a few hours.

COVID 19 restrictions continue to be eased by the NSW Government. On 1 July there will be further eased restrictions on community sport and contact will be permitted during competitive sailing and training. There will be no limits on crew numbers at this time, however the skipper will need to ensure those on board maintain social distancing where reasonably practicable whilst not involved in competition and training.

Around the Clubhouse
Monday 15 June saw our gym re-open after being closed for almost 3 months. There are some restrictions in place on class sizes, maximum numbers of people allowed in the gym, and social distancing, hygiene requirements and contact tracing are in place. This 'new normal' has been well received by our gym members who are glad to be back training.

Meetings are back on! We continue to encourage meetings to take place via electronic means, however 17 June saw our committees once again being able to meet 'face to face' at the Club proving certain requirements are met - please see details here.

While restrictions have been easing in many areas unfortunately we still have no clear indication as to when our Food & Beverage operation will be back to normal. There have been announcements on the number of people permitted in the Club, however the rules requiring patrons to be seated and observing social distancing do not allow us to provide the casual and friendly club environment that we are all familiar with. Standing around having a drink and a chat or gathering in areas that we have not nominated for dining are not permitted. Our current operation of 'Grab N Go' in Halyards and seated dining and drinking upstairs in the Edinburgh Bar and Admirals Cup Room will remain in place until social gatherings around the bar are once again permitted.

Unfortunately the current restrictions make it impossible to hold post-race presentations and other functions in the Club and we walk a fine line to ensure that we comply. I appreciate that many of you are over this whole COVID 19 situation and can't understand why we are not relaxing the restrictions within the Clubhouse. Believe me, if I could I would. The reality is that COVID 19 is still in our community and restrictions remain in place. We must also acknowledge our social behaviour and the risk that this poses to many of our members who may be considered vulnerable to this infection.

This week we were inspected by the Office of Liquor and Gaming and we have also had visits from the police. There is no room for complacency at the moment and hefty fines apply for non-compliance. I am pleased to report that authorities are satisfied with the measures that we have in place.

Thank you for your understanding and ongoing support of the Club.

Please look after yourself and those around you.

Kind regards,

Craig Evans
General Manager, RPAYC
101 sailors hit the water in a fantastic turnout last Sunday for Round 1 of the Selden for Sailing Winter Series. Running between June & August, this new series comprises of 6 rounds and is open to off the beach boats for Club Members & Visitors.
Thank you to the amazing volunteers both on water and on land who gave their time for a successful day of racing.
Click Here for Round 1 RESULTS
Click Here for Race Documents, Entry and more details on the event.
A reminder that weekly crew lists are required to be submitted by the entry portal, all individuals to register be skipper or crew.
Images with thanks to Dinghy Fever Photography
Images with thanks to Dinghy Fever Photography
Sailfit reopens this week! We are so excited to welcome our members back!
Small Group Classes, Personal Training and casual gym use is all happening again with some new measures in place and rearranging of the gym to stick to social distancing guidelines!
We are extremely happy to be welcoming you all back to SailFit this week and we just wanted to update you with the new class timetable!
Monday: 6.45am, 8am Movement & Cardio Class
Tuesday: 8.30am Stretch Class
Wednesday: 6.45am, 8am Strength & Cardio Class
Friday: 6am, 7am, 8.30am Circuit Training
Saturday: 8am Strength & Conditioning
*We will be looking to put on more classes if and when there is demand.
**Bookings are essential - please let Tana know by text what you are wanting to book in and pay for your sessions on Friday of the week before to secure your spots for the following week.
Please be advised of new Group Training prices also:
1/wk $25
2/wk $50
Unlimited sessions/wk $60
Please contact Tana our Gym Manager on 0478 034 659 for more info or for bookings.
Click here
for more information on SailFit reopening.