Melbourne Cup Bookings Open
Sailability members competing at Hansa Worlds
Club Members Alyse Saxby, Allan Jones & Ame Barnbrook are travelling to Hiroshima to compete in the HANSA Class World & International Championships in Hiroshima, Japan.
The worlds are taking place October 13-18.
Alyse will sail with Rie Ariyoshi in the 303 doubles in AUS 303
Allan will sail in AUS 346 a 2.3 single "Tom Thumb"
Ame will sail a Liberty servo AUS 0000
There are 36 Australian Boats entered in a field of 150 boats. Good Luck and we look forward to following your results. Regatta Website
Finalists Announced for 2018 Australian Sailing Awards
Congratulations to club members Tash Bryant and Annie Wilmot being named finalists for Australian Female Sailors of the Year and also to Tash for Youth Sailor of the Year. We wish you Good Luck.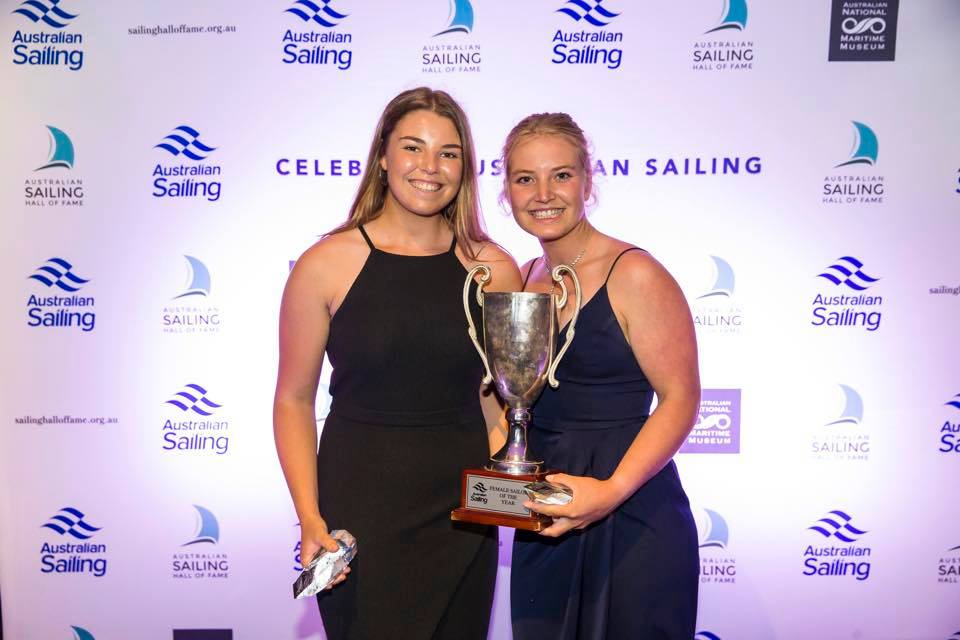 Full Article below by Australian Sailing
Off the back of another hugely successful sailing season in both Australia and around the world, athletes, clubs, officials and contributors will be honoured at the 2018 Australian Sailing Awards and Hall of Fame Induction dinner at the Doltone House on Friday 19 October.
Today, the finalists were announced across the twelve categories with the winners to be announced on the night. Some of the most decorated world sailors are amongst this year's nominees, along with some outstanding contributors from clubs across the country.
There were a record number of nominations for the 2018 Female Sailor of the Year, with 49er team, Natasha Bryant and Annie Wilmotagain nominated after a stellar year as part of the Australian Sailing Team. They will face competition from fellow 470 Australian representatives Nia Jerwood and Monique de Vries and Nacra 17 sailors Lisa Darmanin and Haylee Outteridge. In addition, the first female to ever win an ocean race, Wendy Tuck who won the Clipper Round the World Race is also nominated.
Last year's Male Sailor of the Year award winner, Glen Ashby, has again been nominated for the award. The America's Cup sailor will face tough competition from Australian Sailing Team members Nathan Outteridge and Matt Wearn, World Match Racing champion Harry Price and renowned ocean sailor Matt Allen.
The para-sailing scene has been big across the world with Australians being front and centre of the action. Last year's winner Matthew Bugghas been nominated again for his outstanding performance throughout the year. Bugg will face competition from Chelseann Osbone, Victorian 2.4m champion Neil Patterson, HANSA 303 world champion Chris Symonds and offshore sailor Walter Philippe.
This year the awards will also feature the Offshore Sailor of the Year Award to recognise the amazing achievements of Australian sailors winning offshore racing events at home and around the world. Wendy Tuck's efforts in winning the Clipper Round the World Race have seen her earn a nomination, along with Sophie Ciszek who was aboard the Volvo Ocean Race second place-getter MAPFRE. Matt Allen, who set race records whilst winning both the Rolex Sydney Hobart and Brisbane to Gladstone Races as well as posting wins in the IRC & ORC Australian Championships is also nominated with Melbourne to Osaka competitors Rupert Henry and Greg O'Shea rounding out the field.
A hot field for the Youth Sailor of the Year Awards includes Laser Radial World Champion Zac Littlewood, 420 World Youth Champions, gold and silver medallists Otto Henry and Rome Featherstone, AST 49er skipper Natasha Bryant and Australian under 17s 420 champion, Cole Tapper.
Finalists for the Sport Promotion Award are Beau Outteridge for his continued coverage of sailing in Australia and overseas, ORVC Media Team for their dedication to ocean racing, Andrea Francolini for his dedication to sailing photography, Nicole Douglass for her work in growing the presence of the sport through new technologies, Clare Alexander for her efforts in supporting and promoting women in sailing and Down Under Sail for their coverage of sailing both big and small as well as their ongoing youth sailing coverage.
Finalists for the Sport Professional Award include Nick Hutton for his amazing work for the sport around his home State of Tasmania, Susan Ghent for her efforts in raising the profile of ocean racing in Western Australia, Jordan Reece for his successes as the Head Coach of the Cruising Yacht Club of Australia's Youth Sailing Academy and finally Pam Scrivenor for her dedication building the CYCA's Youth Sailing Academy to the successful program that it is today.
Awards will also be given for the State nominated Coach of the Year, Official of the Year, Volunteer of the Year, Instructor of the Year and Club of the Year.
The gala dinner will also feature the induction of five new inductees to the Australian Sailing Hall of Fame. The Hall of Fame is now in its second year, as it aims to celebrate the sport's history and to celebrate those who have brought so much to sport.
Click here to buy your tickets to the gala dinner today.
2018 Australian Sailing Awards Finalists
Male Sailor of the Year
Matt Allen (NSW)
Glenn Ashby (Vic)
Nathan Outteridge (NSW)
Harry Price (NSW)
Matt Wearn (WA)
Female Sailor of the Year
Natasha Bryant & Annie Wilmot (NSW)
Lisa Darmanin (NSW)
Nia Jerwood and Monique de Vries (WA)
Haylee Outteridge (NSW)
Wendy Tuck (NSW)
Sailor of the Year with a disability
Matthew Bugg (Tas)
Chelseann Osborne (QLD)
Neil Patterson (Vic)
Walter Philippe (WA)
Chris Symonds (Tas)
Youth Sailor of the Year
Natasha Bryant (NSW)
Otto Henry and Rome Featherstone (WA/NSW)
Zac Littlewood (WA)
Cole Tapper (NSW)
Sport Promotion Award
Clare Alexander (NSW)
Nicole Douglass (NSW)
Down Under Sail (SA)
Andrea Francolini (NSW)
ORCV Media Team (Vic)
Beau Outteridge (NSW)
Sports Professional Award
Susan Ghent (WA)
Nick Hutton (Tas)
Jordan Reece (NSW)
Pam Scrivenor (NSW)
Offshore Sailor of the Year
Matt Allen (NSW)
Sophie Ciszek (Vic)
Rupert Henry and Greg O'Shea (NSW)
Wendy Tuck (NSW)
Volunteer Award
Rob Edgar (SA)
Tim Haffner (NSW)
David Kemp (Qld)
Club of the Year
Canberra Yacht Club (ACT)
Keppel Bay Sailing Club (Qld)
Royal Freshwater Yacht Club (WA)
Sandringham Yacht Club (Vic)
Official of the Year
David LeRoy (Vic)
Trevor Milton (WA)
Mike Rogers (SA)
Coach of the Year
Michael Blackburn (NSW)
Mike Leigh (NSW)
Ben Walkemayer (WA)
Instructor of the Year
Hamilton Nesci (Vic)
Alan Polglaze (WA)
Locky Pryor (NSW)
Tactical Navigation Seminar
Thi
This seminar will provide an insight into the key factors which define tactical navigation in a passage race. Using these factors will enable the navigator to establish a race plan based on the boats performance and the anticipated conditions. 'Expedition' navigation software is highlighted during the presentation however its use is not essential.

Topics covered included:

• VPP

• Sail Selection Charts & Velocity Performance Prediction

• Weather systems, currents & geographic influence

• Optimal Routing

• Developing a strategy & staying dynamic

• Tactical risk assessment
There has been some recent enquiries in relation to training.

Onsite at the Royal Prince Alfred Yacht Club above the Jack Gale Centre is Neil Driscoll and his Above & Beyong Boating Team who have a great selection of training and courses available. Full details are available on their website here. Contact Neil for any enquiries that you amay have.
They deliver the leading courses to skipper your own boat! Improve your skills, increase your safety and use your boat more!
Our training is perfect for sailors who have a boat they want to use more, are open to learning and developing their skills, are passionate about being on the water, and excited to become safer and more talented skippers.
At Above and Beyond Boating, their mission is to help boat owners achieve their boating dreams, whilst using their boats as regularly and safely as possible. The 'Beyond the East Coast' workshop is being held at the R.P.A.Y.C. on Friday 16th November. Roger Corrie, Mike Selbie and Neil Driscoll will be presenting this free event, featuring heavy weather sailing, east coast exploration and cruising short handed. Friday 16th November, 2018 @ 10am-4pm . Bookings Essential . Full Details Here
---

Marine Safety Works - Upcoming Courses - Genevieve White
WORLD SAILING (WS) SAFETY AND SEA SURVIVAL
This course includes practical wet and flare drills, and hands-on demonstrations of a wide range of safety equipment. It is extremely valuable for both racing and cruising sailors providing up to date information on equipment, safety planning, regulations and procedures. The Qantas Pool is chosen specifically to create the most realistic training experience possible including cooler water, darkness, and rain. Marine SafetyWorks is the only Australian Sailing school using this facility.

Full Course ($585.00) – 2 days
Course SS84 Saturday, October 6, 1000 – 1800 (Club Rose Bay RSL)
Sunday, October 7, 0830 – 1730 (Qantas Pool & Training Room)
Course SS85 Saturday, November 17, 1000 – 1800 (Club Rose Bay RSL)
Sunday, November 18, 0830 – 1730 (Qantas Pool & Training Room)
Course SS86 Saturday, December 8, 1000 – 1800 (Club Rose Bay RSL)
Sunday, December 9, 0830 – 1730 (Qantas Pool & Training Room)
Registration details and briefing notes can be found on the links provided. Payment can be made online or directly with Marine SafetyWorks.
NSW Youth Championships presented by Lake Macquarie City Council
Media Release 2 October 2018
Tight racing and big smiles conclude a mammoth NSW Youth Championship
The 2018 NSW Youth Championship presented by Lake Macquarie City Council was the biggest NSW Youth Championship ever with over 325 boats and over 420 competitors involved. Many RPAYC sailors competed and full results can be seen below. A special congratulations to the following podium places. Optimist Open Fleet 1st Daniel Links, 3rd Cooper Bellingham. Nacra 15 - 2nd Nathan Bryant The 2018 NSW Youth Championship presented by Lake Macquarie City Council finished day three with some of the "closest racing this event has ever seen."
After a slow start to the morning waiting for the breeze to fill in racing got underway in a building north to north-east sea breeze peaking at around 15 knots. Laser Radial winner, Zac West commented on the quality of racing at the event in particular on the last day of racing.
"The racing was so close and coming into the last day I think there was only four or five points between us, I had to step up my game because this is like a nationals for us since everyone's here." Said West
The racing couldn't have been closer for the tight-knit crew of Nacra 15 sailors. The foiling catamarans came into the event with their national fleet and the competitiveness fuelled by the ongoing banter made for a "good" event according to Ashleigh Swadling and Nathan Bryant.
"There's definitely a lot of banter and it's good, this is our nationals fleet so it's good to know what everyone's going to bring. We're all at the same level and the difference between coming first or fifth can be one or two bad tacks." Said Swadling
The comradery within The Nacra 15 sailors seems to be so close that traditional rival States have teamed up. The mix of Swadling, a Queenslander and Bryant, a New South Welshman worked since they finished a close second and as Ashleigh jokingly explains it just "happened to work out well."
"Nathan messaged me and asked if I wanted to sail with him, so I picked up the phone and took the opportunity and worked out well." Said Swadling.
The Nacra 15s to their credit took time off racing to take out all the younger sailors out on the water experience what Nacra sailing is all about.
"We took a whole bunch of opti (optimist) kids out yesterday and they all loved it and with Nacras being new coupled with good competition I think the fleet with only get better." Said Bryant.
Optimist Open fleet winner, Daniel Links had an extraordinary regatta clocking up five wins from seven races. Links also missed racing on day one as he had a school trumpet exam.
"I sailed pretty good, I didn't sail the first day because I had a trumpet exam so I because those were my two drops I needed to sail well today." Said Links.
Coming off a great Optimist World Championship in Cyprus three weeks earlier Links used his experience from the event to his advantage to beat 81 other boats to claim the top spot.
Mornington twins, Matilda and Lily Richardson racing in their 420 It's a Twin Thing came back from time off the water to travel up to Lake Macquarie to work on their sailing in the "challenging" conditions.
"We've had some time out of the boat due to injury, so we wanted to come here and work on some processes, so it was pretty challenging conditions to stay consistent against the boys." Said Richardson
Growing up sailing on their home waters of Port Philip Bay the team were well prepared to take on the range of conditions over the event with only one point separating them from a podium finish.
Overall, the event produced variable but exciting conditions to the 430 competitors. The NSW Youth Championships drew competitors from all across the country and for many it was the big event to kick off their domestic national and state championship campaigns.
At the presentation competitors were treated by a visit from local sailor and Australian Sailing Squad member, Halyee Outteridge who kindly took time out her busy schedule to present medals to class winners.
Special mention to all the volunteers on water and off water who worked quickly to ensure that all the sailors made it safely to shore when a 30knot southerly squall hit the lake on the first day of racing. On top of that over 130 volunteers assisted with the logistics, planning and the race management of the event. They were nothing short of a well-oiled machine getting the job done.
Thanks to Lake Macquarie City Council for being a major support of the event.
With the NSW Youth Championships finishing for 2018 we now look towards the Australian Youth Championships being held at the Royal Yacht Club of Tasmania from 10 January to the 14 January 2019.
For all the results click HERE
Results are as follows;
Bic Techno 293
1st Mitch Kruse
2nd Jude Smale
3rd Max Irvine
Bic Techno Plus
1st Grea Morris
2nd Hamish Swain
3rd William Grimshaw
Flying 11
1st Jamie Stodart & Sam Stodart
2nd Tyler Dransfield & Pearl Toomey
3rd Alex Hart & Sophie Hart
Int 29er
1st Archie Cropley & Max Paul
2nd Oscar O'Donoghue & Rupert Hamilton
3rd Lachie Brewer & Flynn Twomey
Int 420
1st Cole Tapper & Tyler Creevey
2nd Ryan Littlechild & Jack Ferguson
3rd Marcello Torro & Tom Larkings
Laser 4.7
1st Brooke Wilson
2nd Mina Ferguson
3rd Daniel Costandi
Laser Radial
1st Zac West
2nd Frazer Brew
3rd Stefan Elliot – Shircore
Nacra 15
1st Tom Crockett & Tahnie Coldecoat
2nd Ashleigh Swadling & Nathan Bryant - RPAYC
3rd Tom Dawson & Sarah Hoffman
NS14
1st Hayden Hansen &Wil Rivers
2nd Mark Murray & Ryan Watt
3rd Craig Wright & Jada Clacke
Open Bic Gold
1st Hamish Cowell
2nd Travis Wadley
3rd Breanne Wadley
Open Bic Silver
1st Oliver Ross
2nd Jonah Griffiths
3rd Lachie Pryer
Optimist Green Fleet
1st Alexander Risby
2nd William Holdsworth
3rd Bailey Derwent
Optimist Intemediate
1st Jorja Mahoney
2nd Spencer Oxnam
3rd Jago Tucker
Optimist Open
1st Daniel Links - RPAYC
2nd Austin Cross
3rd Cooper Bellingham - RPAYC
Sabot 1up
1st Darby Jones
2nd Tanys Roberts
3rd Clancy Dwyer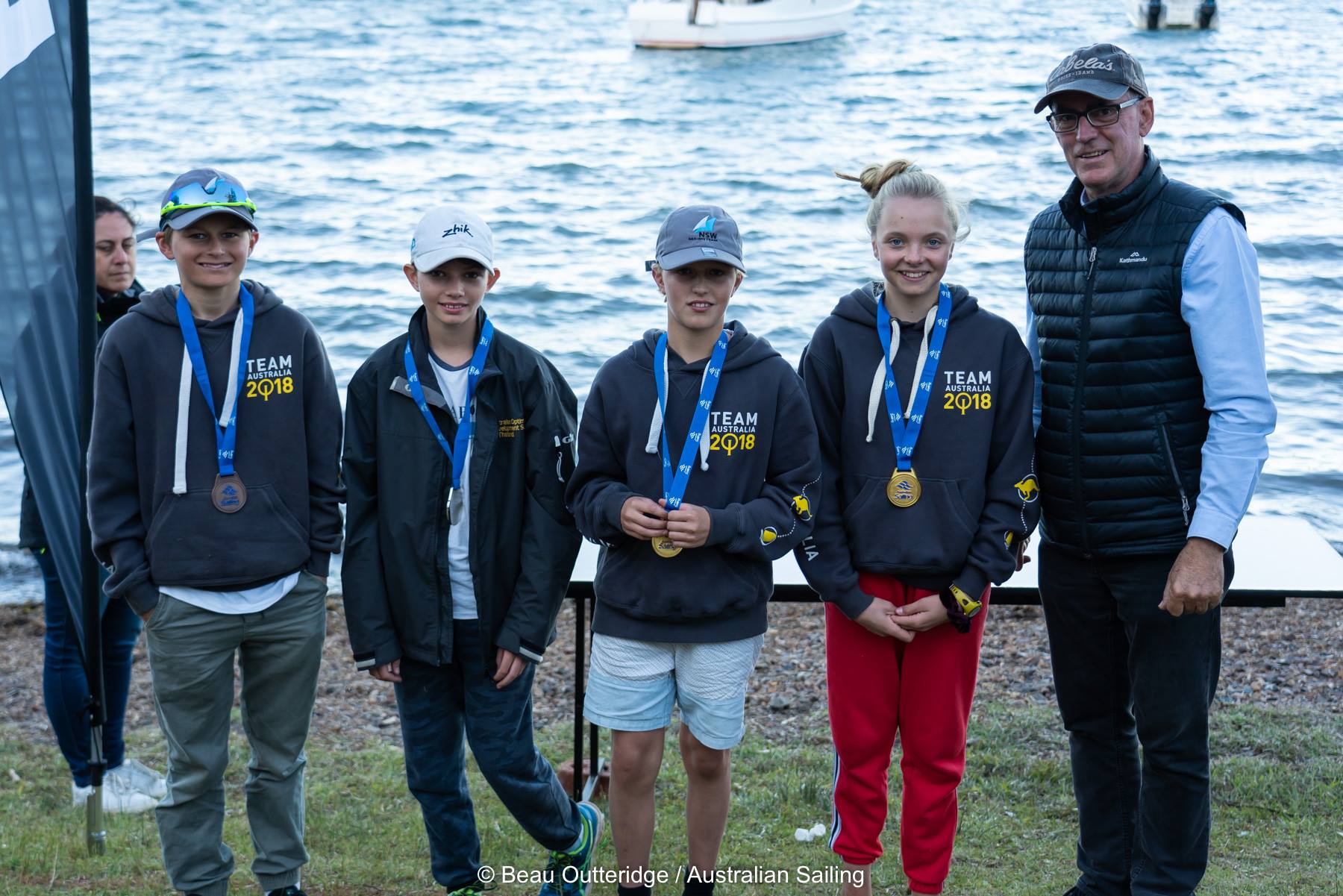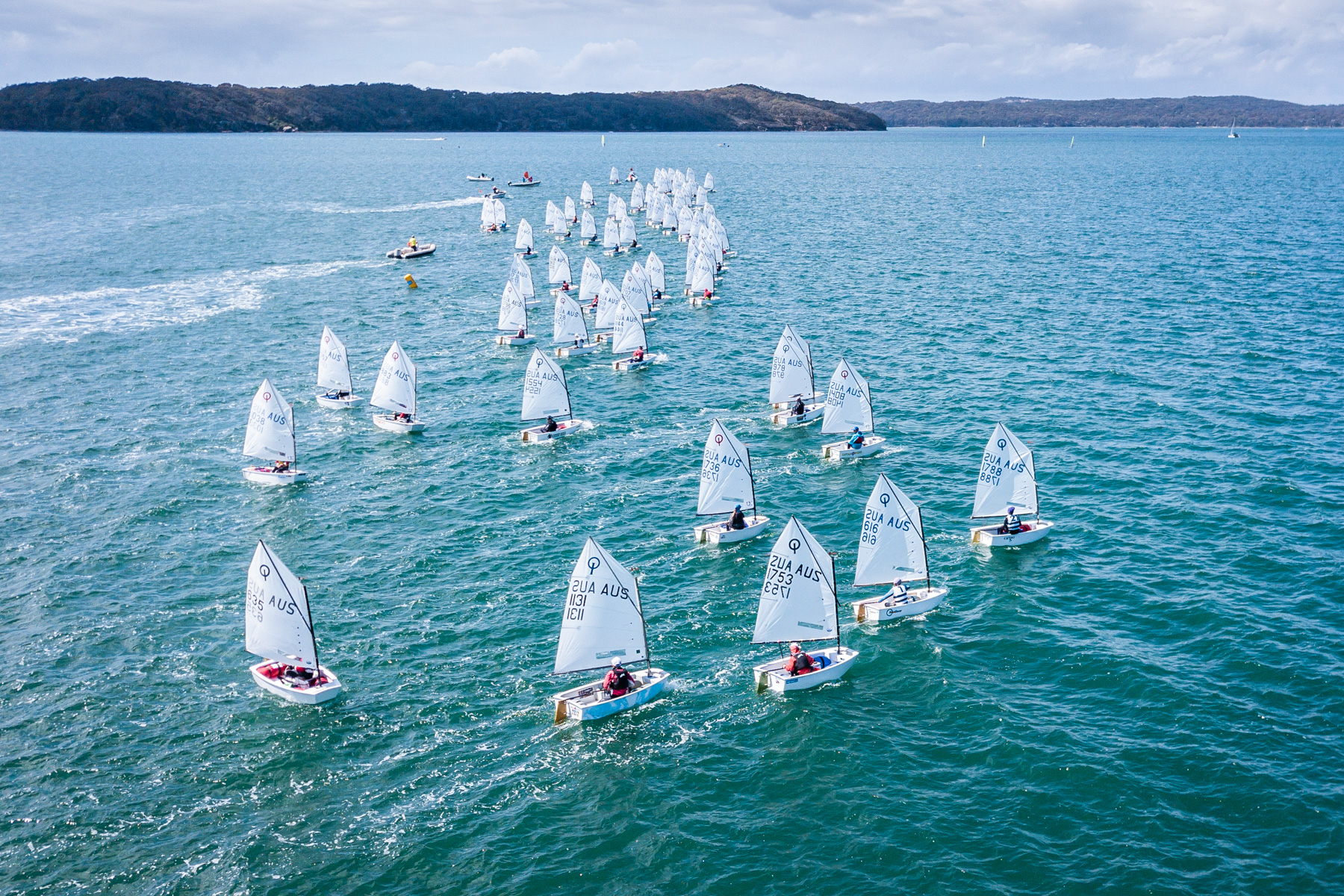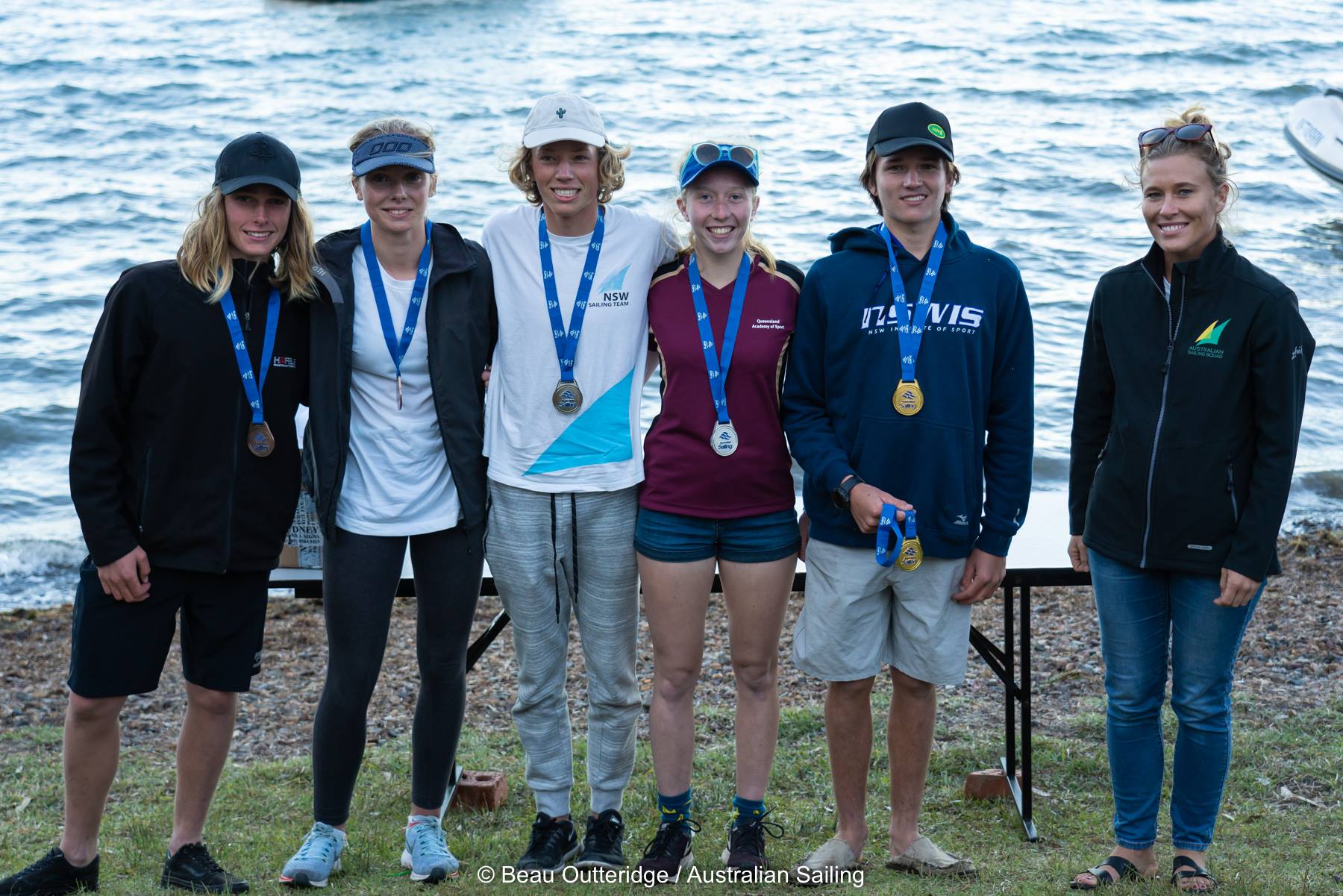 ENDS
The 2018 NSW Youth Championships presented by Lake Macquarie City Council is the biggest NSW Youth Championships ever with over 325 boats and over 420 competitors involved. Racing started on Saturday 29 September and concludes Monday 1 October.
Author: Australian Sailing