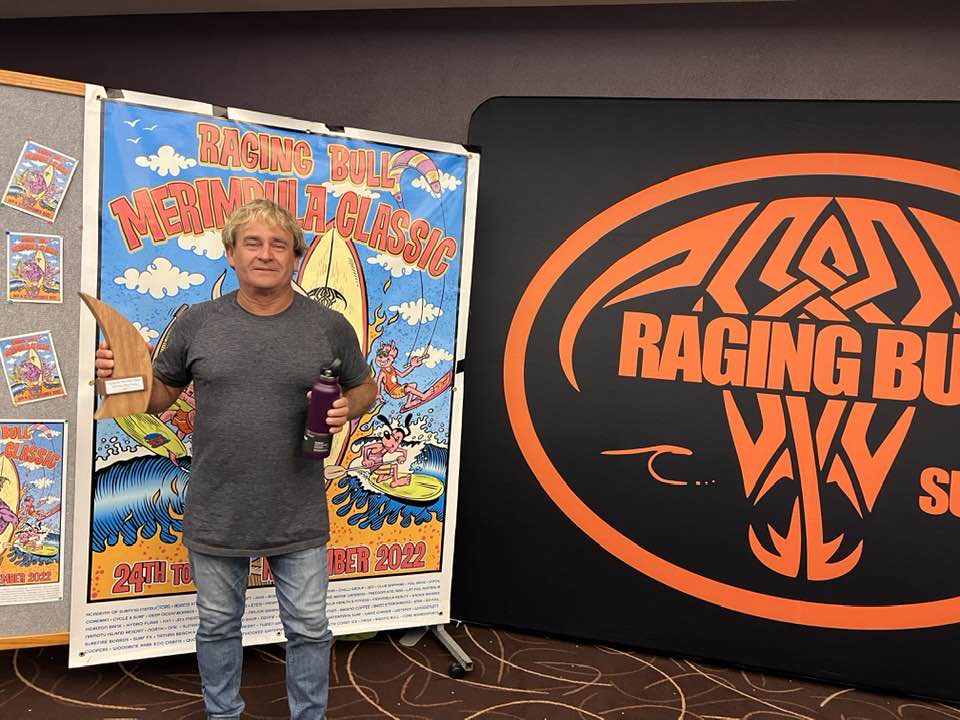 Racing Bull Merimbula Classic 2022
Scott O'Conner is just back from the 40-year anniversary of the Merimbula wave sailing contest. The 40th anniversary of the iconic Merimbula wave sailing contest was finally held after a few years of delays re covid. It is the most prestigious event on the Australian calendar with the 2022 event attracting around 200 competitors from all over Australia for the four day event of sailing /surfing event.
Having first competed in the inaugural event back in 1981 where he placed 2nd. Competing in the Wave Sailing Open Series, O'Conner placed 1st! winning the open windsurf tile 3 times now spanning 40 years. 
"It's such a fun event. 4 days of sailing /surfing/ live bands, a few beers, catching up with old friends. Just wanted to say thanks to the Merimbula sailboard/surfing club for hosting this iconic/ prestigious event" sail O'Conner.
Full details HERE
MERIMBULA SAILBOARD CLUB'S 40TH ANNUAL EVENT IS BACK
Incorporating
– The Naish SUP surfing expression Sessions
– Foil surfing & Winging
– The Longboard SUP revolution Over 10' surf off
Merimbula Sailboard Club members welcome you to the 40th Raging Bull Merimbula Classic.

While primarily a celebration of wind and waves, with wave sailing, kite surfing, wing and foil surfing and SUP surfing, in some of the best conditions the Sapphire Coast can produce, we also take pride in the quality of our famous Barbeque and MSC members' hospitality.
The Classic provides opportunities for newer trends such as winging and foil surfing. There will be plenty of that on show!
As well as being a great fun event for competitors, this event is recognised locally as a popular community event.
Totally run by volunteer members of the Merimbula Sailboard Club over the years, the event has contributed to many community organisations and needy causes.
The event is recognised as a significant contributor to the local economy, injecting much needed revenue in an otherwise quiet time for the primary business of tourism on the Sapphire Coast.
We hope the good times, good vibrations and hospitality you experience at this event will encourage you and your families and friends to revisit this spectacular coastline with the great conditions for wave sailing, kite surfing, Stand Up Paddle surfing, foiling and wing surfing.
With the wind and waves on offer, this event offers no excuse to be out of the water except to feed up on the club's famous BBQ or join us at Rob, Lizzie, Sue & Grub's beer tent for the daily happy hour where you can relax and wind down and wash away the salt.
Our aim is to feed you, entertain you, and get you out on the water doing what you love whether it be sailing, kiting, foiling or SUPping in the best winds and waves available over the four day extravaganza.