Media Release 5 November 2022
Event: MC38 2022 Australian Championship hosted by the Royal Sydney Yacht Squadron November 4-6 with racing on Sydney Harbour
MC38 Australian Championship day two – Lazy Dog leapfrogs into first
Three wins from four starts for Shaun Lane and Quentin Stewart's Lazy Dog branded them the breakaway MC38 and boat of the day on day two of the class's Australian Championship.
In perfect spring conditions, the breeze ENE 10-15 knots on Sydney Harbour, Lazy Dog's crew found their mojo and rocketed up the placings to lead overall by five points with three races to go at the season-ending national title.
At the Royal Sydney Yacht Squadron late afternoon dock party Lane said "it wasn't all our way, but we came good and it's all on for tomorrow. We got our strategy right and picked better lanes than yesterday. It's very exciting out there."

Overall series pointscore (Day 2)
Second MC38 is the Middle Harbour Yacht Club based Infotrack, skippered by teenager Indy Beck. "Everyone out there got it together on day two," the 15-year-old said. "The nationals do give the racing some extra energy but it's not very windy. I'd prefer 25 knots! Beating Lazy Dog is the goal but if we can't do that, I at least want to beat my dad [on Infotrack GO]."
Christian Beck's Infotrack GO scored boat of the day on day one, to the delight of Indy's 10-year-old sister Asha who was on board. The tables turned on Saturday and Indy enjoyed lauding it over his sister. It's a family affair for the Becks this weekend with Christian's wife Rachel helming Law Connect.
Third on the scoresheet is Steven Proud's Swish, another MHYC boat. Just five points separates second to sixth place and from eight starts there have been five different winners, which is not unusual for the high-performance fleet.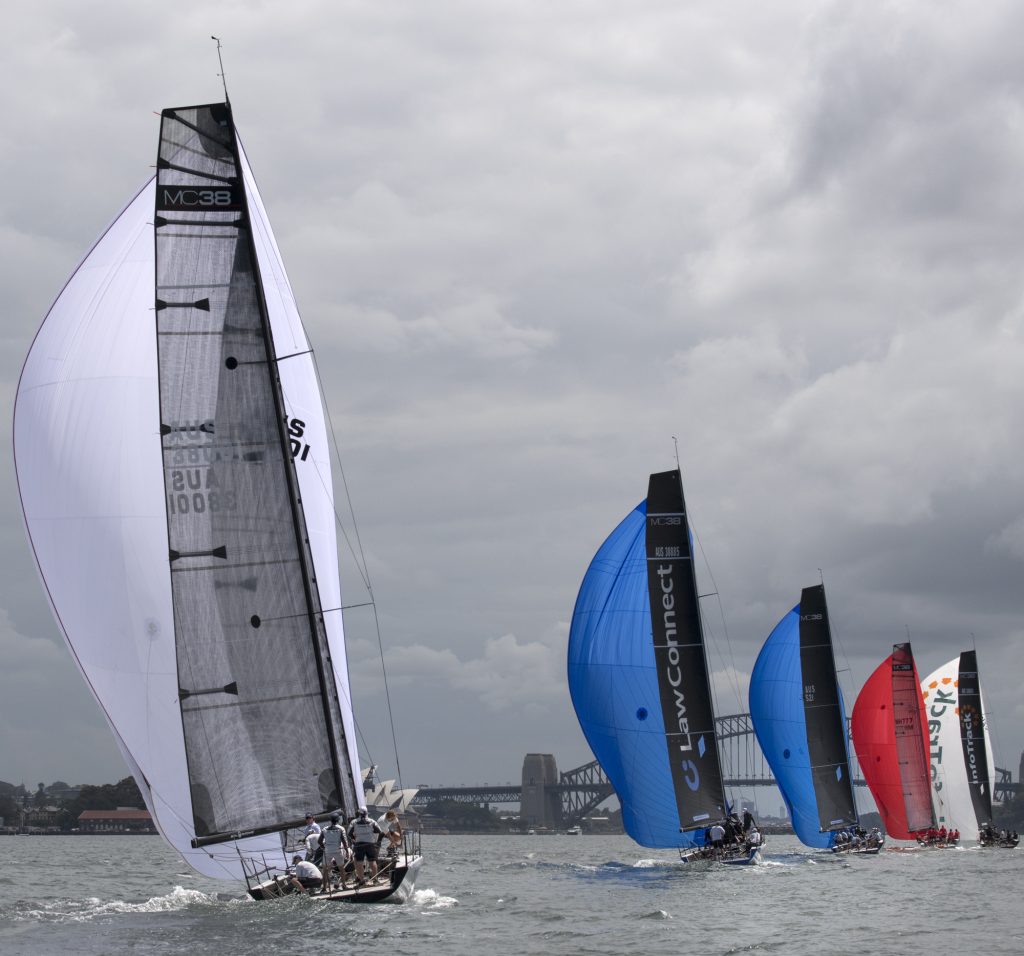 Katie Spithill and her all-women crew on Leap are loving every minute of their first MC38 foray and getting plenty of support from owners in terms of concepts, ideas, and loaned sails.
"The other owners have been really supportive and welcoming and we're making progress every race. We usually get to the top mark in third or fourth place but need to work on our downwind speed," Spithill said. "Each race is a learning opportunity as we figure it out without breaking things we don't own! Most of the fleet is into their third or more season."
Two of Spithill's crew, Nina Curtis and Mara Stransky, attended Friday's Australian Sailing gala evening with both in the running for the coveted Australian Female Sailor of the Year title. Tokyo Olympic Laser Radial sailor Mara Stransky was crowned and back on Leap today focused on strategy and trimming. "We are stoked for her," Spithill added.
The final three races of the 2022 MC38 Australian Championship are due to start from midday on Sunday November 6 and will be livestreamed on the Facebook page https://www.facebook.com/MC38Class
Insta: @mc38aus
Website: https://mc38racing.com/
Further information:
Lisa Ratcliff
Australian MC38 Association media
m. 0418 428 511 e. lisa@occ.net.au