Join in the celebrations and support competitors as they race to Conquer the Tasman!
The inaugural Sydney to Auckland Ocean Race is a prestigious 1250 nautical mile yacht race that will test the skills and endurance of the world's best sailors. The race will start in Sydney Harbour on Saturday, 7 October 2023, at 1pm, and finish in Auckland, New Zealand.
The start line will be set to the north of Sow and Pigs in the iconic Sydney Harbour. Watch the start as the fleet leaves through the heads, and sails up the coast to Barrenjoey Headland before rounding a mark to cross the Tasman Sea to Auckland. The Tasman Sea will be a testing stretch of water under race conditions, with strong winds and currents. Competitors will need to be at their best.
For most of the fleet, the race is expected to take around 5-7 days to complete, depending on the weather conditions. However, completing the race could take 10-12 days for the smaller vessels. The winning boat under the IRC rating rule will be awarded the coveted Sir Lipton Cup, a historic trophy that was fdonated to RPAYC by Sir Thomas Lipton in thanks for the efforts of Commodore Walter M. Marks who travelled to the UK to assist with an America's Cup Challenge in 1914.
"I am confident that the inaugural Sydney to Auckland Ocean Race will be a success. It is a well-organised event with a strong field of competitors. I look forward to following the race and welcoming teams to Auckland" commented Robert McClelland, RPAYC Commodore.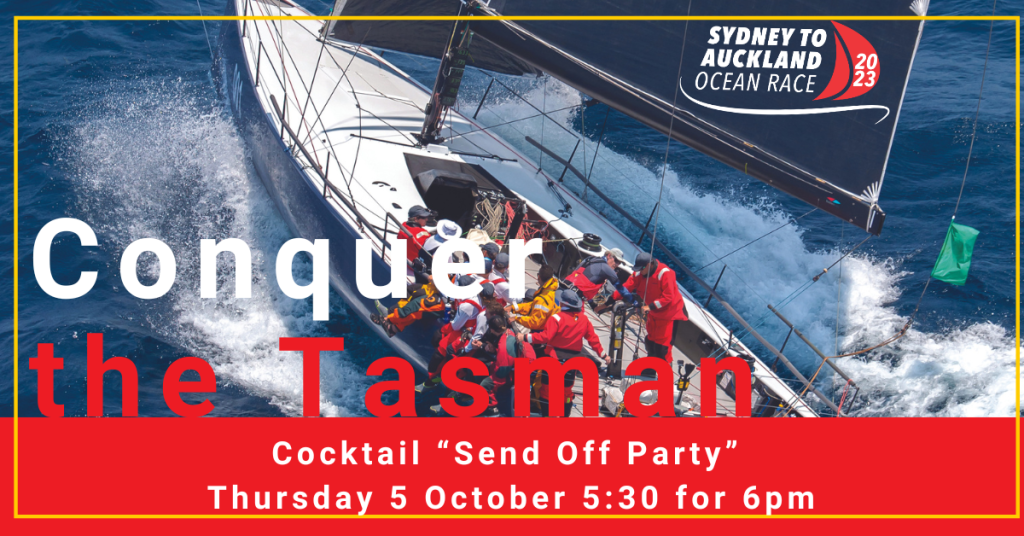 Celebrate with Teams at the Sydney to Auckland Ocean Race Cocktail Send off Party on Thursday 5 October, 2023 at RPAYC
Commencing at 6pm with the official Race Briefing, followed by a Q&A with the competitors and crew photos. Everyone is invited – all crews, their families and club members to this great evening for the inaugural race.
Drinks and canapes will be served on arrival, lucky door prizes and race merchandise on sale.
RSVP by 5pm Tuesday 3 October via reception@rpayc.com.au or 99983700

Race Start vantage points:
– On and around Sydney Harbour – the start line will be set in the vicinity North of Sow and Pigs
– Georges Heights Lookout in Mosman
– Hornby Lighthouse near Watsons Bay
– North Head Lookout
Barrenjoey vantage points:
– At the Barrenjoey rounding mark 33° 34.2' S,151°21.6' E
– Barrenjoey Headland Lookout
During the Race:
Each yacht will be submitting daily updates on life onboard during racing.
– A YB Yacht Tracker will be installed on each vessel. Check in for updated location, distance to go and estimated time of arrival. The YB Tracker will also have a live leader board. View the live tracker HERE
– RPAYC Social Media
     Facebook: @royalprincealfredyachtclub/
     Instagram: @rpayc #rpayc #s2a #royalakaranayachtclub #sydneytoauckland