Aspire lift 5.5 Metre world title after tense final day in Porto Cervo

Aspire (POL 17, Mateusz Kusznierewicz, Przemysław Gacek, Edward Wright) has won the 2023 5.5 Metre World Championship at the Yacht Club Costa Smeralda, Porto Cervo, Sardinia, after a tense final day on the water in light winds with just one race possible. They overcame a massive challenge from Artemis (NOR 57, Kristian Nergaard, Johan Barne, Trond Solli-Saether) who ended up just one point behind, while Race 9 winners Ku-Ring-Gai III (AUS 66, John Bacon, James Mayjor, Terry Wetton) protected their third overall.
The first attempt at a race was abandoned half way up the first beat when the wind died, and everyone sat around on a mirror like sea watching the dolphins play for an hour. Then, just when everyone expected racing to be called off for the day a light sea breeze came in and built to 8-9 knots and so one more race was possible before the time limit at 15.00.

In the end it was an excellent race and a fitting finale to the week of fantastic competition for the 34 boats from 10 nations. But it was a stressful and tense final race, that led to Aspire having to play catch up more than once as Artemis had gotten away at the start. With only one race possible, the title would be going to Poland or Norway.
Artemis and Aspire engaged in some pre-start manoeuvres, but it was Artemis who got to the line first and never looked back. While they rounded the top mark in second, just behind Ku-Ring-Gai III, Aspire was back in tenth with a lot of work to do.

Fast downwind, Aspire was up to sixth at the gate so the title looked secure, but then they split with Artemis on the second upwind and lost three places. The tension on the boat was palpable, but they settled down and passed enough boats on the final downwind to just take the overall lead a few 100 metres from the finish and cross in fifth to win the title by just one point.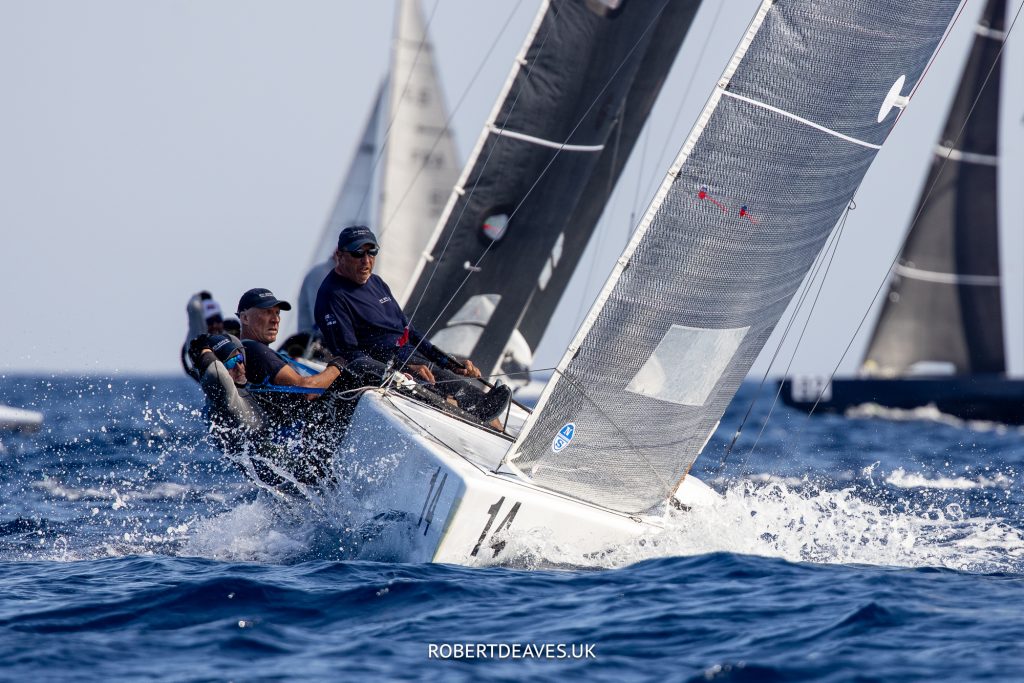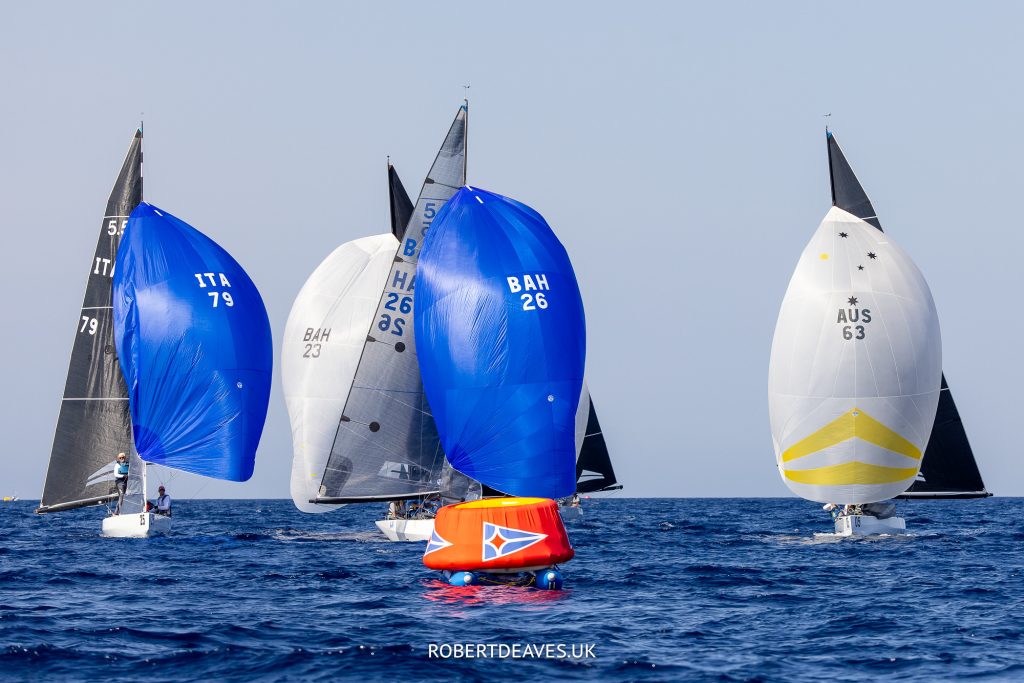 Ku-Ring-Gai III led at every mark to take a well-deserved bullet and secure third overall, while New Moon III (BAH 25, Mark Holowesko, Christoph Burger, Peter Vlasov) sailed a great race to cross third to end a tough week for them

For Aspire, this was their first attempt at the world title and also marks the first ever 5.5 Metre title won by a Polish team. Winning major titles, and Olympic medals, is no stranger to Kusznierewicz but he was genuinely delighted, and relieved, to have taken home this title this week.

"It's an amazing feeling to be the world champions in the 5.5 Metre class. We enjoyed it so much. Actually, I must say, it was tough. We had to put a lot of energy into it. We built up for a couple of days after arriving here, and every day we were striving to improve. I believe this dedication was the key to our success – to never give up, to be better every day. We delivered. Just one point ahead of Artemis. Congratulations to them. Also, a shoutout to the Australian team led by John Bacon. The entire fleet was fantastic, and we truly enjoyed Porto Cervo and Yacht Club Costa Smeralda. Thank you very much."
Middleman, Przemysław Gacek, added, "We really enjoyed our time here. It is my first title ever, so I'm super excited. I was practically pushed into the water already, so I'm quite wet. It's been an amazing few days in Porto Cervo, a great venue for sailing with different angles and conditions. Today was a surprise because after the first race, it calmed down, and we thought we were going back. Then they let us go for the last race, which was just unbelievable. We pretty much, let's say, defended the championship in the last two, three hundred meters. An amazing time. Also, big congratulations to Mateusz, our incredible skipper, and to Ed, who, after becoming the World Champion in Finn, secured his second World Championship this year. We are proud to have him as a team member."
Current Finn world champion, and bowman, Ed Wright, was overjoyed to win a second title this year, "It was an awesome regatta, really. Porto Cervo is an incredible venue with some really good winds, offering a mixture of sailing conditions – wavy, flat, windy, light, medium, testing every sort of angle of sailing technicality. Being a member of Aspire was fantastic, and I'm happy to have won the world championship. It was stressful along the way with our ups and downs, but in the end, we came out on top."
In the Evolution fleet, Criollo (GER 30, Andreas Christiansen, Felix Christiansen, Moritz Christiansen) maintained her lead to finish in 24th place, while the first Classic boat also remained Cibele (ITA 72, Fabrizio Cavazza, Vittorio Zaoli, Duccio Colombi) in 25th place.
Next year, in a change to the schedule, the world championship returns to Benodet in France. Given the current level of interest in the class, it would not be a surprise to see in excess of 40 boats turning up, something that has only happened twice in the last 30 years.
Final results after 9 races
1 Aspire (POL 17, Mateusz Kusznierewicz, Przemysław Gacek, Edward Wright) 24
2 Artemis (NOR 57, Kristian Nergaard, Johan Barne, Trond Solli-Saether) 25
3 Ku-Ring-Gai III (AUS 66, John Bacon, James Mayjor, Terry Wetton) 42
4 John B (BAH 26, Gavin McKinney, Mathias Dahlman, Lars Horn Johannessen) 47
5 New Moon III (BAH 25, Mark Holowesko, Christoph Burger, Peter Vlasov) 49
6 Girls on Film (GBR 41, Louise Morton, Andrew Mills, Sam Haines) 55
7 The Jean Genie (GBR 43, Peter Morton, Andrew Palfrey, Ruairadh Scott) 57
8 Ali Baba (SUI 224, Flavio Marazzi, Julie Marazzi, Eline Marazzi) 62
9 Caracole (SUI 214, Bernard Haissly, Daniel Stampfli, Nicolas Berthoud) 64
10 Shaolin (SUI 226, Philippe Dürr, Andreas Kindlimann, Hans Von Werdt) 66
12 Beta Crucis (AUS 63, modern, Bob Stoddard, Martin Cross, Simon Reffold) 91
Final results: https://www.yccs.it/regate-2023/international_55_metre_class__world_championship-3311/risultati-307/risultati_provvisori_dopo_r2
Many more photos from day 5 here: https://www.flickr.com/photos/fivepointfivemetre/albums/72177720311551887