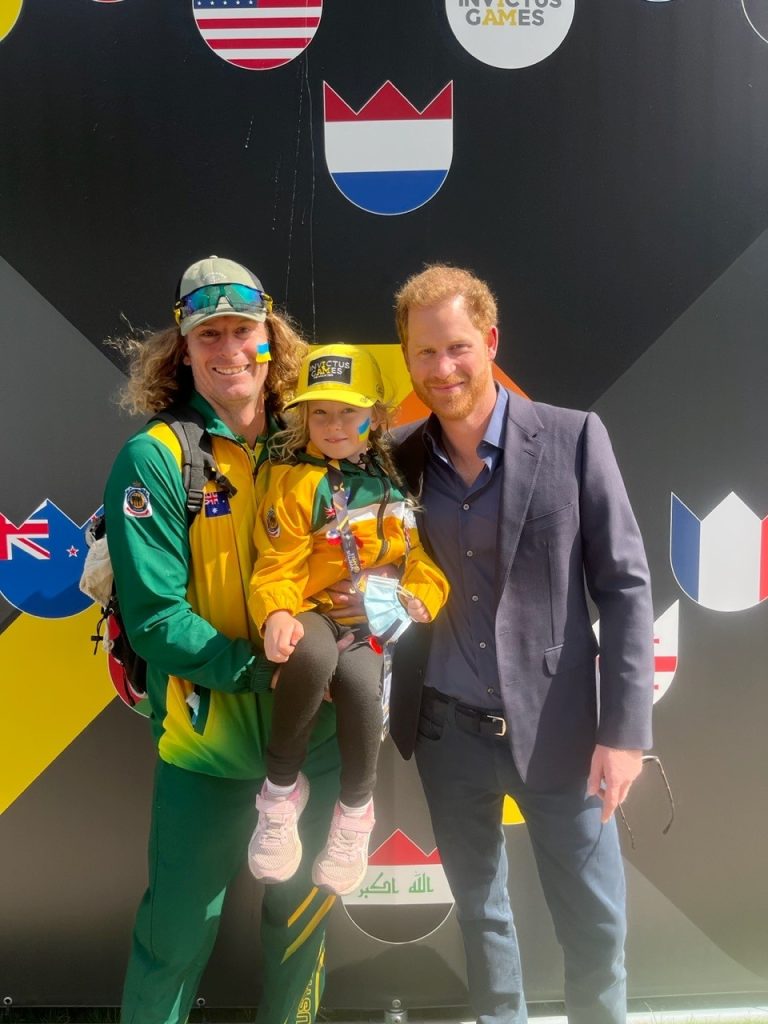 ADF Service: I joined the Royal Australian Navy in January 1998 as a Maritime Warfare Officer. In this role I had operational service in Iraq in 2003 and border protection operations as well as service on multiple ships. I later qualified as a Mine Warfare and Clearance Diving Officer. I completed postings to a clearance diving team, mine hunters and instructional roles. I medically discharged in February 2016 having served for 18 years.
Age: 43
Home town: Manly, New South Wales
Current town: Manly, New South Wales
Invictus Games
2018 Swimming and JLR driving challenge
2022 Athletics, cycling, , swimming and
What role has sport played in your rehabilitation?
At my medical discharge I was enduring both mental health and physical injuries and associated chronic pain – In comparison to the high physicality of Clearance Diving, I was then largely socially isolated and physically inactive due to pain and lack of motivation.
By chance I was introduced to the Invictus Games, and I have now competed at IG Sydney 2018 and The Hague in 2022. When I applied for The Hague, I set the goal of thriving in my personal performance, in Sydney I felt like I barely survived. Whilst the Hague did present personnel health challenges, I did significantly improve all of my swimming times (from 2018) along with competing in the additional sports of track running and road cycling. My personal highlight was the track running as I had set the goal of being able to run with my six-year-old daughter – which has been a long and painful journey given my injuries and chronic pain.
My return to sport has been supported by my wife and daughter, as well as by the generosity of our community. Sport is helping fine-tune my mental focus and commitment to my health. I have lost weight; I am feeling fitter in my daily family routines and I am connecting with people. Most importantly I am finding it is giving me time out to clear my mental landscape and to decompress.
The Invictus Games has also inspired me to look beyond my own personal circumstances and to seek ways to support other veterans – through what is now known as Saltwater Veterans.
My sailing journey really started in 2016 (two weeks after medical discharge), when I was "dragged" to my local yacht club for a Start Crewing Course – I wasn't keen! After IG18, I pursued my sailing and I have qualified as an Australian Sailing Keelboat Instructor, Powerboat Instructor and Sailing Coach.
In 2018 my wife (Jen) and I co-founded the Saltwater Veterans with a vision to foster a veteran community connected "On, In and Around Water". Because of my own journey with service-related injury, we have a significant focus toward inclusive sailing and those veterans that have become wounded, injured or ill during their service.
The Saltwater Veterans community is volunteer powered and by seeking grants & sponsors, our Saltwater Veterans Sailing Project facilitates free veterans' activities around Australia.
• Sydney
• Newcastle
• Nowra
• Adelaide
• Perth
• (this October) Mooloolaba.
Because of this, I was the focus of a recent DVA & Invictus Australia video series on The healing power of volunteering in sport | Invictus Australia
What is your greatest achievement to date?
On a personal level, it is being a father to my daughter Kaya and sharing life with her. With sport I am proud of ultimately not giving up after injury despite the many ups and downs through the rehabilitation journey.
The person I most admire is…
I am surrounded by many inspirational people, particularly those I met at Invictus Games Sydney 2018 and The Hague 2022. From them I continue to draw motivation and inspiration in my day-to-day life.
I also greatly admire my wife. Jen continues to stick by me through my up and down days and provides the stability my daughter and I have both needed. She sacrifices much so I can train and compete. I may be competing but she is very much a part of our team.
I also want to thank my dad for helping with sport throughout my life.