Day 3 of the Harken International Youth Match Racing Championship 2022. 
The day on Pittwater provided sparkling conditions and a perfect building north-easterly breeze for competitors and the race management team. 
It's shaping up to be the battle of two Countries, USA and Australia. 
Round Robin 2 was completed just after midday with skippers joining the Starting Committee Vessel to for the semi final boat draw.
After 2 round robins the rankings are as follows:
1st – 16 wins – Ethan Prieto-low (RFBYC)
2nd – 14 wins – Max Brennan (BYC)
3rd – 13 wins – Max Paul (RSYS)
4th – 11 wins – Marcello Torre (RFBYC)
5th – 11 wins – Josh Hyde (RNZYS)
6th – 9 wins – D'Arcy Kemp (RPAYC)
7th – 9 wins – Daniel Kemp (RPAYC)
8th – 4 wins – Brayden Hamilton (RNZYS)
9th – 3 wins – Chelsea Williams (CYCA)
10th – 0 wins – Kevin Le Dreau (CNC)
Brennan, Paul, and Prieto-Low continued to assert their dominance over the other Teams, with a great display of tactics and boat handling. In the game of chess that is the start, they were a move or two ahead of their rivals each time. 
With the Round Robin Series so tight fourth and fifth was decided by who beat who in the Series. The other noticeable battle that has been raging is that of local RPAYC skippers the 'Kemp Brothers'. D'Arcy Kemp coming out on top as he scored one over his younger brother Daniel in each of the Round Robin Series. 
Results at the close Day 3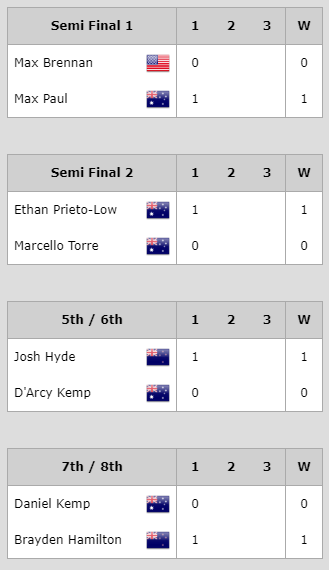 At the closing stages of the day the wind freshened up substantially reaching 17.7kts. As the final matches run their course, and at 1500hrs the race committee displayed AP over A sending competitors back to the club house.
Tomorrow's racing will certainly be interesting as Pittwater throws a moderate to fresh Westerly and the temperature is forecast to rise matching the  provides hot action.
The event concludes tomorrow Sunday 20th at the Royal Prince Alfred Yacht Club, Newport, Australia.
Visit the event website at www.intyouthmatchracingchampionship.com.au 
Follow the result live on Twitter @RPAYCYouthMatch or at https://www.matchracingresults.com/
#rpayc #harken #harken_Aus
Full Competitor List 
Ethan Prieto-Low, Adam Brenz-Verca, Raff Torre, George Angus – Royal Freshwater Bay Yacht Club
Marcello Torre, Owen Ready, James Hackett, Nathan Gulliksen, Riley Evans – Royal Freshwater Bay Yacht Club
Josh Hyde, Jack Manning, Zach Fong, Cody Coughlan, Ryder Ellis – Royal New Zealand Yacht Squadron
Chelsea Williams, Nick Drummond, Hugo Leeming, Hamish Vass, Audrey Scheu – Cruising Yacht Club of Australia
Max Paul, Zac West, Brooke Wilson, Jameson Prescott, Abigail Gilbert – Royal Sydney Yacht Squadron
Brayden Hamilton, Chloe Salthouse, Crue Ellis, Kahurangi Nepia, Luc Gladwell – Royal New Zealand Yacht Squadron
Max Brennan, Peter Sangmeister, Morgan Pinckney, Mark Murray – Balboa Yacht Club
Kevin Le Dréau, Emmy Verge, Samuel Peyrard Obry, Esteban Guilbert, Achile Rozand – Cercle Nautique Caledonien
D'Arcy Kemp, Louis Tilly, Joshua Paulson, Hugo Butterworth, Annabelle Connery – Royal Prince Alfred Yacht Club
Daniel Kemp, Charlie Verity, Lachlan Wallace, Hannah McCutcheon, Sophie Aitken – Royal Prince Alfred Yacht Club
2022 HARKEN International Youth Match Racing Championship Umpire Team:
• Chief Umpire: Ben Fels (International Umpire, AUS)
• John Rountree (International Umpire, NZL)
• Kohei Imazu (International Umpire, JPN)
• Katie Maxim (National Umpire, USA)
• Richard Slater (International Umpire, AUS)
• Robert Armstrong (National Umpire, AUS)
• Robyn Tames (State Umpire, AUS)
• Simon Barrington (State Umpire, AUS)