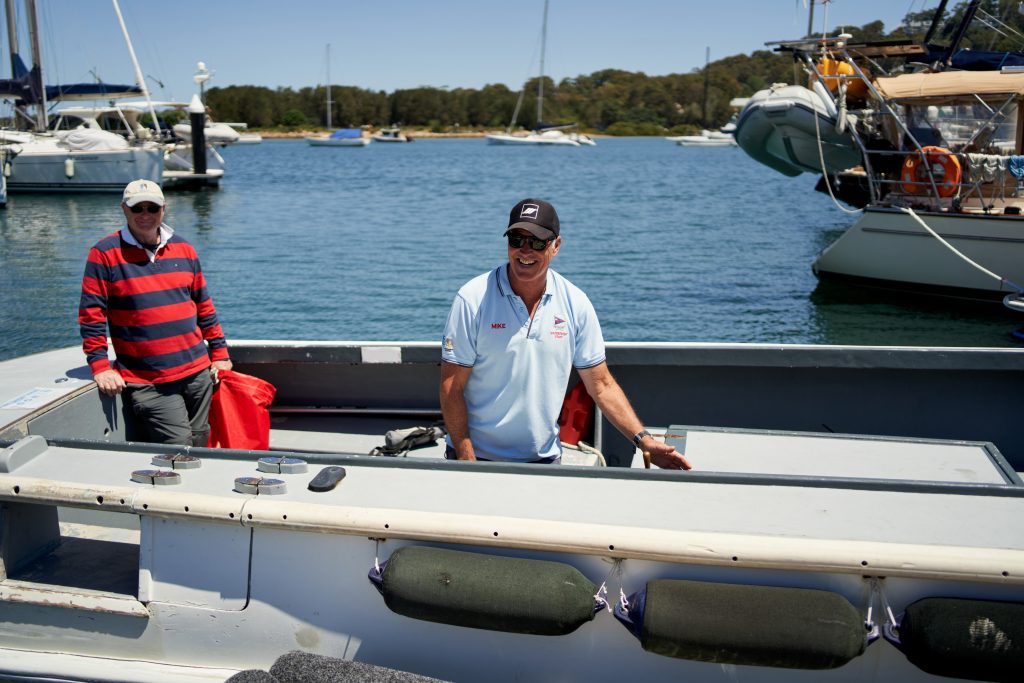 At its meeting on 30 June 1966 the Clubs General Committee [the predecessor of the Board] after strong representation from the Boatshed Committee, resolved
"… it would be desirable to have an additional launch suitable to use as a ferry, workboat, and mark laying vessel."
Some members have memories of the old 16 foot clinker tender then in use being loaded down until it had only about 4" of freeboard, a sight which must have reinforced the representations of the Boatshed Committee.
Progress was quickly made and at the meeting of the General Committee on 25 August 1966, a tender from Pendle Hill Boatshed for a "Ferry – Workboat" with a 25-foot fiberglass hull, timber (mainly plywood) half deck and fit out fibre glassed as appropriate, and powered by an "18 h. p. Yanmar diesel Model 2T." for $2,590.00, was tabled and accepted.
Progress continued to be rapid and the new vessel was launched on 29 November 1966. "After some discussion" she was named "Francis" after the schooner "Francis" launched in 1793, and believed to be the first seagoing vessel built on Sydney Harbour. A model of the original Francis is in the cabinet to your left as you enter the Edinburgh Bar.
The Francis is often referred to as The Big E, probably originally prompted by memories of the 1965 Sydney visit by the nuclear powered aircraft carrier USS Enterprise, then the largest warship in the world, and generally known as The Big E. The Francis was then and probably still is, the largest tender on Pittwater.
Francis has worked continuously and reliably as a "ferry, workboat" ever since her launch. In her youth she was also used as a "mark laying vessel" both inshore and equipped with a 'Bimini' for crew protection, offshore. Her moment of greatest glory came on 28 July 2009 when armed with the Clubs salvage pump, she played a significant part in controlling the fire at the Newport Anchorage Marina which destroyed 5 vessels.
Though she has so far worn out two engines, [she currently has a 90 h.p. Yanmar diesel], the Francis is in sound condition and the Club can expect many more years of faithful service from her.
Heritage Committee.
03.2023