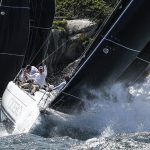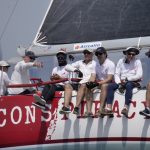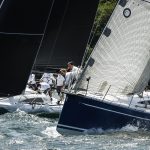 Media Release November 29, 2020
Extreme Sydney Short Ocean Racing Championship tests crews
Middle Harbour Yacht Club's Sydney Short Ocean Racing Championship (SSORC) coincided with Sydney's record-breaking hot weather weekend, 28 crews enduring 40 knot gusts for race two and brutal temperatures in the low 40s both days of the longstanding annual series.
A gale warning moved racing inshore on the Sunday, Race Officer Denis Thompson designing special courses to suit a second day of fresh north-westerlies. Hot winds really kicked up in the closing stages of the Sydney Harbour passage race, testing reaction times and causing sail damage and a few knockdowns.
The icing on top of Keiran Mulcahy's resounding IRC, ORCi and PHS division 1 victories with his King 40 called Soozal was beating nemesis and Royal Prince Alfred clubmate Bushranger, Gerry Hatton's Mat 1245 also from Pittwater.
"We come to SSORC to beat Bushranger and we've done it two years in a row. I'm walking around at Middle Harbour Yacht Club now with a bucket for their tears and handing out tissues. I've been through three boxes already," Mulcahy joked before heading to the podium to collect the team's six trophy haul.
"Though we would have liked windward/leewards on the Sunday, Soozal is an all-rounder and a monster when it gets going so we were equally happy doing another passage race. We saw 41 knots coming up to Manly and tore one jib. We had a good time on the water," the winning skipper added.
Day one video by Tilly Lock Media
IRC division 2 went to Jack Stening and Colin Gunn's Stormaway, a Sydney 36 sailing for the host club. Tactician and trimmer Nicky Bethwaite said they were relieved to finish Sunday's passage race with no damage or injury. "I don't think I've raced on the harbour in 30-40 knots before, watching the spray lift off the white caps up the track knowing that was a 40 knot gust was pretty challenging."
ORCi and PHS division 2 top honours went to another Pittwater boat, Mark Hellyer's Italia 11.98 Cicero.
The winning Sydney 38 was David Hudson's Conspiracy (RPAYC). The TP52s only managed one race on the Saturday, Andy Kearnan's Koa from the Cruising Yacht Club of Australia the top-scoring boat on TPR. Gordon Ketelbey's Zen (MHYC) claimed the Gunboat Trophy for the fastest elapsed time.
Saturday was equally challenging to Sunday with 41.9 degrees recorded at Sydney Airport. All SSORC divisions and the CYCA Ocean Pointscore fleet started together on a long line at Steele Point, the outgoing tide causing OCS headaches which prompted a general recall from Race Officer Steve Kidson.
On the way to Lion Island, at the mouth of the Hawkesbury River, the boats that went offshore found lighter NE winds whereas those that stayed closer to the coastline enjoyed the fresher north-westerly. It was a long day in the heat with the last of the 37 finishers reaching the Watsons Bay finish line after 5pm.
Inshore for Saturday's 22 nautical mile Seven Islands pursuit race, a fleet of 37 boats had some great racing in the puffy north-westerly wind. It was an upwind work from Shark Island to Spectacle Island followed by a nice run under spinnaker or poled out headsail back from Cockatoo Island to Clarke Island. Teams finished the big day spent and very thirsty.
Key SSORC sponsors include Helly Hansen, Club Marine, Robert Oatley Wines and Short Marine.
How to follow SSORC:
Website https://www.ssorc.mhyc.com.au/
Facebook: @MiddleHarbourYachtClub
Instagram: @middleharbouryachtclub
Further information:
MHYC Sailing Office (regatta enquiries)
e. sailing@mhyc.com.au m. 0428 514 058
Lisa Ratcliff (media enquiries)
e. lisa@occ.net.au m. 0418 428 511