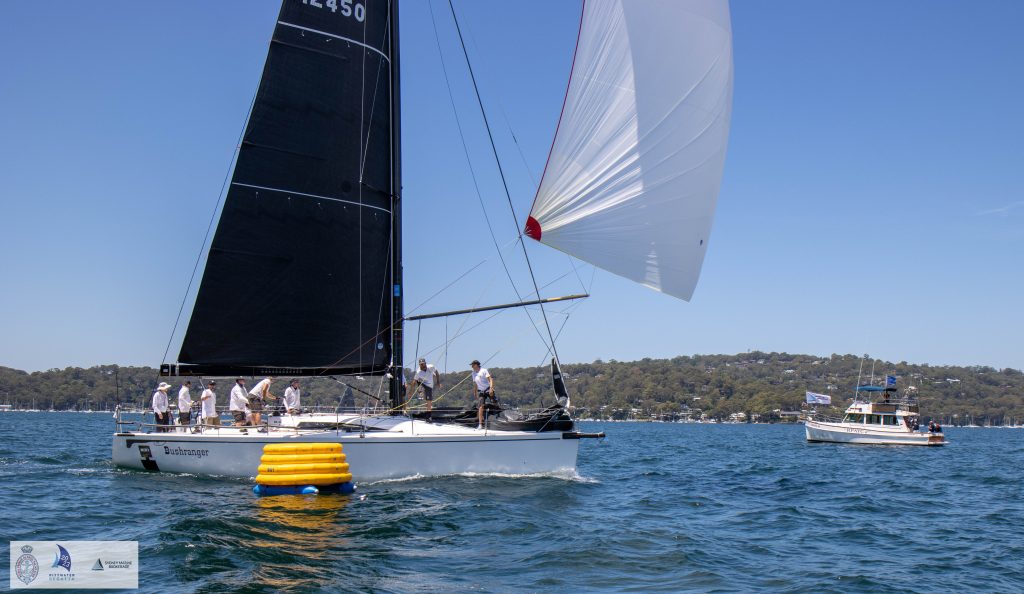 The second running of the ORC NSW Championship, hosted Royal Prince Alfred Yacht Club (RPAYC) at Pittwater, opened on Broken Bay today, with two inshore races put to bed and the defending champions putting their rivals on notice.
Both Gerry Hatton's Bushranger in Division 1 and Simon Grosser's Young at Heart in Division 2, won both inshore races, each named Boat of the Day in their respective divisions.
Both currently hold onto the titles they won last year, but there are two days of racing remaining.
Hatton, as is usual, is joined by son-in-law Michael Fountain, who called tactics today, with Fountain's 21-year-old son, Tom, also on the crew.
"A real family affair," commented Hatton, whose son, Andrew, is missing the event, choosing to go skiing instead.
Today, Bushranger won both races, the first from Keiran Mulcahy's King 40, Soozal and Bob Cox's DK46, Nine Dragons, from Middle Harbour Yacht Club. In the second race, Bushranger defeated the same two boats, but in the reverse order.
Hatton described the day: "The north-easterly of up to 10-12 knots max finally arrived after alight 4-5 knots. It was a really beautiful day of sailing.
"We had long works and spinnaker runs, especially the second race, which we finished in one hour 46 minutes and 22 seconds."
In April, Hatton will take delivery of his new yacht, a MAT 1220. Slightly smaller than his current MAT 1245, Hatton explained, "It has a longer bowsprit which is great for bigger reaching and running sails."
Asked why he had bought a new boat when this Bushranger continues to do the job nicely, Hatton said laughing: "Because I wanted a new toy!"
"I told my son and my son-in-law we were spending their inheritance on buying the new boat and they said they'd prefer the new toy too!"
In Division 2, the 2022 winner, Simon Grosser, came up trumps again with Young at Heart. In the first race he held another Young 88, Coyote (Rob Brewer) at bay, with Martin Cross sailing his Jeanneau Sun Fast 3300, Transcendence Crento, into third.
Race 2 and it was Bullwinkle, the Bull 9000 owned by Regatta Chairman, Peter Farrugia, in second place. Transcendence Crento was third again.

"It was a big day. I had a good crew and we had a lot of fun. The racing was pretty close. Bullwinkle was way out in front, so we had to sail extremely well to beat them," a succinct Grosser commented.
"There were boats close around us throughout racing -lots of different designs and sizes," he said of the 12-strong Division 2 fleet.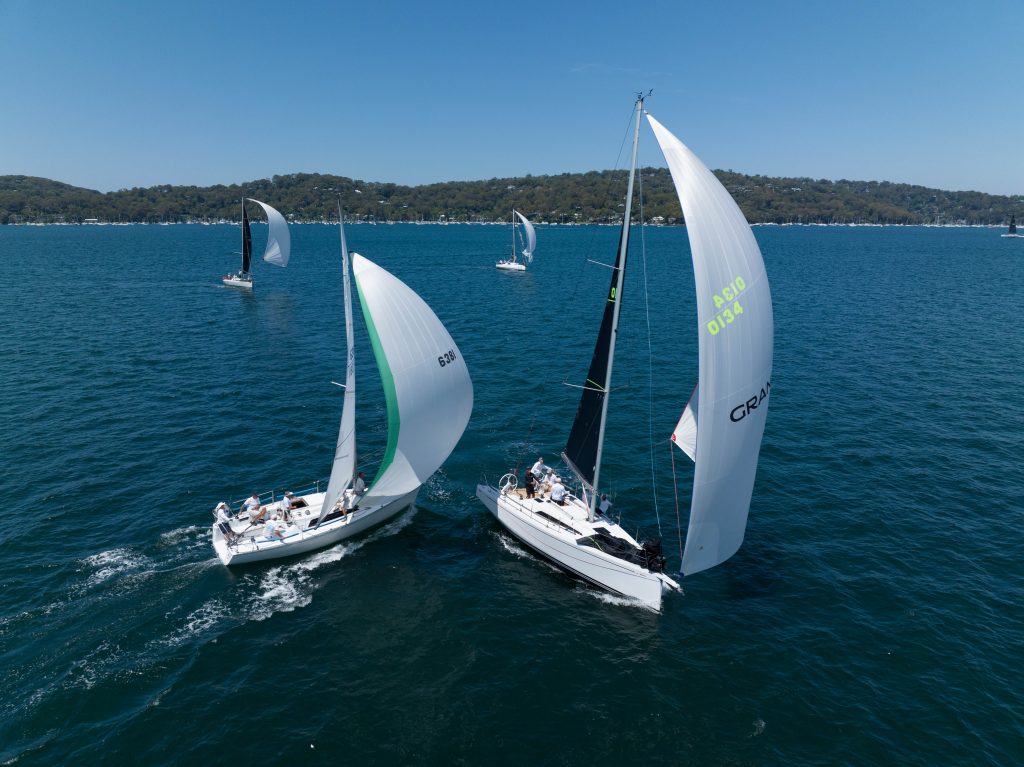 In Race 2, Division 2, the wind decided not to play for a spell and boats parked at the Ellis Buoy MarkSetBot mark. Event sponsor and Sydney Marine Brokerage owner, Andrew Withers, took advantage and sailed around the fleet at the helm of the Grand Soleil 34, Expresso, but it did not convert to a top three result.
This morning there was barely any breeze on Pittwater and the flags onshore hardly worked up a flutter. Race Officer, Ted Anderson, hoisted the AP flag as his team waited for the breeze to fill in for the fleet's 11.30am start south of Longnose Point.
A delayed start, as officials were at the mercy of a typically sickly and fluky westerly on Pittwater. Eventually, the westerly dissipated, the breeze swinging to a light but mainly stable north and north-easterly sea breeze.
Racing continues tomorrow when officials plan to send entrants in the ORC NSW Championship on a 25 nautical mile offshore race.
The two-day Pittwater Regatta begins tomorrow with two inshore races and ends on Sunday, when the ORC NSW Championship also concludes.
Socially, bands will keep competitors, families and friends entertained on both afternoons, with the prize giving to be held post-racing on Sunday.