Chef's Table
Mexican Fiesta
... Dinner
Introducing Friday Night – Chef's Table Dinner
Held each month, we will be hosting the Chef's Table dinner in the Admiral Cup room. 
The last in a very successful series of Chef's Table, the Mexican Fiesta themed meal designed by our team of chefs will delight you. Invite your friends and family. 
Enjoy a pre dinner drink in the Edinburgh Bar & Lounge from 5:30pm with the warmth of the lit fire place and chilled live music.
Members $65 & Guest $75 per person |Seating times from 6pm-8pm.
Bookings are essential, call reception on 9998 3700. Bookings close 21 August.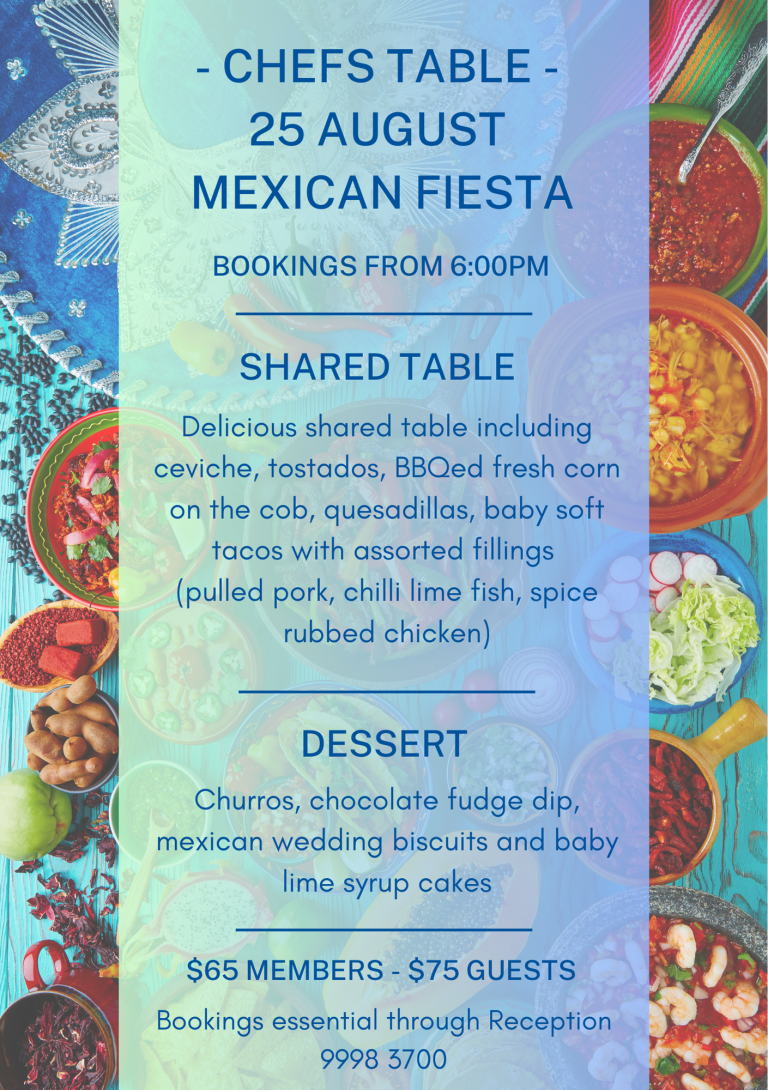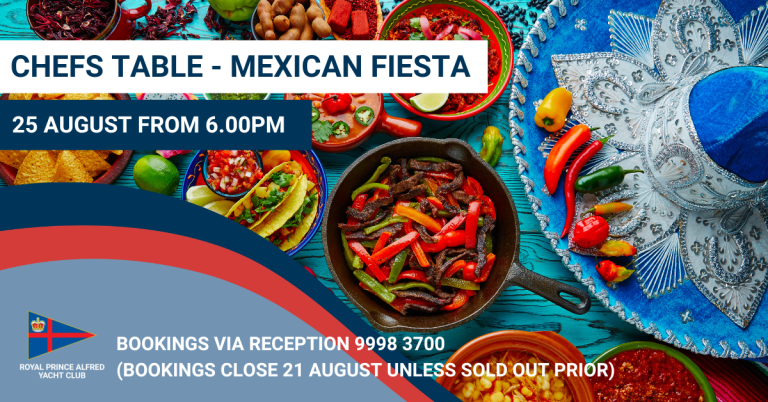 Grab your amigos and amigas and tuck in to a delicious shared table at our Mexican Fiesta: ceviche, tostados, BBQed fresh corn on the cob, quesadillas, baby soft tacos with assorted fillings (pulled pork, chilli lime fish, spice rubbed chicken)
Don't forget dessert! Consisting of churros, chocolate fudge dip, mexican wedding biscuits and baby lime syrup cakes!
Explore some of our past Chef's Tables
Our Little Italy Chef's Table sold out before the RSVP date and proved to be an evening not to be missed!
You can take a sneak peak at the lead up to and early stages of our Little Italy themed evening HERE
Bonjour! We celebrated Bastille Day in style at The Alfreds with a French themed Chef's Table!
Immersed in the ambiance of the French Revolution, diners were transported to the streets of Paris at our sell-out dining event. On offer was a culinary journey of delectable French delicacies, expertly crafted by our talented chefs. Exquisite wines were raised in a toast to Liberté, Égalité, Fraternité!
Dressed in their French best, those in attendance joined us for an evening of elegance, live music, and unforgettable moments. Don't miss out on the next Chef's Table Event – Mexican Fiesta! Reserve your spot now before it's too late.