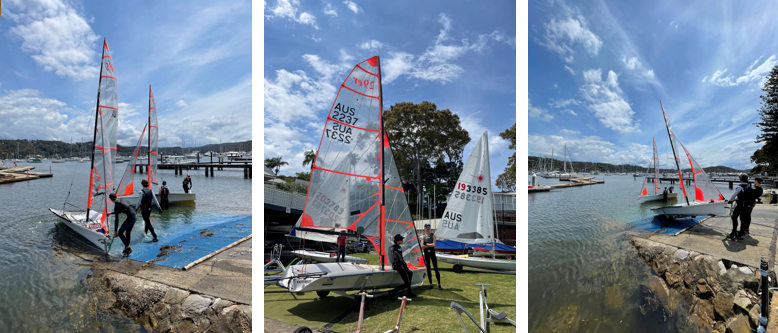 Over half of our current Centreboard fleet took advantage of the sun shining down on Jack Gale Lawn to warm up their sails and spirits before heading out on the water this weekend for Round 4 of the Spring Series.
Competitors were met perfect condition 8 to 12 knots conditions and the Race Committee setting a course in the big pond from Towlers Bay to Taylors Point
A big thank you to Piper, who stepped up to the mike for presentation which she led at around 4.30pm. Also to our group of regular and new Volunteers who helped manage what I think all competitors would agree, was a successful race day.
Our Junior Sailors were out in force Sunday morning with green fleet training then some fun racing in the arvo. Look forward to seeing Manly Juniors joining in soon.
Again, we saw a great group gathering around the BBQ in Halyards after racing. If you havent joined in for the after racing social, please come along as the BBQ will be fired up after every race day afternoon throughout the Spring, Summer and Club Champs 2022-23 series. It's a lot of fun and builds our Centreboard community connection.
Great to see Clogs and Steve Bryant taking out the Laser prize while the rest of the laser fleet were competing at States at Lake Macquarie.
Our Wasp sailors made a great impact on the 29er Fleet with Louis Tilly and Will troop jumping back into a 29er to take out 3 races for the day.