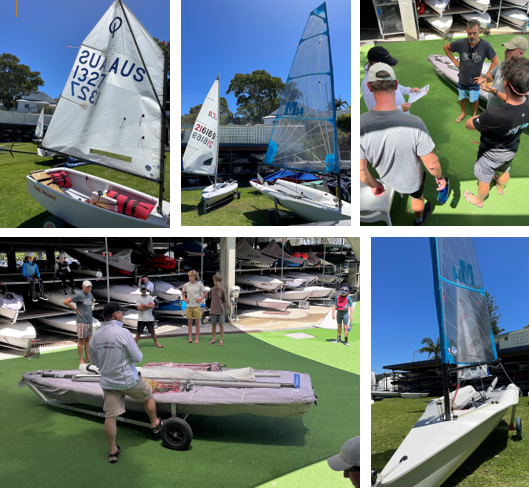 The SKUDs were in full force with all three of our fleet out racing and were joined by a nice selection of 29ers, Optis, Ant, M14 and a few lasers. The course was set in Little Pond as the Adams10 were on day 3 of their Nationals in Big Pond. Our first race got away on time and we managed to get the full 3 races in.
A light ESE breeze didn't provide many course laying options but some good work by our mark boats saw an acceptable course laid out from abeam Scotland Island back up to Royal Motor and although there were some oscillation we didn't have to shift a mark all day.
Sailors were mostly well behaved on the start line with only a couple of individual recalls (one being the RO's daughter which some thought was a bit on the harsh side). Racing seemed good with the boats that could find and stay in the gusts doing well all day.
Several of the Waszp sailors joined the race committee and scored Duty points. They were on mark ribs and the start boat assisting with signals and scribing. It is great to see everyone volunteering – not only to meet the requirements of racing but to support delivery of our weekend racing events for Centreboard.
With all the national events in recent weeks we have seen sailors return home and while they await the return of their boats it is a great opportunity to try another class! The amendment made at the end of last year allows for series entrants to register a casual entry free of charge to support sailors who would like to try another class. So, if your boat is still on its way home and you are keen to race, reach out to your centreboard community via our Rear Commodore Centreboard Mat Butterworth or one of our centreboard committee members and we can try to get you out in a different boat.
Piper again led the presentation and is doing a great job. All sailors are invited back to the clubhouse for the complimentary BBQ which is put on each week after racing – so don't forget to come in to the clubhouse for a casual presso and BBQ catch-up!
Chris Attwood – RO